Introduction
It often pays to follow a trend if your decisions are well-timed. In an attempt to prove this assertion later this year, I am introducing you to a stock (company) that might be quite well positioned to benefit from the current market trends. And even though one shouldn't be too optimistic on this early-stage bird, its growth - if sustained - is sufficient enough to result in above-market performance once the company turns profitable and falls under most investors' radars.
Benefiting from the hype?
It is not a secret that various financial sector innovations have been receiving increased levels of attention lately. One buzzword to rule them all - "FinTech" - has been subject to elevated search engine users' attention in the last couple of years, Google Trends data show.

Source: Google Trends (January 2017).
Search dynamics have been even more upbeat for "Blockchain," which is a" data structure that makes it possible to create a digital ledger of transactions and share it among a distributed network of computers," according to the WSJ.

Source: Google Trends (January 2017).
In the meantime, less and less people want to read about "Bitcoin" anymore, as (1) its current price and (2) Bitcoin trading are the new priorities of the majority now. Finally, (3) Bitcoin storage is immensely popular at this point, too, with CoinBase holding a leading position in the industry.
Note: Exclusion of Indian and Chinese searching engine data might have a significant impact on the conclusions as the digital currency has been rather popular in these two countries lately.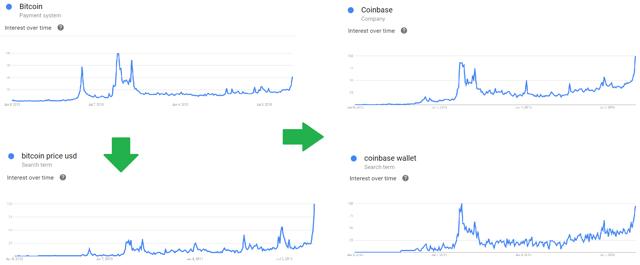 Source: Google Trends (January 2017).
As individuals are becoming more accustomed to digital currency and e-wallet concepts, it might be useful to take a look at Bitcoin users' demographics.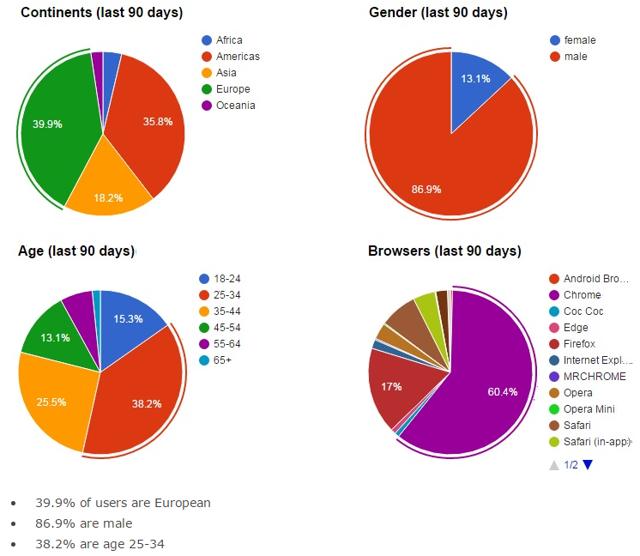 Source: Bitcoin.com (July, 2016).
Even though the Bitcoin usage data suggests immense popularity among younger individuals, the digital currency lacks traction among individuals aged 45 and higher, as well as demonstrates a striking preference difference between men and women. As expected, digital currency is not for everyone.
As a Millennial who had to spend multiple years weighing the pros and cons of the digital currency, I proceed with an obvious conclusion that risk aversion is the strongest obstacle to higher digital currency penetration among different age and gender groups:
With no intrinsic value, digital currency prices completely depend on people's willingness to exchange them on a daily basis. However, unlike most standard currencies, digital currencies suffer tremendous intra-day volatility due to high speculative and relatively low trade activity levels, with the latter being reinforced by low digital currency acceptance rate (which is undeniably subject to change in the future).
Everything requires time. For as long as the whole concept and architecture of the digital currency remains unclear and unfamiliar to many, don't expect the usage rate to grow rapidly. Although simple and useful, a credit card also had to gain some reputation before becoming as popular as it is today.
Unlike risk, uncertainty in the decision-making process - defined as a condition when the distribution of outcomes and underlying probabilities is unknown to the decision maker - is a factor most rational individuals tend to avoid. Needless to say, uncertainty is abundant in the digital currency price trends.
My last concern has been answered eight years ago (see Borghans et.al., 2009). Women are predominantly more risk averse than men.
Perhaps the potential exists for a less risky, more intuitive payment service innovation?
GoldMoney: Company introduction
A product of a 2015 merger with BitGold, a gold payment service provider, GoldMoney (OTCPK:XAUMF) takes the precious metal payment technology to a new (or perhaps old) level by tying the savings and payments accounts to physical metal. As the world's largest player in the field, the company describes its core services as follows:
"Through GoldMoney Personal and GoldMoney Business, anyone with Internet access can buy, sell, transfer, earn, or redeem physical allocated gold on the network. GoldMoney Wealth offers bespoke precious metals custody and wealth services, trading and execution, card services, tax-free retirement accounts and independent research to high net worth individual investors and institutions."
For a more detailed description of the company's business model and services, please see here.
Drawing attention
As a logical conclusion, I hypothesize that rising digital currency popularity has greatly contributed to the demand for the company's services. Whether true or not, digital payment innovations and frequent gold/Bitcoin comparisons in the media have an impact as well.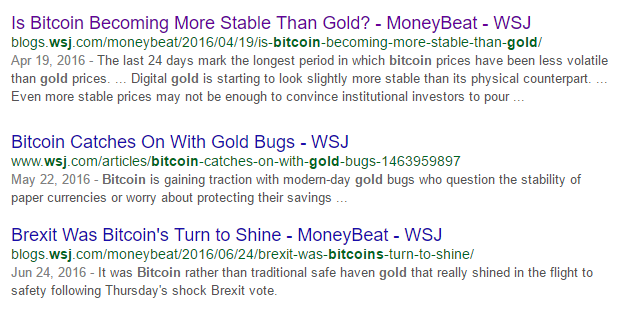 Source: Compiled by the author using the Google search results.
GoldMoney has been doing a great job creating the buzz for its services.

Source: Google Trends (January 2017).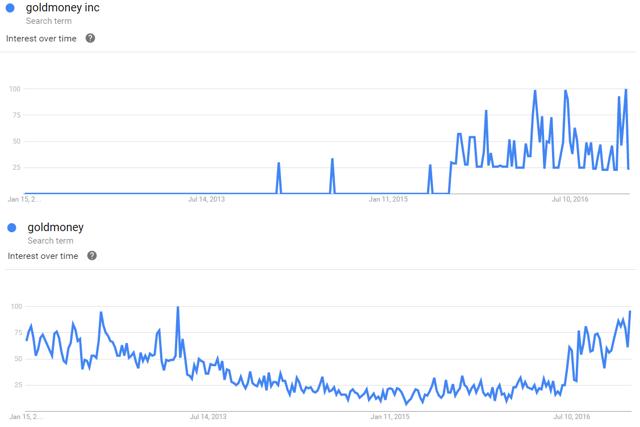 Source: Google Trends (January 2017).
As a result, new customer openings have been demonstrating a significant growth rate lately, rising from just 500,000 (assets of $1.5 billion) in fiscal Q2 2016 to over 1.2 million clients as of September 30, 2016 (fiscal Q2 2017). Total client assets rose from $1.5 to $1.9 billion over the same period.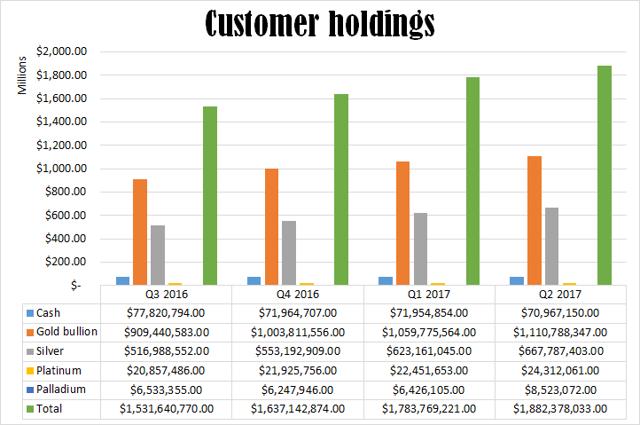 All data in CAD. Company's fiscal year ends on March 31.
Source: Company's SEDAR filings.
As the company's services continue to gain traction, its business is continuously diversified. Currently, the full list of GoldMoney services includes (but is not limited to) the following:
GoldMoney Network: Physical gold-linked digital payments.
GoldMoney Wealth: Precious metals custody and wealth services, trading and execution, card services, tax-free retirement accounts and independent research.
In addition to that, the company continues to work on new initiatives as it is on its way to becoming more of a standard financial services company. Quoting the latest earnings call, the company continues to put more emphasis on the direct customer relationships in the gold savings market, as well as to enhance its current payment and business tool offerings.
"We continue to build out tools and features for payments and business tools. It's important to note, however, that we have not yet pushed sales or marketing on many of these features or partnership distribution as we continue to finalize the infrastructure […] We will work to distribute and localize our network through partnerships. Many of these partnership discussions have been ongoing - some for 6-12 months at this point - and we hope to achieve long-term returns in scale on these discussions in the years ahead."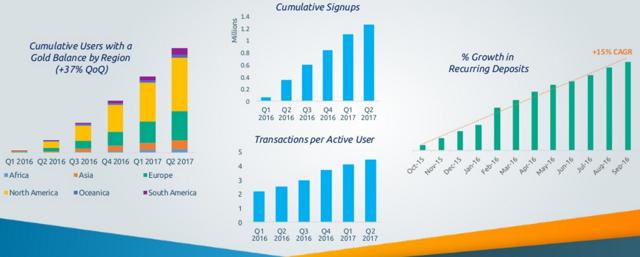 Source: Company's presentation (November 2016).
In the meantime, GoldMoney continues to roll out new services in selected niches where opportunities exist:
Schiff Gold, Inc. Acquisition: By acquiring Schiff Gold, a U.S. physical gold dealer, the company obtained additional exposure to physical gold sales as it targets the needs of its customers. As a provider of precious metal research and investment services, the company aims to augment its brand image by putting more emphasis on its operations as a gold investment company. "…I had many of these same concerns myself, mainly reflecting the value of the business model, not the utility of the service. But I was thinking from the perspective of a gold investor. BitGold is not about investing in gold, but about using gold as an alternative to other fiat currencies," Peter Schiff wrote in the comment section for a 58-minute YouTube video announcing the merger. Even though the results of the cooperation remain to be seen, one cannot deny the fact that acquiring a leading gold dealer business with an existing customer pool and reputation will most likely have a positive impact on the company's top line over the long term. On the less positive note, the acquisition was rather costly to the existing shareholders. From the company's filings: "Peter Schiff will be issued 1,063,000 common shares of GoldMoney, Inc, and 1,400,000 common share purchase warrants with various strike prices and vesting requirements. Peter Schiff will also receive 50% of the distributable income of Schiff Gold Inc. as part of his marketing and service agreement."
GoldMoney Maximizer Loans: "A new account offering that enables verified Canadian GoldMoney Personal and Business users to borrow select currencies against up to 85% of their fully-reserved gold assets […] Loans are interest-free for the first 30 days, following which an interest rate of 12% per annum will be applied to the outstanding loan balance."
Concierge services:"Developed in partnership with the Corporate Division of Four Hundred, one of the world's best private full-service lifestyle management firms, the GoldMoney Concierge provides expert support personalized to each client's unique preferences. Comprised of knowledgeable specialists immersed in hospitality and travel, the concierge team will take care of GoldMoney Wealth clients' needs globally […] We're incredibly excited to have partnered with GoldMoney," said Tony Abrams, founder and CEO of Four Hundred. "We hope this marks the beginning of a mutually beneficial and productive relationship, in which our conceptually similar ethos intersects with our innately different core businesses to generate added value for all parties."
Leadership
While the future revenue impact from the existing partnership negotiations remains to be seen, one cannot deny the fact that GoldMoney's key people know what they are doing.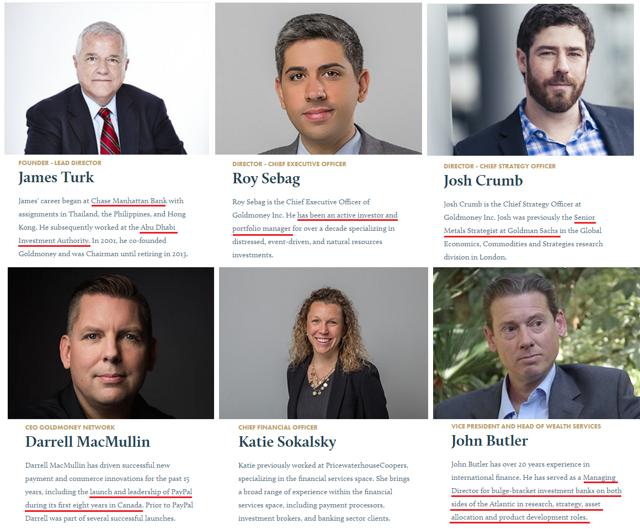 Source: Company's website.
Other important employees might include Leslie D. Biddle (GoldMoney Director, formerly the Global Head of Commodity Sales at Goldman Sachs (NYSE:GS), currently Partner & President at Serengeti Asset Management) and Stefan Wieler (GoldMoney Director and VP, formerly Executive Director and senior commodity strategist at Goldman Sachs, and Head of Research for NY-based commodities hedge fund BBL Commodities).
Keeping a clean balance sheet
Taking into account the "early-bird" status of the company, it is reasonable to expect substantial capital structure changes in the future. Nonetheless, GoldMoney's financial position is reasonably strong at this point. Although the negative operating cash flows - at 2.64 billion CAD in the first six months of fiscal 2017 - remain a significant concern, low debt levels ensure strong liquidity position for the medium-term.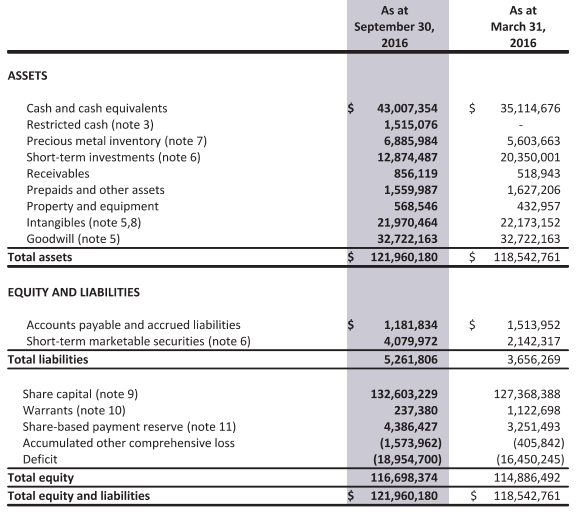 Source: Company's filings.
Nearing profitability
From the latest earnings call:
"What we were very impressed with this quarter was that, even though we reduced our marketing expenses quite aggressively, it had absolutely no bearing on the profitability and growth of the business."
Even though the company remains vastly unprofitable, strong revenue growth - for as long as it is accompanied by vigorous cost cutting - is likely to lead to a breakeven in the coming years. On a less positive note, strong dilution effect makes the EPS dynamics appear better than they should.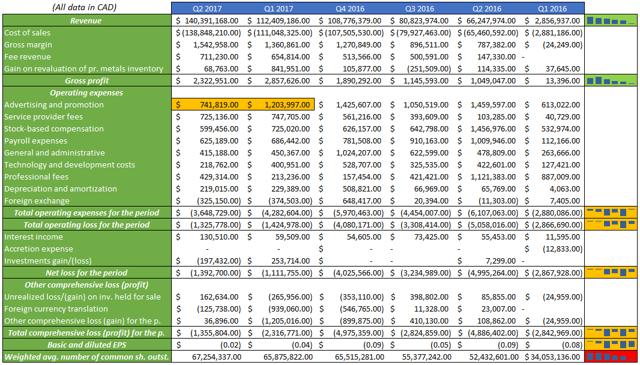 Source: Made by the author using the data from the company's filings.
Even though cash generation remains a primary concern, recent dynamics represent a notable improvement. In fiscal Q2 2016, operating cash flow improved to an outflow of 0.56 million CAD, compared with a two-quarter average of 1.32 million CAD on a YTD basis and a four-quarter average of 3.86 million CAD in fiscal 2016. Even though the operating cash flows might be subject to significant fluctuations in the coming quarters, the overall trend remains positive.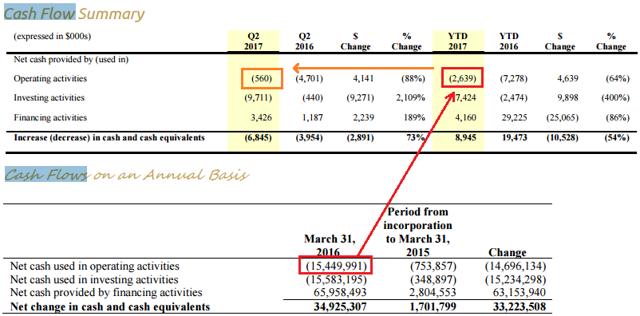 Source: Compiled by the author using the exhibits from the company's filings.
An indirect bet on precious metal prices?
Despite the fact that the company is primarily positioned as a payment and wealth management service provider, one shouldn't ignore the fact that its operating performance might be substantially affected by precious metal price dynamics. Even though the management might be immensely competent in the gold investment field, a gold bull market would positively affect the company's ability to deliver on new customer attraction.
The extended gold correction in the second half of 2016 has almost wiped out all of the year's gains. After bottoming out in late December, gold might be attracting another investment demand build-up as equity indices are fluctuating near new all-time highs.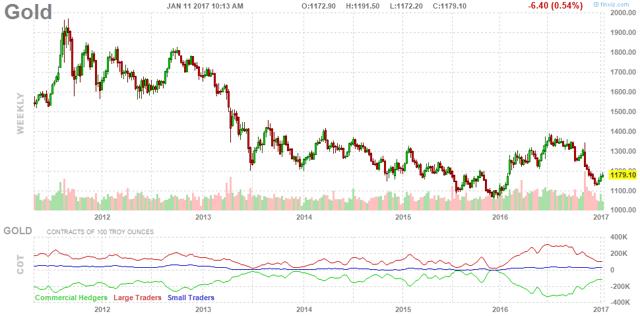 Source: FinViz.com
Flying below the radar
According to the company's website, GoldMoney's stock is only covered by three analysts at this point. The stock wasn't a particular success since migrating to the Toronto Stock Exchange from the TSX Venture Exchange in April 2016. After plunging below the 20- and 50-day moving averages in late October, the U.S. listing suffered a more than 40 percent decline before bottoming at $1.99 in the first half of December. After demonstrating a 44% rally from that level, the stock broke above its 20-day simple moving average and is now holding near the 50-day SMA, with technicals implying the possibility of additional near-term upside.
Please note that the stock's primary TSX listing (XAU) offers higher trading liquidity.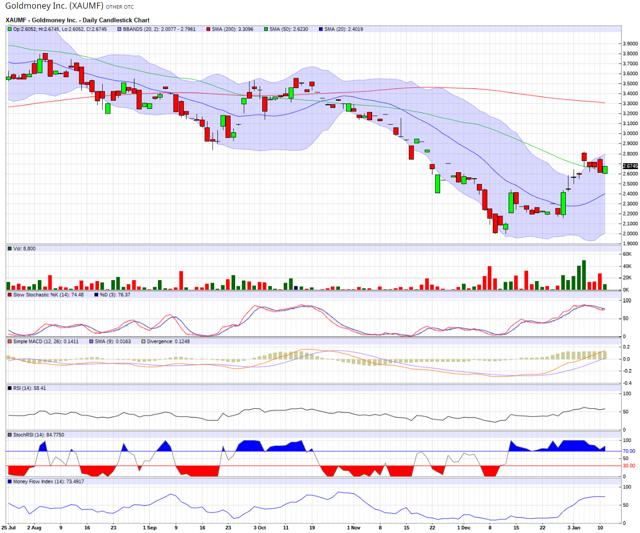 Source: BarCharts.com
Additional catalysts
Share repurchase program: In an unexpected move that might potentially signal a future slowdown in dilution, the company announced a stock buyback totaling 3,000,000 shares. As of December 12, 2016, there were 69,264,340 common shares issued and outstanding.
Addition of the Royal Canadian Mint to the company's vault network.

Source: Company's filings.
Risks
The main risks of investing in the stock include (but are not limited to) the following:
Precious metal price fluctuations.
The possibility of continued stock dilution in the future.
Current cost-cutting efforts might backfire, leading to rising operating expenses at a later stage. As mentioned during the earnings call, the company is planning to introduce physical branches to improve customer service and marketing. Even though the costs are aimed to be as low as possible (the company aims to spend 1-2 million CAD on the test run), the bottom line will be affected.
The company might start issuing debt at a later stage.
Any hacking actions taken against the GoldMoney's system might affect the company's reputation and the reliability of the services it provides.
At $180.99 million, the stock's market cap might be low enough to result in increased short-term volatility in the future.
Conclusion
Although the company does not directly gain or lose from the gold price fluctuations, its long-term performance will be significantly affected by the state of the precious metals market. As argued before, customer attention will also fluctuate in accordance with digital currency and FinTech industry trends and popularity.
Continued product offering diversification will not only provide new revenue streams, but is also likely to expand the existing customer network and marketing outreach.
Despite the significant top-line growth rate, the stock remains quite underfollowed and might experience elevated investor attention once the company turns profitable.
Following the previous argument, low institutional ownership might benefit the stock once it finally becomes recognized. Currently, the company's largest shareholder is Roy Sebag, president and CEO. With holdings of 18,465,551 shares, Mr. Sebag controls a total of 28.2% of the total number of common shares outstanding. With a modest salary of one Canadian dollar, Mr. Sebag was awarded a total of 133,751 CAD (grant date fair value) in option-based awards in 2016.
To sum up, the stock represents an attractive medium-to-long term pick for growth investors. Technicals and the current gold rally might have a positive impact on the stock in the short-term. Even though the multiple challenges that are likely to appear as headwinds during the company's struggle to achieve positive bottom-line figures represent a significant threat to the medium-term performance of the stock, the risk/reward is positively adjusted under the influence of the (1) clean balance sheet, (2) high insider ownership, (3) growing FinTech solution demand, (4) constantly-expanding customer network and (5) high top-line growth. Thus, it would certainly make sense to purchase a modest long-term position based on the current risk/reward ratio.
I assign XAUMF a "Buy" rating.
Disclosure: I/we have no positions in any stocks mentioned, but may initiate a long position in XAUMF over the next 72 hours.
I wrote this article myself, and it expresses my own opinions. I am not receiving compensation for it (other than from Seeking Alpha). I have no business relationship with any company whose stock is mentioned in this article.
Additional disclosure: This is not an investment advice. I am not an investment advisor.