I have written about Zynga (NASDAQ:ZNGA) for five years and have often straddled the line between amused and perplexed at the company's ability to almost make it big but, somehow, shoot itself in the foot. But the company has excelled at remaining flush with cash, which is one of the primary reasons anyone kept holding out hope for a turnaround. A newly released game, Dawn of Titans, could become one of the company's biggest titles in both player attraction and payer conversion. But will its success prove enough to make 2017 the year of Zynga?
The Dawn of Titans official game metrics won't release for a while, so we're stuck with a few key metrics that can provide a better understanding of Zynga's current health. The company's fundamentals include no debt and, in Q3 2016, a 511% year-over-year spike in operating cash flow. On the flip side was the whopping 1,450% year-over-year drop in net income, which went from a $3.1 million profit to a $41.7 million loss; a dive worthy of Cedar Point.
But that fundamental picture can change quickly with just one game. Here are a few of the metrics to assess today, and the places to look once the Dawn of Titans numbers become available.
Average Bookings Per User (ABPU)
Zynga lists ABPU under the Key Operating Metrics slide when it reports earnings. Here's how the company defines this metric:
We define ABPU as our total bookings in a given period, divided by the number of days in that period, divided by the average DAUs during the period. We believe ABPU provides useful information to investors and others in understand and evaluating our results in the same manner as our management and board of directors. We use ABPU as a measure of overall monetization across all of our players through the sale of virtual goods and advertising.
The catch with ABPU is that the growth can look promising if the DAUs in the denominator fall. However, if DAUs were growing or stable, a strong ABPU is a valuable health metric but that was not always the case.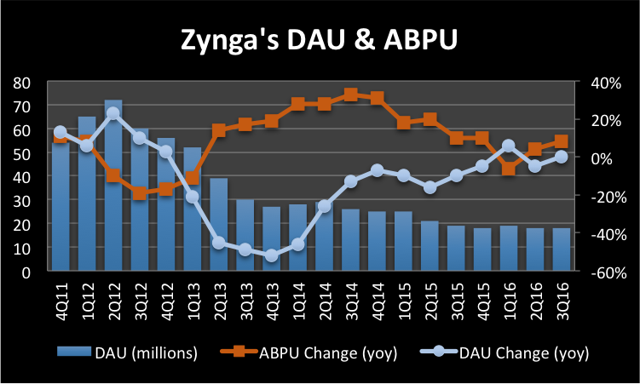 The DAUs curved down during 2013, and in the beginning of the 2014, which created an artificially high ABPU. But, in recent quarters, the two figures are coming closer together for a more accurate representation.
Payer Conversion and Player Monetization
Zynga has a metric called Payer Conversion that represents the conversion of unpaid-to-paid players during a quarter. But the company doesn't divulge the calculations behind the metric. So for now, we just have to take the company's word that the conversion rate has stayed between 1.5% and 2.3% over the past couple of years.
The company does break out paying players in another metric called Monthly Unique Payers (MUP). This metric represents the number of unique players making in-game purchases during the period. Note that the "unique" part isn't perfect since the same user can sometimes count twice if playing on two different platforms (such as a desktop and a mobile app). But the unique metric offers a more realistic number than the active user numbers.
Here's a look at the company's historic MUP growth compared to the growth of Monthly Unique Users (MUU).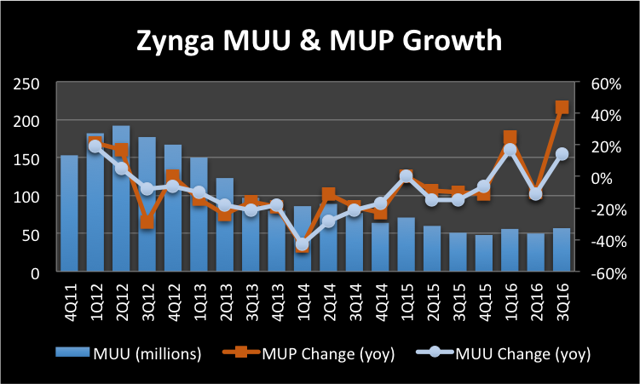 If you calculate MUP as a percentage of MUU, you can find the percentage of total Zynga players who pay to play. That number has historically stayed around the 2% mark. That's a low percentage that was almost half of the paying player rate of King Digital when Candy Crush Saga was at its peak (this was before King was acquired). King, at that time, relied on that one game to attract paying players.
Zynga does have issues with over-reliance on certain titles but the bounty is typically split between three or four games.
Game Revenue Concentration
In its third quarter earnings slides, Zynga provided a chart breaking down the top games in its online platform. Over half of the revenue came from four titles (original release dates included in parentheses): Poker (2007), Wizard of Oz Slots (2014), Hit it Rich! Slots (2013), and FarmVille 2 (2012).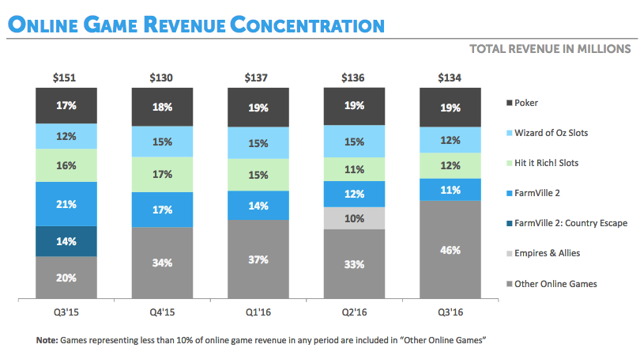 Poker has proven a major payer attraction since its launch, as have the FarmVille games, which were what put the company on the map. And there are games like Words With Friends that perform better on the mobile platform than online. But the online platform metrics show that while Zynga has some games that continue to churn out predictable returns, the company lacks one or two massively successful, payer-converting titles.
Dawn of Titans might prove to be that title for Zynga - or the game could fall back into the shadows like Empire & Allies. Time will tell, but Zynga is running out of chances.
Disclosure: I/we have no positions in any stocks mentioned, and no plans to initiate any positions within the next 72 hours.
I wrote this article myself, and it expresses my own opinions. I am not receiving compensation for it (other than from Seeking Alpha). I have no business relationship with any company whose stock is mentioned in this article.