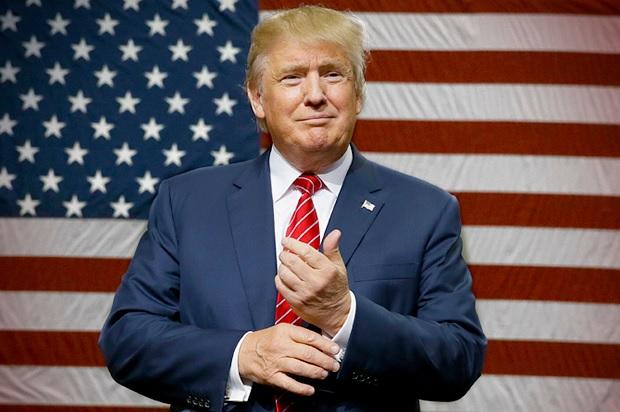 President-elect Donald Trump. Source: Salon.com
I noticed that Valeant (NYSE:VRX) was off over 4% mid-morning on Wednesday. I thought it was caused by something I had written. Then I realized it was driven by comments from Donald Trump during his first press conference as President-elect:
"Our drug industry has been disastrous. They're leaving left and right," Trump said at the news conference at Trump Tower. "There's very little bidding on drugs," he continued. "We're the largest buyer of drugs in the world and yet we don't bid properly." ... On Wednesday, the president-elect said he would establish "new bidding procedures" - perhaps opening the door for Medicare negotiations, a policy usually supported by Democrats.

"They're getting away with murder," he said. "Pharma has a lot of lobbies, a lot of lobbyists, and a lot of power." "We're going to save billions of dollars over a period of time," Trump said.
Gilead (NASDAQ:GILD), Mallinckrodt (NYSE:MNK), and Alexion (NASDAQ:ALXN) were all off 2%, 7%, and 5%, respectively.
The Situation
Rising drug costs can be crippling to the public. They are considered "inelastic goods" in that demand does not drop when prices rise. Prescription drug spending rose 12.6% in 2014 and is expected to rise 7.3% through 2018. Costs are rising for various reasons. There are certain diseases that citizens constantly go to the doctor for, yet are preventable through more exercise or changes in eating habits. Sick people who tax the system for preventable diseases drive up healthcare costs for everyone.
Companies like Gilead who develop life-saving drugs deserve to recoup R&D costs. However, there are certain instances when pricing is divorced from the cost to develop the drug. Firms like Valeant, Turing and Mallinckrodt dominated the financial news cycle last year. Such hedge fund hotels have acquired drug companies and raised prices of the target companies shortly afterwards. Valeant, Turing, Retrophin, Inc. (NASDAQ:RTRX), and Rodelis Therapeutics are on Congress' radar for price-gouging. More companies could attract the government's attention.
Medicare Negotiations
The government -- through Medicare and Medicaid -- is probably the biggest single buyer of drugs. Lawmakers have been frustrated by the fact that the government does not wield more power when it comes to negotiating drug prices. In private industry a vendor's biggest buyer can usually negotiate the lowest prices.
The Wyden-Grassley report on the marketing and pricing of Gilead's Sovaldi/Harvoni highlighted how Medicaid and Medicare had spent $8.2 billion on the HCV regimens prior to rebates. Therefore, the government should exercise its power to negotiate even bigger rebates. A commenter on my previous article explained the rationale behind Medicare's inability to negotiate directly with drug companies:
Commenter: One has to get a chuckle about Congress, particularly the Republicans.

They set the policy in the 2003 Medicare Modernization Act, which created Medicare's prescription drug program."At Republican insistence, that law barred the federal government from negotiating with drug manufacturers. It relied on bargaining by private insurers that manage drug benefits for Medicare patients, like UnitedHealth, Aetna and CVS Caremark, to wring discounts from the drug makers."But if they allow Medicare negotiations it will hit all their donors, not just the high priced Pharma du jour.
Trump's assertions that Medicare will do a better job of negotiating drug prices should since tremors throughout the biotech space. Gilead's Sovaldi/Harvoni is still priced at $38,000 per regimen in the U.S. The company has generated over $30 billion in sales of the drug globally, more than recouping its R&D costs. If the government becomes more proactive then that cost/start could continue to fall. We have already seen the progress Senator Bernie Sanders has made in negotiating lower prices for veterans. I rate GILD a sell, given free falling HCV revenue which still represents over 40% of total revenue.
Mallinckrodt And Valeant Appear Vulnerable
Mallinckrodt is particularly vulnerable. According to the New York Times, Mallinckrodt's Acthar was the most expensive drug, per patient, the government paid for in 2015. Acthar and Mallinckrodt might now be on Congress' radar:
Over a year ago, Tim Scott, a Republican from South Carolina who is a committee member, raised questions about Acthar's pricing. In a September 2015 letter to the acting administrator for the Center for Medicare and Medicaid Services, Mr. Scott asked why the government continued reimbursements on Acthar when so many other insurers has severely restricted coverage on it.
Acthar represents 35% of Mallinckrodt's total revenue, so any pullback in sales could have an outsized impact on revenue and EBITDA. Given past allegations of price-gouging by Mallinktrodt, the FTC might look askance on its future acquisitions. Its debt/EBITDA is over 4x; Mallinckrodt's credit quality could deteriorate if it has to rely on organic growth going forward.
After raising prices for Cuprimine and Syprine ( two drugs that treat Wilson disease) from about $500 to about $24,000 for a 30 day supply, Valeant received attention from the Senate Special Committee on Aging. It has tamped down acquisitions and promised to repair its image with the public. However, Wells Fargo analyst David Maris noted Valeant recently implemented price increases across 50 different drugs. The actions imply that Valeant needs to continual hike prices in order for its business model to work.
It recently sold assets for over $2.1 billion; its debt load would still be about $28 billion after the sale. Over 70% of its EBITDA is derived from the Branded RX and U.S. Diversified segments which are in decline or facing generic competition. Its debt is over 7x EBITDA. The government could scrutinize acquisitions of off-patent drugs and import drugs in order to combat future price increases.
Conclusion
Improving the government's bidding process for buying drugs or becoming more vigilant over rising drug prices, in general, is not good for biotech companies. I have a sell rating on GILD, MNK and VRX.
Disclosure: I am/we are short MNK, GILD, ALXN.
I wrote this article myself, and it expresses my own opinions. I am not receiving compensation for it. I have no business relationship with any company whose stock is mentioned in this article.