The major shareholder and CEO of Sears Holding (NASDAQ:SHLD), Eddie Lampert is either viewed as a genius by some investors or as the manager responsible for Sears value destruction.
The market has a very negative sentiment on the stock. Many participants are short the stock or are buying put options which is not without a major risk in our opinion and we will explain our thesis below.
Turnarounds are challenging, but transformations are even harder because not everyone sees the direction you're heading in or your destination.
Eddie Lampert, May 2014
This note is not meant to criticize Sears Holdings Short Sellers. A market is made by the diverging views of its participants. Everyone is entitled to its opinion on a stock; Short Sellers provide liquidity to the market and they have clearly been very successful in shorting Sears in 2016. The stock went South big time and lost well over 50 % for the year. Nevertheless, one has to wonder if it is still a good strategy at this juncture?
Another wave of selling
The stock has been hit badly following the announcement of another poor 3rd quarter results. The usual buyers (Lampert & Berkowitz) were not in a position to accumulate shares, due to insiders restrictions, at a time the company was engaged in transactions such as the Craftsman sale and various refinancing activities.
Moreover 1'800'000 shares have been redeemed from ESL, Eddie Lampert's hedge fund, according to the 13D/A published yesterday.
We'll know very soon who's been involved in the block trade that happened on Monday morning when 1 Mio shares changed hands at 10 AM. The SEC asks large participants to disclose their change of holdings five days after the trade for those having over 5 % of the market cap of the company and 45 days after the end of the quarter for hedge funds over 100 M$ in assets. Depending on who's done what, we'll discover no later than next Monday or Feb 15h.
The real float
One important parameter to consider is the real float of the company. The most recent 10-Q shows that there are approximately 107 million outstanding common shares. Long time shareholders and board members Lampert and Berkowitz together own 81.3 mio. shares. The difference is what is commonly accepted as being the float of the company. If you look more carefully into it, you would realize that there are at least six other long time holders (Tisch, Horizon Kinetics, Fine Capital, Force Capital, Chou and ourselves - not filing) who qualify for the description and are rather price insensitive. Some of them might have sold a few shares here and there but I would still consider their shares count to be deducted from the float which is another 12.7 mio. for a more realistic float of 13 mio shares total!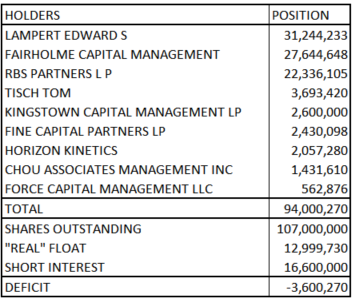 Source Bloomberg
The cost
Being short Sears has been very popular for quite a while. The most recent report (Dec 30) shows that there are 16.6 mio. shares sold short, thus exceeding the real float of the company. And this comes at a cost. A reliable broker, such as IB (Interactive Brokers) would charge you a whopping 63 % pa (changing on a daily basis) for giving Short Sellers the privilege to borrow shares and sell them short to the market. If history is any guide, it looks like the risk reward is not that great to make an uncertain 50 % when you have to pay your broker an almost guaranteed 63%.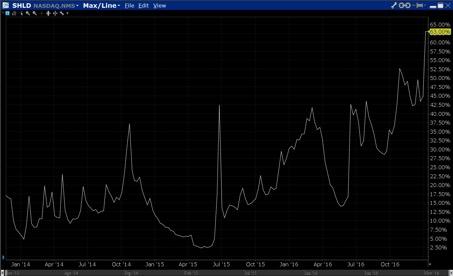 Source: Interactive Brokers
If large holders were lending out their shares (Lampert or Fairholme), given the short interest level, lending rates would be close to 0. Shares are loaned by smaller holders or option market makers. We assume that there are many participants in this market attracted by the juicy premium (as a factor of the lending rate and the stock volatility) or short sellers trying to limit their carry.
The open interest of the put options on Sears is screaming danger. It has reached a record high of 408'000 contracts equivalent to almost 41 millions shares that might have to be delivered to those who wrote (sold) those contracts.

Source Bloomberg
I suggest everyone watches the "real" float very carefully. Now that Sears has announced the Craftsman deal, the stores closing, the intention to sell more real estate, it is safe to assume that once restricted investors (namely Lampert and Berkowitz) are now free to come back into the game and buy shares.
Keep in mind that Eddie Lampert has put hundreds of millions into the company recently. It would cost him a relatively modest 100 millions to buy out the remaining "real" float and unleash a short squeeze of epic proportions.
Disclosure: I am/we are long SHLD.
I wrote this article myself, and it expresses my own opinions. I am not receiving compensation for it (other than from Seeking Alpha). I have no business relationship with any company whose stock is mentioned in this article.
Additional disclosure: I do write this article under my name