There is a lot to read about Gilead Sciences (NASDAQ:GILD) on Seeking Alpha, and the majority of investors is surely familiar with the stock's poor performance in 2016.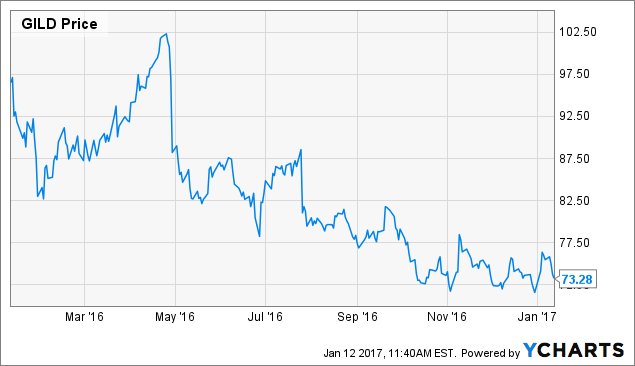 I do not intend to focus on the share price performance or the company's business development. Neither will I discuss acquisition scenarios in this article. I have two reasons to show this chart. First it illustrates that the stock is cheaper than it was one year ago. Hence the dividend yield went up, and buying at a 20% lower price translates into a 25% higher starting yield. Second, the stock has stopped its fall for now, and it has been trading in a range between $72 and $78 for the last three months which might indicate that a bottom has formed.
Gilead announced its first dividend in February 2015. The initial quarterly dividend was set at $0.43 or $1.72 annually which translated into a reasonable yield for a first-time dividend payer. Last year, the dividend was increased by 10% to $0.47 or $1.88 annually. Actually, I had hoped for (and speculated about) a much higher raise which would have been easily affordable given the low payout ratio and the free cash flow.
Gilead will publish 2016 results on February 7, and very likely the next quarterly dividend to be paid in April will be announced as well. I am certain that the dividend will be increased, the only question is by how much.
Last year, when it must have been obvious (at least for Gilead's management) that a challenging year was lying ahead, the company decided to raise the dividend by (only) 10%. Nevertheless, Gilead remunerated shareholders generously throughout 2016, but unfortunately (at least in my opinion) with a too strong focus on buybacks.
The good thing about share repurchases is that they are a preferred option from a fiscal point of few. In addition, fewer shares require less cash for dividend payments in the future. However, Gilead bought back share very aggressively when the stock was more expensive than it is today. In Q1 alone, Gilead spent $8B on repurchase and in total $10B until the end of Q3.
Gilead - a Stock for Dividend Growth and Income Investors?
Organically, Gilead's earnings and cash flow in absolute terms will likely continue to decline over the next few years, and this development will be driven by the shrinking HCV franchise.
Nevertheless, Gilead could be an attractive investment for income investors, provided that the dividend grows continuously at an attractive rate over the next years. Dividend growth and falling bottom line and cash flow sounds like a contradiction, but in Gilead's case, the starting yield and the low payout ratios (based on EPS and free cash flow per share) need to be taken into consideration.
Gilead's EPS and free cash flow per share are still very high, and the stock's valuation based on those metrics is low. Analyst projections tell us that earnings and cash flow will come under pressure over the next few years, leading to higher multiples, but the buybacks will at least partially help to mitigate these effects on the per share level.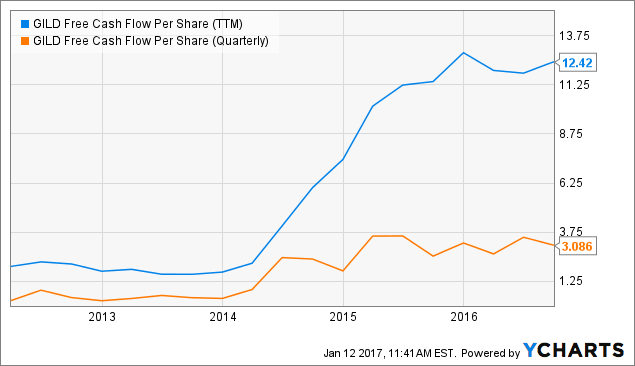 Based on the 2016 EPS consensus of $11.00, Gilead's payout ratio is 17% and only 15% based on the TTM free cash flow per share. With expected EPS of $10.45 in 2017, the payout ratio climbs to 18% at a constant dividend, assuming a 10% dividend increase, it would reach 20%.
Even if FCF per share should drop below $10, Gilead remains a cash machine, and there is still plenty to fund continued dividend growth. Irrespective of the company's stock performance in the next year which is influenced by short-term developments, income investors have a long-term horizon and dividend yield, free cash flow and the payout ratio are the criteria to look at.
My Expectations for the Dividend Raise
Like I said, I definitively count on a dividend increase in early February. There is not much of a dividend history, but due to the fact that Gilead started with a relatively high initial dividend, followed by a more modest first dividend raise, I consider future moderate increases as the likeliest possibility. My definition of "moderate" in Gilead's context are raises at a similar pace compared to last year, in other words around 10%.
Nevertheless, there is one scenario in which the dividend increase might become higher. Undoubtedly, no one can be happy with Gilead's share price development last year. Unfortunately, management did not much to increase investor's confidence in challenging times, and Gilead might actually be considered as a text book example for unsuccessful investor relations.
Although the stock's direction will be primarily influenced by the outlook for the HCV franchise and the M&A speculations, a more pronounced dividend raise could be a helpful move to support the share price. A substantial dividend increase could attract new investors, and it would be easily affordable.
With an annual dividend of $1.88, Gilead currently yields 2.6% which is not a bad starting yield for a stock with an outlook of long-term dividend growth. Assuming that the dividend will indeed be raised by 10%, it climbs to $0.52 per quarter or $2.08 annually, corresponding to a yield of 2.8%.
In order to substantially increase Gilead's appeal for income investors, any dividend hike below 20% would probably not help much. In case of a 20% increase we talk about $0.56 quarterly or $2.24 per year and a 3% yield. 3% is often described as the threshold for an attractive starting yield for dividend growth stocks. Even more comfortable would be a 25% raise to $0.59 per quarter and $2.36 annually as it would lift the yield to 3.2%.
The substantial-dividend raise scenario is a possibility, and I would like it, but in the end I do not think that it will actually happen. There has been a clear emphasis on share repurchases, and I assume that Gilead will stick to this strategy. Therefore, a 10% dividend increase, similar to last year's is my best estimate today.
Income and dividend growth investors typically have a long-term horizon, and the company's long-term outlook is what counts. Short-term factors do not play a decisive role in determining whether a certain stock is a suitable candidate, but they are important with respect to timing. Market fluctuations lead to lower prices, better valuations and more attractive entry prices. Last year, Gilead's volatility has been high, but after successfully defending the $70 mark for three months now, things seem to have calmed down and there are signs that a bottom is finally forming.
Conclusion
Gilead's share price is primarily influenced short-term factors: near-term HCV sales development and speculations about M&A options. Since there are now signs that a bottom might have formed, it is time to take a closer look at Gilead for income and dividend growth investors with a long-term horizon. I believe that with the first dividend raise last year, Gilead signaled what investors can expect in terms of dividend growth during the coming years. Gilead still generates a huge free cash flow per share, and an annual 10% increase should be sustainable in the foreseeable future, even when all current headwinds are considered. Hence, I do not expect many surprises and consider a five cents raise to $0.52 per quarter and $2.08 annually as the likeliest option.
Disclaimer: Opinions expressed herein by the author are not an investment recommendation, any material in this article should be considered general information, and not relied on as a formal investment recommendation. Before making any investment decisions, investors should also use other sources of information, draw their own conclusions, and consider seeking advice from a broker or financial advisor.
Disclosure: I am/we are long GILD. I wrote this article myself, and it expresses my own opinions. I am not receiving compensation for it (other than from Seeking Alpha). I have no business relationship with any company whose stock is mentioned in this article.