BYD Co. Ltd. (OTCPK:BYDDY) had a very strong 2016 both domestically and internationally, but its stock price did not match its commercial successes.
New Government measures in China this year will be key to its stock price. Such measures look set to be favorable to the company. The ramp-up of its international business and contract wins have not done much for the stock price. They should however stand the company in good stead in the long run. New product areas should also provide a boost to the company.
The one-year stock chart below shows a return of 15.5%, but quite a decline from the 52-week highs.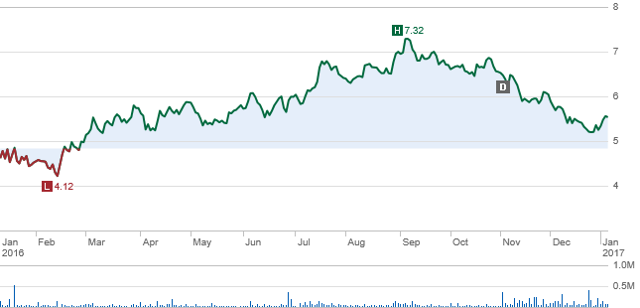 My article in November highlighted the development of the company internationally in 2016, especially in regard to electric buses. It also pinpointed its strong position as a vertically-integrated "green" company. This is a model which Tesla (NASDAQ:TSLA) has now adopted. This makes a lot of sense despite the negative comments by Tesla doubters in particular. This is shown by the illustration below: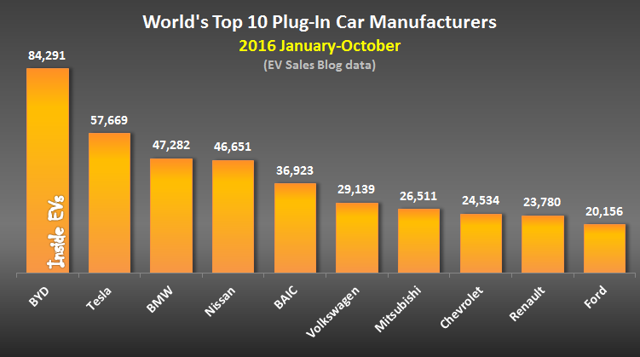 BYD is the world's largest EV manufacturer, the world's largest iron-phosphate battery manufacturer, and a substantial manufacturer of solar panels.
For those looking for short-term stock appreciation however, it is developments in China in 2017, which will be key.
China Measures
There was much fanfare concerning the announcement in January by the Chinese Government that it would spend a startling US$360 billion in renewable power generation and anti-pollution measures. Cynics might suggest this was just a sop to the populace undergoing a very high level of air pollution in Beijing and Northern China at the time. However, there seems little doubt substantial new measures are on the cards. China is likely to become the world leader in clean air technology. A Trump-led Administration will leave the USA out in the cold and focused on fossil fuels.
BYD is apparently owed money by the Chinese Government in the form of subsidies for EVs and PHEVs sold in 2015 and 2016. The 2015 figure is thought to be in the range of 8 billion yuan (US$112 million). However, new regulations starting this year will probably see about a 20% decrease in such subsidies in 2017-18 and a further 20% in 2019-20. It is calculated that green vehicle subsidies in total by the Chinese Government last year will have been worth US$4.5 billion.
In fact, the cut in subsidies will probably have the effect of weeding out some of the smaller less professional manufacturers. Part of the Government's reason for the change is to cut out cheating on subsidy applications by some companies. It should therefore actually benefit BYD and other more established manufacturers such as Geely and Chery.
Beijing is targeting 5 million "new energy" vehicles to be on the road by 2020. Last year retail auto sales in the world's largest auto market were up by 15.0% to 23.9 million vehicles. Petrol-driven small vehicles will see the tax on them increased from 5% to 7.5% this year.
BYD China Business
BYD is the world's largest EV manufacturer, mainly based around its sales in China. Its business in 2016 has seen a transition from plug-in hybrids to all-electric vehicles. The company has about 65% of the plug-in market in China and 27% of the EV market in general.
The graph below shows sales for the first 10 months of 2016: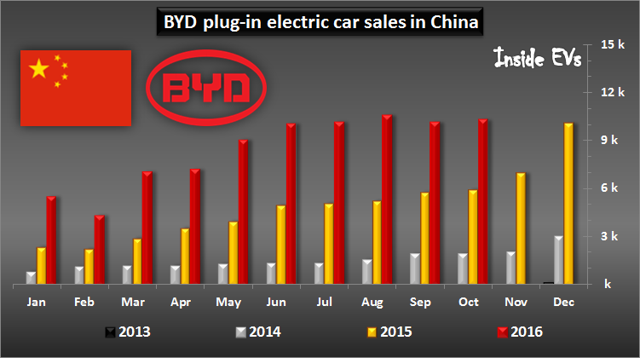 The growth rate over the past few years speaks for itself. In the month of October, BYD sales totaled 10,252 units, an increase of 73% year on year. This did in fact represent a slight slowing down of their growth rate. For the first time their all-electric auto, the e6, was the best-seller, illustrating the shift away from hybrids to full EVs. Previously, the "Tang" SUV and the "Qin" compact sedan had been their best-sellers.
The company stated in December that they expected to sell 120,000 cars this year. These sales would be worth between 100 billion (US$14 billion) and 120 billion yuan (US$16.8 billion). There are currently about 600,000 EVs on China's roads.
BYD is expected to launch its new M5 model in April at the Shanghai Motor Show. This will reportedly be available in full electric mode, as a plug-in hybrid, and as a petrol vehicle.
The company is very bullish about its "SkyRail" project it has launched for smaller cities in China as an alternative to underground rail systems. It also launched this in Mexico in December. So far, the company has invested 5 billion yuan in this project.
Its e-Bus business is expected to continue to expand quite rapidly. It is forecast that the Chinese market will reach 200,000 e-Buses by 2020.
BYD International Business
2016 saw success after success for BYD in new markets. Most of these were covered in my recent article in November and in an earlier article in September. However, even since then, there have been several new announcements.
In late November, BYD secured its first e-Bus deal in South Korea for 21 vehicles for Jeju Island. Authorities on the island target to have 110 e-Buses up and running by the end of the year. The island is slated to be carbon-free by 2030.
In December, BYD secured a contract to supply cities in Piedmont in Italy for 10 e-buses worth about US$12 million. This brings their contracts for e-buses for the year in Europe to over 100 units including a recent gain in Nottingham in England. They also have a co-operation agreement with Italian utility Enel.
The company has a manufacturing facility in the USA, is building a factory in Hungary, and has a joint manufacturing facility in the U.K. Further overseas plants are planned.
The company recently secured its first EV contract in Iran, and has a partnership with Iranian manufacturer Kerman Motor for Iran and the Middle East. This allows for the transfer of technology as well as the import of BYD models the "E6" and "Tang."
In Brazil, the company has recently secured contracts for locally manufactured e-Buses. It will be setting up a solar panel plant there in the coming year.
In Argentina, the company announced a contract this month to supply 50 e-Buses. It also said it expected to open a manufacturing plant in the country.
How well China made cars will go down in the USA is hard to say. To add some glamor, BYD did recently signed up Leonardo di Caprio as a "brand ambassador" as per picture below with BYD's chairman.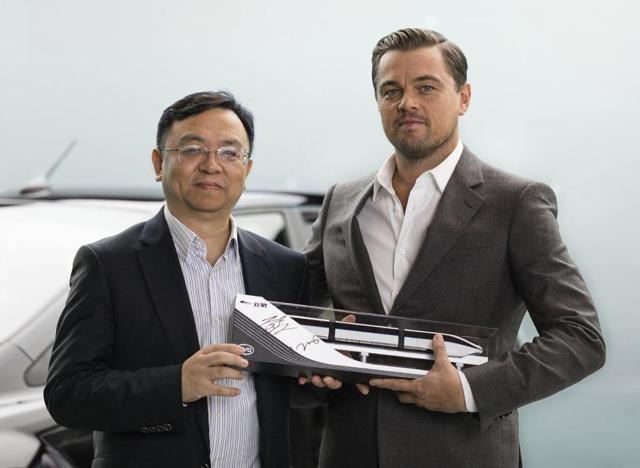 BYD already has a few of its e6 models on test in the USA with taxi companies and with Uber (UBER). One problem for EV manufacturers in the USA is how the Trump Administration will proceed. It appears that the Environmental Protection Agency will be scaled down substantially under its proposed new anti-environmental head. This will cause some conflict with states such as California that will go ahead with their own strict emissions standards. Twelve other U.S. states have adopted California's standards.
For U.S. manufacturers this will lead to uncertainty over long-term investment plans. For overseas manufacturers such as BYD, this will lead them to proceed with caution in the U.S. market.
For the U.S. market, products other than cars might be the better bet for BYD. They have already had some success with e-buses as I have detailed previously.
In November, they announced an initiative in the USA for a fully electric garbage truck, being produced at their existing plant in Lancaster, California. This is a partnership with body manufacturer Wayne Engineering. The truck is pictured below: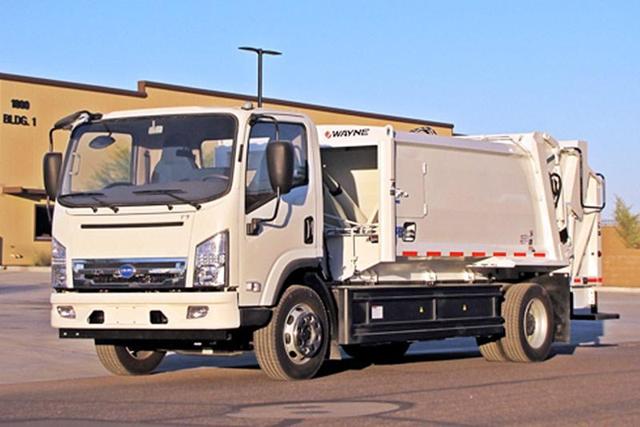 Electric trucks of various types and functions are seen as a strong growth area for electric vehicles. In China, BYD are targeting what they term the "special purpose vehicle market."
It has also launched its "Sky Rail" project in the USA. I gave details of this in a previous article. Monorail could be the next major growth area for the company. Chairman Wang Chuanfu recently said he targeted this to double the company's revenue, but did not put a time frame on that. It is reported that the China Development Bank has pledged up to 60 billion yuan (US$8.4 billion) financing for it.
At the recent CES 2017 in Las Vegas, company Senior VP Stella Li also emphasized the importance of the "Sky Rail." She was confident it would significantly boost the company's revenues in the next few years.
However, an outside investor might want to know more firm news before really factoring in "Sky Rail" as a significant contributor to the company's earnings. It could, of course, become an expensive white elephant.
BYD Numbers
With Mainland China companies there can be somewhat opaque financial information and this is true of BYD, especially in regard to its dual listing in Mainland China and in Hong Kong.
Analysts covering BYD on the whole foresee a 23% earnings increase this year, though not all are positive. Citibank, for instance, sees a 21% decline based around a reduction in Government subsidies and a tightening of margins on the e-Bus business.
The results for the first 6 months of the year were quite impressive as I detailed in an earlier article. There is a dividend payable at 0.99%
There are some uncertainties on the financial indicators as gleaned from data presented by Charles Schwab and Reuters Investment.
Its P/E ratio of 20.94 is slightly on the high side but its PEG ratio (Price to Earnings/Growth) at 0.81 is very favorable. A figure below 1 is usually considered positive, with certain caveats of course. Its Price to Sales ratio of 1.60 is slightly on the high side, indicating what the investor is paying for each unit of sales. Its Price to Book ratio of 4.94 is in the median range.
Its Quick Ratio (cash and short-term investments compared to financial liabilities) of 0.59 is slightly above its 3-year average of 0.51. It is just about satisfactory for a high capital investment growth business. Financial liabilities may increase though. One has to factor in the costs of its international expansion and the development of new products. Samsung (OTC:SSNLF) and Berkshire Hathaway (NYSE:BRK.A) (NYSE:BRK.B) are both substantial investors in the company. It would not be a surprise to see them invest further to fund the business growth.
The profitability levels of the business may be one factor as to why the stock price has been stuck in a trading range. The gross margin is only 15.28%, though that is an improvement on the 3-year average of 13.31%. Its operating margins are at 7.16%. Its net profit margins are only 4.04% but are an improvement on its 3-year average of 2.31%. If one sees BYD as an auto company, then the profit margins are about standard for what is generally a low-margin business.
On a very positive note, Reuters Investment project earnings per share growth on a 3-5 year time frame of 25.9%. This compares to Ford (NYSE:F) at 2% and General Motors (NYSE:GM) at 8.4%. Tesla is seen at 35%. These figures could be viewed as showing the desirability of investing in "new auto" as opposed to the fossil fuel autos.
Q4 results, due at the end of March, will make interesting reading in regard to these various financial matrices.
Conclusion
Government-led developments in China should favor BYD in the long run in regard to its auto business. About half of the company revenues last year were from the auto business. Its other business areas, and its overseas initiatives, put BYD in a very strong position long term. In the short term, the stock price may be muted, and is a good Buy on dips.
Disclosure: I am/we are long BYDDY, TSLA.
I wrote this article myself, and it expresses my own opinions. I am not receiving compensation for it (other than from Seeking Alpha). I have no business relationship with any company whose stock is mentioned in this article.
Editor's Note: This article discusses one or more securities that do not trade on a major U.S. exchange. Please be aware of the risks associated with these stocks.