Who can resist a bargain? Last week, the analyst firm Valuentum pointed out that CVS (NYSE:CVS) stock has been beaten down of late. Consequently, Valuentum is considering adding CVS to its dividend growth and best ideas portfolios. This got my attention. I couldn't resist checking CVS out!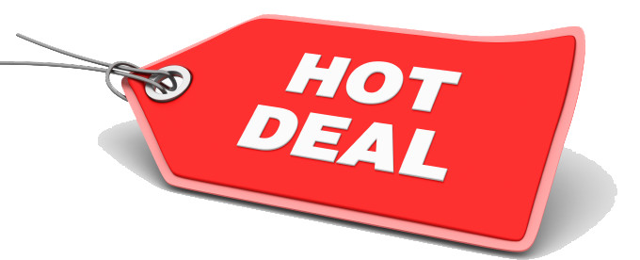 When CVS was brought to my attention, I was about to pounce on Cisco Systems (NASDAQ:CSCO). In contrast to CVS, Cisco is trading near its 52-week high. It last traded at these same heights about 10 years ago. That doesn't sound like bargain territory! Even so, Cisco is trading below its fair value estimates at S&P and Valuentum and below the average fair value estimate across the four analyst sources I poll.
Given that the Dividend House portfolio holds 64 stocks, I am loath to add a new position unless a stock fits squarely within my portfolio's investing objectives and is trading at or below fair value. So if I am willing to add only one more stock to my portfolio, which should it be? CVS or Cisco?
Comparing CSCO and CVS - Dividend House SWAN Ratings
First, let's see which stock - Cisco or CVS - rates as more attractive for my portfolio using my SWAN rating system.
Below is a diagram of my Dividend House SWAN decision tree. If you are interested in more detail on this approach, please refer to my Seeking Alpha article entitled, "A SWAN Decision Tree for Selecting DGI Stocks".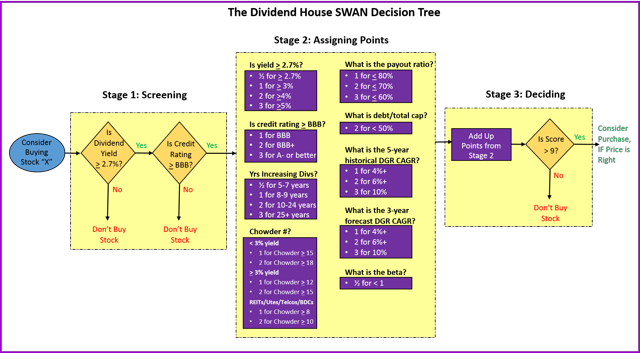 The first thing you will notice is that CVS doesn't meet my minimum portfolio yield of 2.7%. So why am I considering it at all? If CVS' future dividend growth rate is high enough, it could surpass Cisco's annual dividend income in the future - thereby providing me with more income later in my retirement years.
To find out whether or not this is the case, I will do an additional analysis (below) to determine if CVS' future dividend growth rate is high enough to surpass Cisco's within a reasonable time frame (say within 20 years).
Below is a table that shows how I calculated the Dividend House SWAN ratings for CVS and Cisco.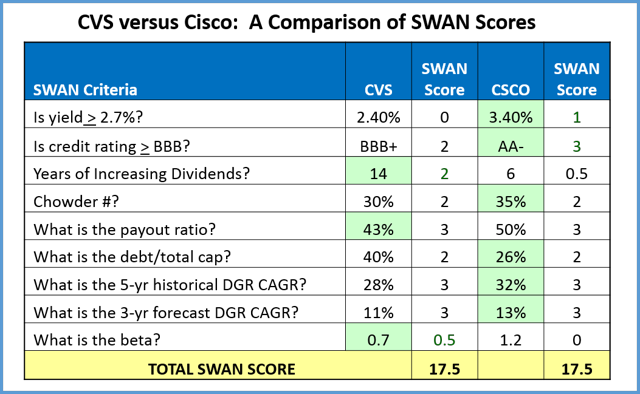 As you can see from the "Total SWAN Score" line, CVS and Cisco are tied! Both CVS and Cisco earned a very respectable Dividend House SWAN score of 17.5. (I'll consider a purchase for my portfolio if a stock scores at least a 9 on my SWAN scale.) Qualitatively, Cisco edges out CVS on four criteria dear to my heart: dividend yield, forecast dividend growth, credit rating and debt/total capital.
As a result, even though their SWAN scores are tied, I give Cisco the edge.
Comparing Cisco and CVS: Forecasting Future Dividend Streams
In my article, "Are Growthier DGI Stocks Worth It?", I discuss a methodology that forecasts dividend cash flows for future years. I applied this methodology to Cisco and CVS, resulting in the table and chart shown below.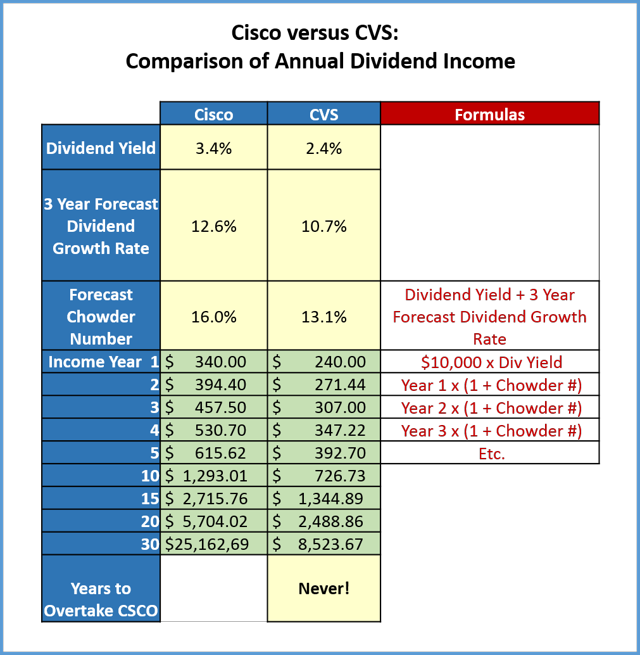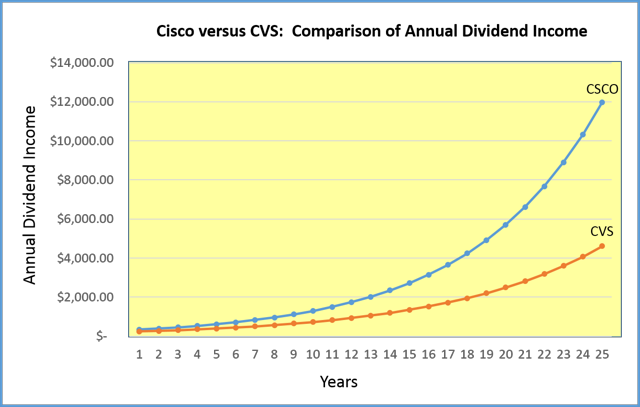 Key finding: Because Cisco's dividend yield is higher than CVS' and its future dividend growth rate is also forecast to be higher, Cisco's annual dividend income and its cumulative dividend income will ALWAYS be higher than CVS'! (For more detail on the calculations used to derive this result, please see the article linked to above as well as Part 2.)
Because my husband and I are nearing retirement and focused on developing substantive and growing dividend income streams, Cisco is the clear winner for our income-focused portfolio.
This doesn't mean that CVS isn't an attractive option for some dividend growth investors. It is. Particularly if you believe that, in addition to CVS' dividend income, buying now at a cheap price will garner substantial capital appreciation. But, that is a different pursuit than purchasing a stock for its substantive dividend income stream.
Since my husband and I never plan to sell our dividend stocks, we prefer a stock with a substantial dividend stream and a high dividend growth rate to a stock with potential significant upside in capital appreciation. To each his own!
Are Cisco and CVS Good Deals?
Depending on your portfolio goals, you may be considering Cisco and/or CVS for your portfolio. So let's see if either is selling at a good price!
To determine my buy range for a stock, I poll four analysts - Morningstar, Valuentum, S&P and ValuEngine - and I consult F.A.S.T.Graphs.

The good news is that, based on analysts' fair value estimates, Cisco appears to be trading at a 6% discount to fair value and CVS is trading at a 17.7% discount to fair value.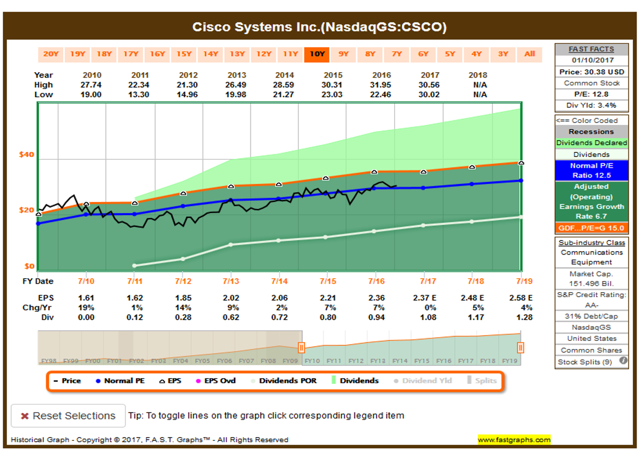 A look at F.A.S.T.Graphs reveals that Cisco is trading at about fair value (as evidenced by the black "stock price" line lying on top of the blue "normal P/E" line).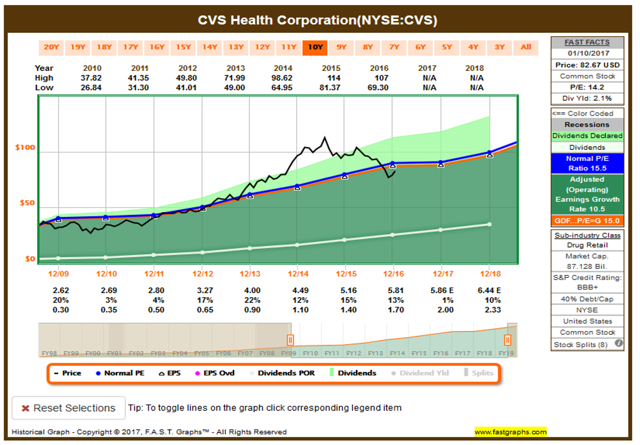 A look at F.A.S.T.Graphs reveals that CVS is trading below fair value (as evidenced by the black "stock price" line lying below the blue "normal P/E" line).
It's nice to see that even though markets are near their all-time highs, there are still reasonable prices to be found!
Conclusion
Due to its substantial and growing income stream, I pulled the trigger on a purchase of Cisco for the Dividend House portfolio. But Cisco has a short dividend growth history. (Cisco initiated its dividend in 2011.) As Cisco's dividend growth is untested during adverse economic conditions, I am not confident in Cisco's willingness to grow its dividend when times are tough. Therefore, I am placing Cisco on the Dividend House roof (where my auxiliary positions go).
With the addition of Cisco, below is a snapshot of the current Dividend House portfolio.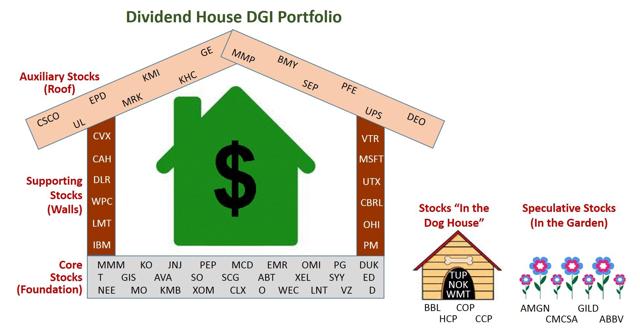 Which stock would you purchase to sleep well at night - Cisco or CVS? Would your answer change if you were buying for a millennial portfolio? Do you have two stocks that you are trying to decide between? I look forward to hearing from you!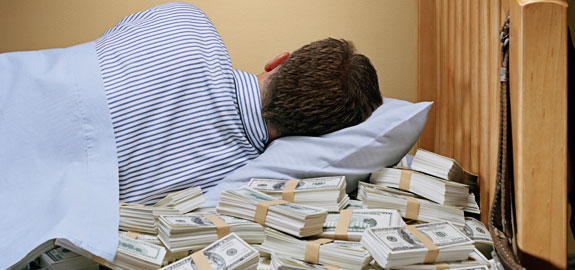 Please Join Me at the Free Seeking Alpha DIY Investor Summit!
I am honored to be a speaker at the Seeking Alpha DIY Investor Summit from January 23-27. In total, 25 investors on Seeking Alpha will gather together to share detailed tips on our core investment strategies, our advice for DIY investors, and specific ways we're positioning our portfolios for 2017. If you are interested, free registration is now open at this link.
Disclosure: I am/we are long ABBV, ABT, AMGN, AVA, BBL, BMY, CAH, CBRL, CCP, CLX, CMCSA, COP, CSCO, CVX, D, DEO, DLR, DUK, ED, EMR, EPD, GE, GILD, GIS, HCP, IBM, JNJ, KHC, KMB, KMI, KO, LMT, LNT, MCD, MMM, MMP, MO, MRK, MSFT, NEE, NOK, O, OHI, OMI, PEP, PFE, PG, PM, SCG, SEP, SO, SYY, T, TUP, UL, UPS, UTX, VTR, VZ, WEC, WMT, WPC, XEL, AND XOM.
I wrote this article myself, and it expresses my own opinions. I am not receiving compensation for it (other than from Seeking Alpha). I have no business relationship with any company whose stock is mentioned in this article.