Microbot Medical (NASDAQ:MBOT) is an Israel-organized reverse-merger company with a massive quarter-of-a-billion-dollar valuation, five employees and experimental products that can't be validated for several years.
When reality kicks in, we believe investors will beat feet, sending the stock plunging to a fraction of today's price.
Microbot is a pre-human-trial medical device company. One product idea is the SCS, a self-cleaning shunt to treat hydrocephalus or fluid on the brain. The second candidate is TipCAT, a semi-disposable endoscope for use in colonoscopy.
What's up with Microbot and why do we believe this stock is precariously positioned? Investors may find other viewpoints here. Meanwhile, let's examine those issues...
Loser + Loser Does Not Equal A Winner
In order to buy into a stock like this, investors need to believe that a loser can buy a loser and generate a winner.
For a while, the market apparently bought into that notion.
Last May, StemCells financials and stock had been struggling for some time and further analysis of its "Pathway" spinal injury therapy study results turned out negative. So the California company terminated the study and began to wind down operations.
Then, six weeks ago, the company merged with an Israel-organized private company Microbot Medical (Microbot Israel), changed the company name from StemCells to Microbot Medical and installed Microbot Israel leaders.
Microbot Medical pulled a 1-for-9 reverse stock split just before the merger closed. Microbot Israel holders received 26.6 million shares, significantly diluting the other shareholders.
The day after the reverse merger, on Nov. 29, Microbot sold StemCells' stem lines, intellectual property and other assets for $4 million.
Microbot had what it needed by the time the smoke cleared: about $2.8 million and a listing on the Nasdaq.
Leading up to the close of the merger in late November, StemCells shares rocketed in one week from about $7 to over $12 (the stock briefly spiked over 500% when merger plans were disclosed in August).
(Source: Yahoo)
But the stock quickly reversed once the deal was completed. Shares dropped back to $7 and kept falling to below $6.
The market seemed surprised by what happened next.
Selling Stock Cheap
Just last Thursday, Microbot jumped up and tapped into its shelf registration to sell 700,000 shares.
Initially, the stock price rose. Investors, it seemed, had bought into Microbot's chirpy, opaque press release presented early that morning: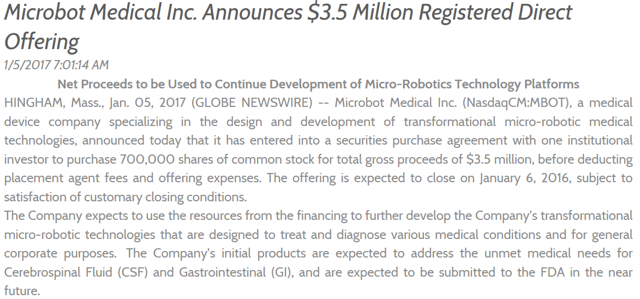 But the stock plummeted the next morning following the after-hours release of the 8-K showing the stock was sold for $5, a fraction of the $7.70 to $9.10 that many investors had just forked out.

(Source: Yahoo)
Cut-Rate Warrants, Convertibles
Meanwhile, certain investors had been getting Microbot stock for pennies on the dollar compared with average retail investors. Here are the highlights on those cheap convertibles and warrants:
1. Under merger plans in August, the company eliminated the anti-dilution price protection for 2016 warrants.
2. Institutions have turned in most of their warrants for stock at just $0.30 per share.
"As part of our obligations under the Merger Agreement with Microbot, in August 2016, we negotiated with certain institutional holders of our 2016 Series A and Series B Warrants to have such holders surrender their 2016 Series B Warrants in exchange for a reduced exercise price of $0.30 per share on their existing 2016 Series A Warrants and the elimination of the anti-dilution price protection in the 2016 Series A Warrants. As a result of the exchange, the exercise price for all outstanding 2011 Series A Warrants and 2016 Series A and Series B Warrants was reset to $0.30 per share. Subsequent to the reset of the exercise price, an aggregate of 531,814 (from an outstanding aggregate of 578,081) 2011 Series A Warrants were exercised. For the exercise of these warrants, we issued 531,814 shares of our common stock."
3. A $2 million note may be converted into Microbot stock at a $0.64 conversion price.
"The Convertible Note is convertible into the Company's common stock any time after November 28, 2017, until the maturity date of November 28, 2019, based on a conversion price of $0.64, subject to adjustments as provided in the Convertible Note and the other terms and the conditions specified in the Convertible Note."
The dilution potential continues to loom over investors as Microbot attempts to advance its product candidates. The company will likely be forced to continue selling stock and securing convertible debt because it has failed to generate revenue and will likely have no real revenue stream for years... if ever.
Alpha Capital Anstalt
Meantime, virtually no big institutions are interested in Microbot. The company's institutional ownership is a poor 0.58%.
But there is one large investor - Alpha Capital Anstalt - which holds a Microbot note convertible to stock at under a dollar per share. The Lichtenstein-based firm has invested in some big losers, including the last three investments preceding Microbot:
In mid-November, the firm bought nearly 5% of deep sea transportation company FreeSeas (OTCPK:FREEF). The next week, Alpha increased its ownership to 7.4%. The chart below shows how the stock has dropped to zero since then.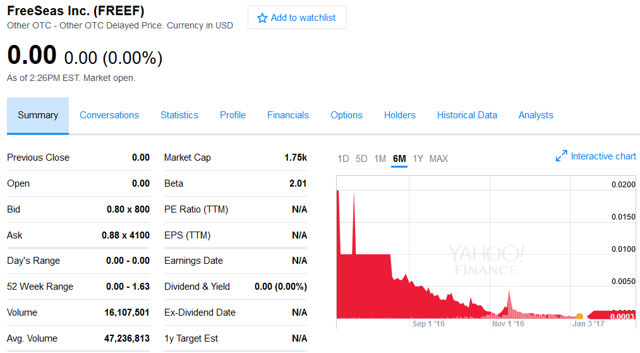 (Source: Yahoo)
Last May, as shares of home testing products distributor Decision Diagnostics (OTCPK:DECN) traded around the year's high, Alpha Capital Anstalt bought nearly 10% of the company. The chart below shows Decision's decisively downward trajectory since that time.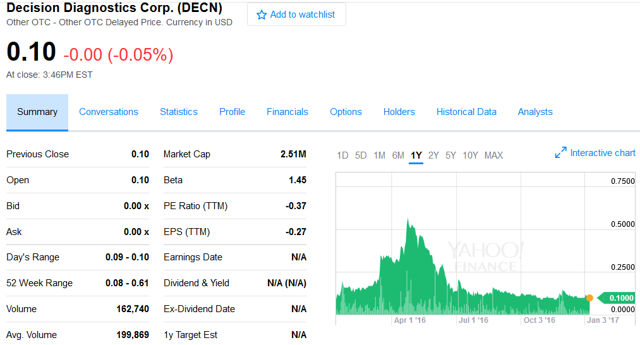 (Source: Yahoo)
Last March, the firm claimed a nearly 10% stake in beer and tavern food company Harrison Vickers and Waterman Inc. (OTCPK:HVCW). The chart below shows how HVCW has gone to zero.
(Source: Yahoo)
So that track record suggests investors can take no comfort in Alpha Capital investing in this company.
Underreported: Market Valuation
Meanwhile, Microbot's market valuation is much higher than currently shown on various financial sites - meaning the stock is much more expensive than it seems at first glance.
Yahoo, Stock Market Watch and others show outstanding shares at 26.6 million. But recent company filings state the actual number of outstanding shares is 36.2 million.
So, at recent levels, this company with an idea that may or may not work is supposedly worth an astonishing $258 million.
The picture changes when we consider the looming stock, options, warrants and loan that can be converted to common stock:

(Source: Company SEC filing page S-4, TheStreetSweeper)
Investors can see that Microbot goes from 26.6 million shares to somewhere around 42 million outstanding shares, resulting in stock potentially getting watered down by more than 50%. At current levels, the value would be an even more absurd $281 million.
Losing Out To Competitors
Meanwhile, Microbot wants to enter its TipCAT product idea into the highly competitive reusable colonoscopes market.
Fierce rivals there include dominate players:
Other rivals include companies producing disposable, self-propelled colonoscopes:
GI View
SMART Medical Systems
Microbot hopes to enter its SCS product idea into the smart shunt or smart catheter field, also incredibly competitive.
Advanced smart shunt designs for hydrocephalus are underway at these top research facilities:
New Jersey Institute of Technology
Wayne State University
Many shunt systems are already in use, including:
Aesculap
Integra
Sophysa
Codman
Medtronic (NYSE:MDT)
Alcyone: After numerous bench and animal studies, Alcyone Lifesciences announced the clinical use of its ReFlow cough-reflex mimicking system last August. It has filed for US Food and Drug Administration pre-market approval.
Many competitors enjoy massive research and development funding, good reputations and established relationships with doctors and insurance companies. Rivals have also set up distributor networks and can offer rebates, discounts and other incentives to doctors.
But Microbot merely hopes to begin SCS human studies by December 2018 and maybe a full human trial by December 2019. It hopes the first TipCAT human studies will begin about December 2018 and perhaps a full clinical trial by December 2020.
So rivals have already blown away Microbot before it can even get out the gate.
Conclusion
Microbot is an extremely risky stock that's precariously positioned to get hammered, thanks to issues including:
Absurd valuation. A quarter-of-a-billion-dollar market valuation for such an early-stage company is something we haven't seen in years.
Misrepresented. Share count is incorrect on Yahoo and other sites. Consequently, the market cap appears much lower than the actual figure.
No track record. A company needs more than an idea to justify a market cap that's even one-tenth of Microbot's valuation.
Low warrant price. As Microbot trades for ~$7, warrants have been exercised for just 30 cents and a $2 million note may be converted into stock at just 64 cents per share.
Extreme competitors. Microbot hopes its first full clinical trial can begin in about three years. But already, major world-class rivals have established products placed with healthcare providers.
More of the same. We believe shares in this five-employee company will mirror the plunging stock of recent investments handled by a significant Microbot investor.
We expect the stock to quickly collapse by 50% and later drop to under $1 per share.
Disclosure: I am/we are short MBOT.
I wrote this article myself, and it expresses my own opinions. I am not receiving compensation for it. I have no business relationship with any company whose stock is mentioned in this article.
Editor's Note: This article covers one or more stocks trading at less than $1 per share and/or with less than a $100 million market cap. Please be aware of the risks associated with these stocks.