Expectations for a strong showing at CES 2017 were high: During the last earnings call, Energous (NASDAQ:WATT) CEO Stephen Rizzone confirmed that several partners were going to display products at CES in January and that the first products using WattUp technology will reach consumers in Q1 2017. Now that CES is over and media coverage has tapered, it is good time to summarize Energous' showing and how it fits into the competing bullish and bearish narratives.
Product announcements
During CES, Energous announced several products with WattUp charging capability:
Chipolo, a Slovenian company funded on Kickstarter that makes Bluetooth lost item trackers, is planning second-generation devices with wireless charging capabilities. This application is an interesting test case for WattUp as the low cost is extremely important. Current Bluetooth lost item trackers have just a battery, a Bluetooth chip and a ceramic speaker. Adding wireless charge capability could easily double the bill of material as the WattUp receiver chip is similarly sized to the Bluetooth chip and the rechargeable battery is costlier than a cheap coin cell battery. No price or release date were announced and a search on the FCC website did not show the FCC approval for the upcoming product. This product bears careful watching as it will be a very good indication of the price competitiveness of WattUp technology.
PERI, another crowd funded company that makes Bluetooth speakers for iPhone6 (the iPhone7 model is scheduled for this spring) is to release a portable USB battery called MicroPACK. The product has 700 mAh capacity and can be recharged wirelessly using WattUp. The small capacity, about 5-10x less than competing battery backs, may be due to the slow charging rate of WattUp Mini. In my estimate, it takes 25 hours to recharge PERI's battery back using the approved WattUp Mini transmitter which may limit its appeal. The product is not yet approved by the FCC. Release date and pricing were not announced but it is indicated that product is to ship in spring 2017.
CVR Global Inc, a start-up working on medical devices, is planning to use WattUp technology. The product is not yet FDA approved so release may be years away.
Sejin Electronic Inc, a Korean manufacturer known for keyboards and other computer peripheral, is to ship WattUp Mini transmitters. The release date and pricing were not announced. The FCC web site does not yet show the license application/approval.
Another Korean manufacturer, SK Telesys, known for wireless routers, is to use WattUp for hearing aid and smart ID card. The release date and pricing were not announced. The FCC web site does not yet show license application/approval.
Tactual Labs, a start-up that works on 3D user interface, was also mentioned but this does not appear to be a available near term.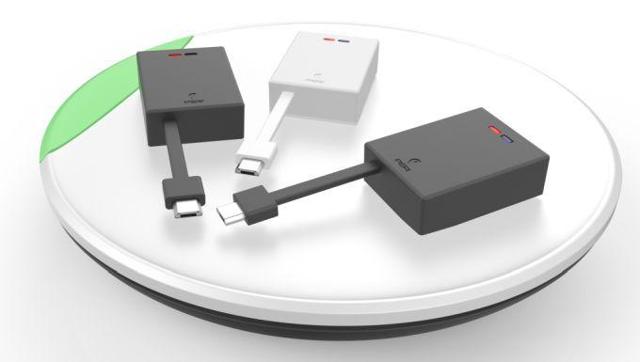 Figure 1. PERI MicroPACK (Source)
In summary, Energous did show a few products with the portable battery and the Bluetooth lost item finder being the closest to commercialization. These are very cost sensitive product categories from small crowd funded companies which makes it unlikely that they will generate much revenue. For now, the positive PR of a having product in the pipeline may be sufficient for Energous' bulls. The real test will come later when we see the product pricing as this will be good indication of the WattUp cost competitiveness.
Unfortunately, it is now evident that Energous will miss its target of getting the product to consumers in Q1 2017 and there are not even firm launch dates for the future products. The closest we have is a potential spring launch from a crowd funded company with one past product. This may or may not happen: The reader is reminded of the past product promises including a wireless charging case announced in CES 2015 and expectations to ship "millions and millions" of chips by the end of 2016. Until we see a product approval by FCC, the product announcements are just words. As it stands, the only WattUp product with FCC approval is the WattUp Mini approved last summer.
The lack of products makes it difficult to achieve cash flow breakeven in Q3 2017 that has been the company guidance for some time. In an optimistic scenario, the initial product announcements lead to positive momentum and further partner deals. A pessimistic view is that WattUp is not anywhere near to being a vibrant ecosystem that could compete with alternative standards.
Overall, CES showed the challenges in Energous' stepped strategy of trying to generate revenue with contact charging while waiting to release long-distance charging: No large manufacturer signed up for WattUp Mini which may indicate that its touted advantages are not very compelling without the long-distance charging capability.
Media coverage
Energous managed to raise a fair amount of media coverage during the conference. The biggest story, predictably, was the rumored Apple partnership that it made all the way to Forbes. The story can be traced to the Verge interview where CEO Rizzone states that Energous' partnership is with...
one of the largest consumer electronic companies in the world. I cannot tell you who it is, but I can virtually guarantee that you have products from this company on your person, sitting on your desk, or at home.
The Verge journalist inferred this to mean Apple. This author disagrees: If Energous was truly partnered with a company like Apple, it would be silly to spend effort with tiny crowd funded companies like PERI.
The announced products received less media coverage but were noted in several news sources that cover technology (for example, here and here).
In addition to the positive coverage, the media was also critical of Energous. The above mentioned the Verge article noted that Energous still isn't delivering truly wireless charging and that it barely worked in the past demos. In a Barron's interview, Menno Treffers, who is the public face of the Wireless Power Consortium, said that...
they (Energous) are not very efficient, and they are not very safe.
... and went on to imply that Energous has not yet demonstrated long-distance charging safely. While this is coming from a backer of competing Qi charging standard, it is notable that media is starting to pick up on the safety issues in RF charging.
The safety issues also were raised by the competing RF charging company Ossia. According to Ossia, the power levels sent by Energous put people at risk. Adding salt to the wound, Ossia won the CES Best Innovation Award while Energous was not honored in any category.
Summary
Energous' showing at CES gave something for everyone: Bulls point to the first products in the pipeline and cherish the Apple rumors. Bears point to the lack a credible product partners, yet another indefinite delay in the product launch, and the safety concerns raised in the media. Neither side can claim a compelling victory and stock price trades more or less are unchanged.
The widely diverging narratives continue to make this an interesting stock to follow. Bulls will want to see definite product launch dates and more credible product partnerships. This could build positive momentum and keep hope for a new charging ecosystem alive.
Bears hope to see for further delays in commercialization and more critical articles in mainstream media which would erode the management credibly and deflate the hype surrounding the stock. The author's personal view is that bear scenario is more likely and the author is short on Energous.
Disclosure: I am/we are short WATT.
I wrote this article myself, and it expresses my own opinions. I am not receiving compensation for it (other than from Seeking Alpha). I have no business relationship with any company whose stock is mentioned in this article.