OPEC Secretary-General Mohammad Barkindo, said at the Atlantic Council Global Energy Forum that global oil inventories will start to fall by the second quarter of this year.
But according to OPEC's own figures released in its latest Monthly Oil Market Report in December, the "call on OPEC oil" is forecast to be 31.6 and 32.0 million barrels per day (mmbd) in the first and second quarters, respectively. Unless OPEC produces its output to well below its ceiling of 32.5 mmbd, there is no basis for his forecast.
| | | | |
| --- | --- | --- | --- |
| | Demand | Non-OPEC | Call on OPEC |
| 1Q17 | 94.6 | 63 | 31.6 |
| 2Q17 | 94.7 | 62.7 | 32.0 |
| 3Q17 | 96.5 | 62.6 | 33.8 |
| 4Q17 | 96.5 | 63.4 | 33.1 |
In the latest Short-Term Energy Outlook, the Energy Information Administration (NYSEMKT:EIA) forecast that OECD global stocks will rise in both the first and second quarters of 2017. It estimates that stocks ended December at 3.101 billion barrels, and will rise to 3.112 and 3.141 to end the first and second quarters, respectively.
Mr. Barkindo went on to say, "We have our target in accelerating those draw-downs to bring them closer to the five-year level - that is our target." The five-year average OECD stocks as of December 2014, prior to the building of the current glut, was 2.666 billion barrels. The five-year average as of December 2016 was 2.792 billion barrels.
Total SA Chief Executive Officer Patrick Pouyanne said he expects that the decline in oil inventories will take two years.
But the EIA's outlook through 2018 shows a different picture. It forecasts stocks will rise to 3.127 at end 2017 and 3.158 billion at end 2018. EIA assumes OPEC crude production will average 33.2 mmbd in 2017 and 33.7 mmbd in 2018.
Saudi Energy Minister Khalid Al-Falih said that KSA is producing below 10 mmbd, lower than it had agreed, but did not specific how much lower.
No Price Target
Mr. Barkindo also said that OPEC isn't targeting a specific price for crude. But United Arab Emirates Energy Minister Suhail Al Mazrouei told an Abu Dhabi energy conference Wednesday that crude at $50 a barrel "isn't going to cut it" for most producers. When asked if $50 should be a floor, he said: "I will never quote a price because I truly believe we should not target a price."
According to International Monetary Fund data released in October, all GCC members, except for Kuwait, need oil prices to be above $50 to balance their 2017 budgets. Saudi Arabia needs a price closer to $80. This is why I have argued that although KSA has low lifting costs, its "full cost" needed to balance its nation's budget actually makes it a high-cost producer from the standpoint of the owners, the ruling family.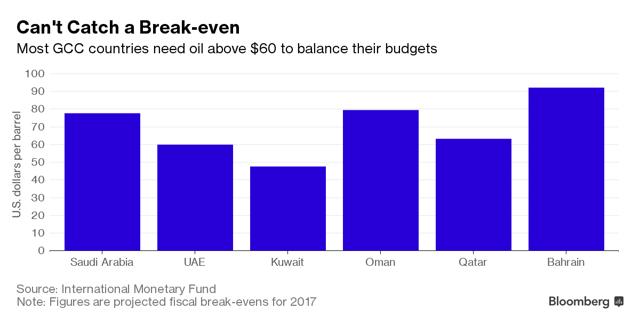 But the dilemma the Saudis face is renewed competition from American shale oil for market share if world oil prices are high enough to create incentives to increase output.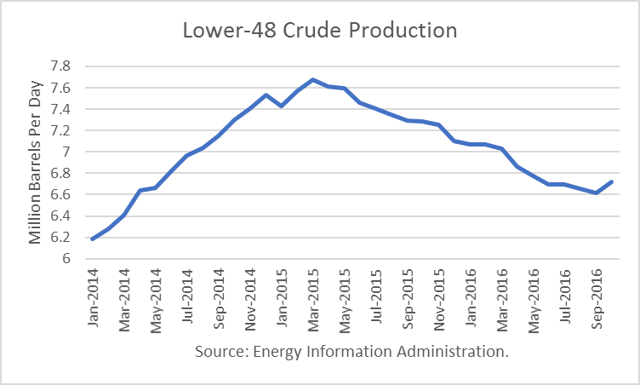 Preliminary data show that prices in the $50s may have already begun to ignite American production. The EIA's October production report shows that production in the "Lower-48" excluding Alaska and Gulf of Mexico (offshore) rose by 105,000 b/d in October, the first meaningful reversal of the downturn.
The largest increase was in North Dakota, 72,000 b/d. The largest oil producer in its Bakken basin is Continental Resources (NYSE:CLR). It had reported to investors that it had recently added two crews in 2016 to complete DUCs. That might explain the increase in October's production. CLR had also reported that it would double its completion crews to four by end-December, and that it had new production from 15 recently-completed wells coming online in 2017.
Harold Hamm, its CEO, had said in November it would take the U.S. 18 months to bring back production by "any significant amount." He said that "we have no intention of employing a lot more rigs at $60 oil." I wrote that "my immediate reaction was that he was taking a page out of OPEC's playbook and trying to bluff them into supporting a price rise for his company's benefit."
Conclusions
CLR has reported that it can earn a 100% ROR completing wells in the Bakken at $50 WTI. And so CLR had apparently restarted production even prior to that interview.
$50 oil is too low for almost all OPEC countries to balance their budgets. But WTI in the $50s appears to have restarted American shale oil, if October's data is correct.
OPEC is going to need a more dynamic strategy to balance their budgets because higher prices will translate into lower demand for their oil, when American shale oil production kicks back in. This is the dilemma OPEC faces, with no simple solution.
But the Saudi minister had said that he didn't expect any response from American shale oil throughout 2017. I think he (and OPEC) are in for a surprise.
Disclosure: I/we have no positions in any stocks mentioned, and no plans to initiate any positions within the next 72 hours.
I wrote this article myself, and it expresses my own opinions. I am not receiving compensation for it (other than from Seeking Alpha). I have no business relationship with any company whose stock is mentioned in this article.