If one were to form an opinion strictly based on the rhetoric coming from Western politicians and our mainstream media, one would think that Russia-Western relations are in for a total break. This has been the case for three years already as the Ukraine crisis and its fallout led to a seemingly irreversible divorce, especially between Russia and the EU. The EU obstruction of the South Stream pipeline project which was meant to take natural gas to Eastern & Southern Europe confirmed to many that the EU was getting serious about cutting its dependence on Russian natural gas imports, which were universally declared to be a dangerous tool of influence and control of Russia over EU member countries and the EU overall. And yet, we are just finding out that the EU imported a record volume of Russian gas in 2016.
Gazprom's (OTCPK:OGZPY) CEO Alexey Miller just announced that the EU imported 179 Bcm of gas from Russia in 2016, which is a 12.5% increase compared with 2015, and is also a new record. New daily export volume records have also been set in recent days, due in large part to colder than normal temperatures in parts of Europe. It is in large part due to Russia's ability to provide Europe with an increase in volumes on short notice when needed, which makes the whole concept that has been trumpeted for the past few years in Europe of reducing reliance on Russia, less than attractive to say the least. Fact is that a combination of declining industrial output and a milder winter may lead to a significant drop in EU gas demand, while a colder than usual winter coupled with an economic recovery, including industrial production, may cause a surge in demand. Russia is in effect that flexible provider which can accommodate Europe's needs.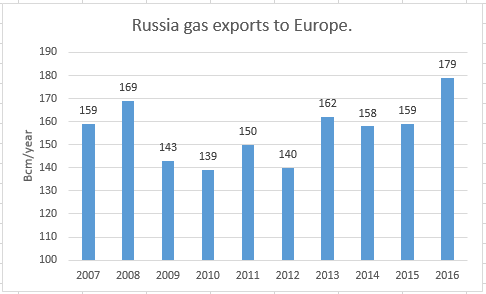 Data source: Gazprom.
As we can see, there has been a significant amount of demand variation for Russian gas in Europe. There was the 2008 record import, which stood until 2016. We had a period of relatively low demand after the 2008 global economic crisis started to bite. 2013 coincides with the year that the EU exited its double-dip recession, and as we can see, Russian gas demand rose higher than what we saw during the 2009-2012 period, and now we are at a new record high for 2016, with the current year shaping up to be a strong contender for a new record, due in large part to a cold January in Europe so far, but also because Europe's economy is continuing to recover.
There have been two other factors which influenced demand for Russian gas in Europe in the past few years. There is the weather factor, and then there is the Netherlands factor. I have been pointing out over and over again in the past few years, the fact that Netherlands natural gas production is falling off a cliff.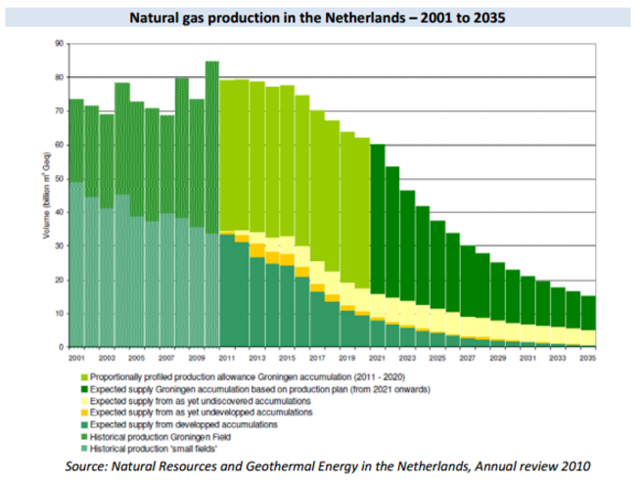 Source: IEA.
Many people may not be familiar with this fact but about half a decade ago, Netherlands natural gas production accounted for about half of all EU domestic supply. As the chart shows, it may become a net gas importer in about a decade or so. Netherlands gas production has been in deep decline for a few years now, and it is taking a toll. It may also be the real reason why South Stream was obstructed by the EU.
South Stream was meant to bypass Ukraine as a Russian gas transit country for the EU and take gas directly to Europe, via Bulgaria as an entry point into the EU. The gas was supposed to be destined to Southern Europe and Balkan customers, as well as to Central Europe. When the EU obstructed the project by leaning on Bulgaria to pull out of the project in 2014, it was assumed that it is because the EU is getting serious about plans to cut its dependence on Russian gas, as relations were deteriorating due to the Ukraine crisis. Since then however, we learned that Gazprom intends to build a second Nord Stream pipeline to Germany. Not only that, but the EU also decided in October to remove the cap on Gazprom to use the Opal pipeline in Europe, which up to now was causing Gazprom to limit the use of the original Nord Stream pipeline. Any discussion of obstructing the Second Nord Stream project as was done with South Stream in the interest of reducing EU dependence on Russian gas has been met by claims that Nord Stream 2 is a business rather than a political decision, therefore politics should stay out of it.
In my view, the obstruction of South Stream was never about reducing dependence on Russian gas, or about making sure that Ukraine's economy remains viable in part by the continued collection of natural gas transit fees, which amounts to about $2 billion per year, or about 2% of Ukraine's GDP. It was about diverting more Russian gas to the North European countries which have to not only contend with declining Netherlands production, but also with the threat of Norwegian gas production entering production decline perhaps some time after 2020.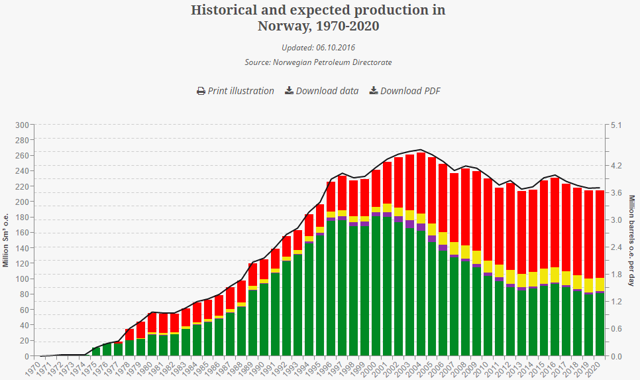 Source: Norskpetroleum.
Nord Stream 2 may become operational by 2019, just in time to compensate for continued Netherlands production declines, as well as a possible impending Norwegian decline. Current projections seem to put Norwegian gas production on a plateau between now and 2020, with just a slight bias towards decline. It is estimated that as much as 47% of total oil & gas technically recoverable reserves initially in place in Norway have already been produced. Oil peaked over a decade ago, because oil was exploited more heavily in the past, while natural gas is likely to be a few years away from entering permanent decline. The obstruction of South Stream therefore looks more and more like it was a play for more Russian gas to Northern Europe, in order to make up for North Sea and Norway production declines, rather than a serious attempt to cut back on Russian natural gas.
Gazprom's fortunes went from seeming bleak two years ago, to looking increasingly bright in terms of future export market gains.
In addition to the North Stream 2 project, there is also the Turk Stream project which seems to be back on track, with a capacity of 31.5 Bcm. There is also the huge deal that was signed with China for the Power of Siberia natural gas pipeline project, which will result in 38 Bcm per year in exports to China from new gas fields being developed in East Siberia. If we add this to the 55 Bcm in new export capacity courtesy of Nord Stream 2, we are looking at Gazprom gaining an extra 124.5 Bcm/year in extra export capacity, which comes on top of the extra capacity that Gazprom gained from the de-blocking of the Opal pipeline by the EU, which also comes out to an extra 27.5 Bcm per year. A significant portion of this extra capacity will go towards reducing reliance on Ukraine as a gas transit country, but I don't believe that Ukraine will be completely eliminated from the gas transit business. Reliance on Ukraine will be greatly reduced after 2019, which is when the transit deal will have to be re-negotiated between Ukraine and Russia. Gazprom will likely get a much better and perhaps more flexible deal for gas transits through Ukraine, which should also help its bottom line by 2020. Assuming that Ukraine will only be used to export half as much Russian gas as currently, and perhaps a deep cut in transit fees, Gazprom could end up saving about $1-1.5 billion per year starting in 2020, thanks to a lower transit fee bill.
In addition to the prospect of Gazprom export volumes increasing, there is also the very real prospect of natural gas prices rising. Russian natural gas export prices are tied to the price of oil. The price of oil is likely to increase in coming years. The IEA for instance forecasts a global supply deficit starting from 2018, which is set to widen for the rest of the decade.

Source: IEA.
As I pointed out in a recent article, I believe that the supply shortfall will in fact start in 2017, by the second half of the year, and given the OPEC deal, the shortfall may be much greater than is currently being contemplated. I also think that the capital spending cuts made since 2014 will have a much greater impact on oil projects around the world, further deepening the gap. It is impossible to predict with certainty where oil prices are headed, given how many factors can come into play, but as things stand right now, it is looking alright for the next few years. This also means that things are looking increasingly good for Gazprom's main export, which as things stand right now, it looks like it will be able to export a lot more of it, at increasingly better prices. It is a real change from two years ago, when it seemed to most, in part due to political and ideological bias that everything was going wrong for Gazprom and Russia. Aside from pointing out the obvious good news for Gazprom and potentially its current and future shareholders, I think there is an important lesson that needs to be learned here, namely not to allow ideological leanings to cloud one's view of potential economic trends and investment opportunities.
Disclosure: I/we have no positions in any stocks mentioned, and no plans to initiate any positions within the next 72 hours.
I wrote this article myself, and it expresses my own opinions. I am not receiving compensation for it (other than from Seeking Alpha). I have no business relationship with any company whose stock is mentioned in this article.
Editor's Note: This article discusses one or more securities that do not trade on a major U.S. exchange. Please be aware of the risks associated with these stocks.