Dow 20,000 watch has been in force for quite a while since the Trump rally. The only question is, is it warranted? How is the economy really looking, and what are the outlooks for most companies? Is the 7 year bull run still sustainable? In this article we look at the contrarian analysis to 2017 and the current stock rally.
First, let's take employment statistics. In 2009 around the bottom of the crisis (The S&P bottomed on March 9th, 2009), Employment was about 142 million out of the 154 million in the labor force. The following image is from the Bureau of Labor Statistics:

Now that is an unemployment rate around 8%, which still wasn't the worst in the great recession, but for investing's sake, we are taking a look at this since labor is a lagging indicator. The U.S. population was around 305 million at that time. Let's compare to recent statistics that are more firm than the current ones that are subject to change. The U.S. labor force right now according to the BLS is as follows: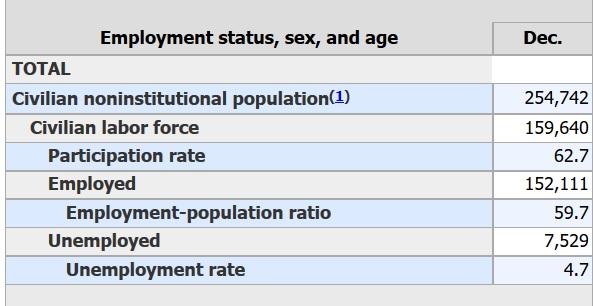 The labor force is a tick under 160 million. From 154 million to 160 million, that's a total increase of less than four percent. Compared to U.S. population growth, that is insignificant. The difference in U.S. population growth which was 305 million to 334 million, which is an increase of almost 10%. That growth is more than double, and the workforce hasn't grown to match it. That is a lot of people still, disenfranchised and out of work even leaving the workforce. These people still need money to live, and are either taking disposable income from family or living off government programs. This money not being used on disposable income keeps certain types of stocks from growth.
Let's look at a couple other metrics.
Payroll currently sits at $26 per hour as the average wage for an American worker. The following is a recent except of the BLS in regards to U.S. wages in December and November.

On the other hand average U.S. wages back in 2009 according to census.gov gives us an average wage at $19.50 an hour. The nominal wage growth has bumped up almost 25%. That equates out to a 25% increase or a wage increase of just under 3.5% annually compounded. Inflation during this time was about 14%, fluctuating annually with the federal reserve trying to aim for a 2% inflation rate. The difference is about 11%.
These are all averages, so let's look at outliers that may change some of the numbers and inflate or deflate them.
Across the U.S. the minimum wage has been increased due to state laws. Some hitting the news are Los Angeles, Seattle, San Francisco, and all of California who have bumped their wages up to $15 an hour in some form or another. This can bump up wages despite other places in the U.S. having stagnant wage growth. Putting a higher floor pushes up the average wage by quite a bit, since the average tends to have more on the lower end than many higher earners on the upper end.
Average CEO pay has also increased during the last 7 year. According to the Economic Policy Institute, CEO pay in 2009 averaged about $10 million per year. The most recent stats on CEO pay I could find showed CEO pay averaging $15.5 million according to PBS. That's an insane growth rate of over 50%, and higher leading into 2016 of which stats are still being compiled. Higher earning workers and earning a much larger rate of pay and gaining double the raises of the average U.S. worker. That doesn't leave too much from the consumer economy to be spent.
If we take these into account, the rally still appears to be an upper class rally, with not much for the consumer based economy for lower class Americans to prosper.
I haven't included an analysis of the U.S. dollar to other currencies due to the unstable nature of Europe at this point, and uncertain outlook in Asia. As it stands now, the only reason for the rally under a contrarian form of thinking would be because the U.S. is the only place that is reasonably safe compared to the events happening all around the globe, and the other parts of the developed world being in such political and economic turmoil and upheaval.
A contrarian approach to taking advantage of a downturn because of lack of supporting numbers once the world stabilizes would be to buy market puts, or target consumer stocks with the same strategy, as they are not likely to have great numbers with such a sluggish economy for the lower classes.
Purchasing these puts will allow you to have upside by offputting the drops onto someone else, and allow you to stay in the current upswing. Locking in these gains for a small fraction of the gains you have to date will keep you from losing out should the markets drop. There is no real reason for the rally to keep going, so why not put stop gaps in place to take advantage of the party, whether it stays rational or not?
Disclosure: I/we have no positions in any stocks mentioned, and no plans to initiate any positions within the next 72 hours.
I wrote this article myself, and it expresses my own opinions. I am not receiving compensation for it (other than from Seeking Alpha). I have no business relationship with any company whose stock is mentioned in this article.