Welcome to the seventh installment of the Value Investing for Main Street series, exclusively on Seeking Alpha.
Microsoft (NASDAQ:MSFT) is a groundbreaking technology company that, love or hate its products, has changed how the world computes at home and in the office. Its co-founder, Bill Gates (Paul Allen is the other co-founder), is currently number one on the Forbes Richest People on the Planet list with an estimated net worth of $75 billion.
Gates is widely recognized as the most generous philanthropist in the world, as evidenced by his contribution of time and money to the Bill & Melinda Gates Foundation, and The Giving Pledge. MSFT's historical capital appreciation is legendary, and its current dividend payout ratio is a reflection of Gates' personal generosity.
Under new CEO, Satya Nadella, Microsoft's fundamentals, prospects, and risk profile are once again attractive. Nevertheless, are the stock's current valuation metrics as enticing?
A Tech Company that Generously Shares Its Profits

Microsoft is a trademark of the Microsoft group of companies
MSFT is a large blend stock in the application software industry within the technology sector. As of this writing, its market capitalization was an approximate $491 billion. MSFT's current price-to-earnings ratio or current stock price relative to earnings per share for the trailing 12 months is about 30 versus the mid-20s for the technology sector as a whole, and the low 20s for the Standard & Poor's 500.
Despite our skepticism in forecasting, the forward price-to-earnings ratio is about 21 compared to the upper teens for the technology sector and just over 20 for the S&P 500. The current trailing P/E ratio for MSFT is slightly expensive relative to the tech sector, and the market as a whole.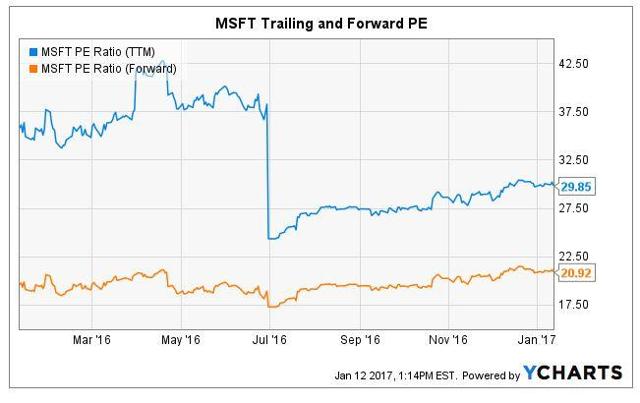 Microsoft's most recent earnings per share, annualized, are $2.09 as of October 2016. The company's next earnings announcement is scheduled for January 26, 2017. Rest assured, Value Investing for Main Street will attend the call on behalf of our readers.
Bill Gates is sharing his good fortune philanthropically. Likewise, as of this writing, Microsoft is paying a generous 75% of its EPS to shareholders in an annual dividend of $1.56 per share, paid quarterly, resulting in a 2.47% dividend yield. These are significant numbers for a main street value investor committed to total return from both capital appreciation and dividend payments.
Gates Prefers Bridge, Although a Natural at Monopoly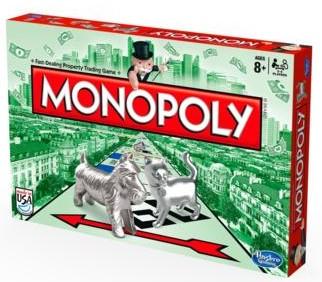 Source: Hasbro, Inc. (NASDAQ:HAS)
Understanding a company's goods or services and its competitive advantages is essential to the main street value investor. We want to own businesses whose products or services are easy to comprehend.
Bill Gates' passion for the card game, bridge, is notorious. However, considering Microsoft's market dominant product mix, particularly its flagship Windows and Office software, Gates built his company with an enduring wide moat that makes medieval castles look paltry.
Within investing parlance, a moat is the subjective measurement of the competitive advantages of a company's goods or services in the marketplace. A wider moat creates a barrier to entry for potential competitors. However, in the crowded technology space, companies with narrow or no moats are typical. To the contrary, Microsoft's enduring legacy of innovation in the tech arena - including its near monopoly on operating software - provides an attractive competitive benefit.
Microsoft is a broadly diversified global enterprise that divides itself into two general segments, engineering groups and business functions:
Author's note: I challenge readers who may be inclined to skip the listings below to find products and services of the company that you were previously unaware of, as I did. To own a company, we must first understand the business including the products or services that generate the numbers that comprise the stock's analysis.
Engineering Groups:
Applications and Services Engineering Group
Microsoft Office, Office 365, SharePoint, Exchange, Yammer, Skype, Bing, MSN, advertising platforms, and the business group.
Cloud and Enterprise Engineering Group
Microsoft Azure, Windows Server, SQL Server, Microsoft Dynamics, Active Directory, System Center, Visual Studio, and .NET.
Windows and Devices Group
Microsoft Edge, Minecraft, Halo, Surface, HoloLens, and Xbox.
Worldwide Commercial Business
Enterprise, public sector, small and mid-market services, developer, and partner.
Technology and Research
Microsoft research, computing and technology policy, and driving the company's overall technical directions.
Business Functions:
Business Development Group
Key partnerships, i.e., OEMs, silicon vendors, key developers, Yahoo, and evangelism and developer outreach.
Corporate Strategy & Planning
Cross-engineering and cross-business strategy, execution and planning initiatives as well as Microsoft's IT and operations.
Finance Group
Acquisitions, treasury activities, tax planning, accounting and reporting, internal audit, investor relations, worldwide licensing, and pricing.
Global Sales, Marketing and Operations
Global sales, marketing, and services for the 122 worldwide subsidiaries; strategic planning, global operations, and growth initiatives both in developed and emerging markets.
HR Group
Human resources and the company's cultural transformation.
Marketing Group
Advertising, brand, communications, research as well as Microsoft's retail stores.
Source: Microsoft Corporation
For a mature company such as Microsoft, product diversification is crucial to maintaining any semblance of growth and overall market share. Enter LinkedIn.

LinkedIn
On June 11, 2016, Microsoft entered into an agreement to acquire LinkedIn Corporation for $196 per share in an all-cash transaction valued at $26.2 billion. The company will finance the transaction primarily through the issuance of new debt. According to Microsoft, the acquisition is expected to accelerate the growth of LinkedIn, as well as Office 365 and Dynamics.
The LinkedIn purchase has been argued incessantly on the web, including here on SA, as both bullish and bearish. At VIMS, our two cents is strategic acquisitions such as LinkedIn are typically acquired at a premium. As an owner of MSFT and avid user of LinkedIn, I thought Microsoft's grab made sense in the context of buying 467 million registered members at the cost of ~$56 each. In the evolving world of Internet advertising, perhaps buying the targeted loyalty of a known subscriber will deem more valuable than the double click of an anonymous web page visitor.
Nadella's Transformational Vision
Reading a company's annual report is paramount to sound investment practice. Nonetheless, it is important to sift through the publicity aspect and find nuggets of useful information.
We found this in the narrative of Microsoft's 2016 Annual Report, which provides a glimpse of where the company sees itself in the emerging global transformation from the information age, to the artificial intelligence/machine learning age:
Earlier in this letter, I described the transformational opportunities that lie ahead, particularly in the realm of digital intelligence. We're growing today's core businesses and technologies, incubating for the future and investing in long-term computing breakthroughs. Within our research labs we're hard at work on advanced machine learning - artificial intelligence - that will produce forewarnings that can put an end to distracted driving and one day identify a crisis like Zika before it happens. Quantum computing, theorized for decades by some of the world's greatest minds as a way to harness the very building blocks of matter and energy for unimaginable computing capabilities and intelligence, is emerging today as a feasible technology. Its realization will bring new power to cure disease and address global challenges like climate change. Our people and partners right now are solving the hard problems of experimental and theoretical physics, mathematics, and computer science that will accelerate quantum computing becoming a reality.

And that brings us right back to our mission - to empower every person and every organization on the planet to achieve more.

- Satya Nadella, Chief Executive Officer, October 18, 2016
Despite the current blip on the world radar toward nationalism and protectionism, progress will ultimately prevail as it has for thousands of years, and we think Microsoft will continue to be a leading change agent in improving our lives through the ethical utilization of innovative technologies.
Are The Rank and File Satisfied?
A new addition to Value Investing for Main Street series is the measurement of employee satisfaction as well as the CEO approval rating. Although gathered from non-scientific data derived from the all too biased Internet, we feel a snapshot look at employee morale is worth a peek to see if further due diligence is in order.
According to Glassdoor, over 14,000 alleged Microsoft present and former employees who submitted online reviews have collectively rated the company 4 out of 5 stars. The most cited positive comment was "freedom to maintain work/life balance," which was also a sticking point for "parents of young children." The other most mentioned drawback was the "review system is problematic."
In response, Microsoft allegedly ditched employee reviews in 2015.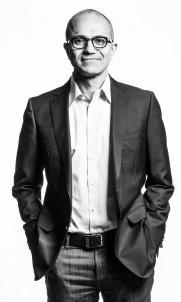 CEO Satya Nadella
Source: Microsoft Corporation
Most impressive, based on about 4,500 reviews on Glassdoor, Microsoft employees give CEO Satya Nadella a rare 95% approval rating. Anytime a company CEO is respected - or disrespected - by those that work within the same culture as him or her, we take notice.
Growth is Sandwiched Between Sales and Earnings
When considering the worthiness of a company's inclusion in the Value Investing for Main Street Model Portfolio (VIMS), the emphasis is placed on recent actual growth metrics as opposed to speculative forecasts of what may or may not happen with revenue, earnings per share, free cash flow, or dividend growth. We look for positive, trailing five-year revenue and earnings growth, and 10 years of positive increases in free cash flow and dividends. As defensive investors, we prefer companies that are already growing, not just promising to grow.
In the most recent five-year period, Microsoft's revenue and earnings per share growth are 4.05% and -4.89%, respectively, suggesting a flat long-term growth outlook. Studying the company's cash flow statement, we are further unimpressed by the 0.28% five-year average growth in free cash flow.
However, Microsoft's most recent 10-year compounded annual dividend growth rate is an impressive 15.2%. To be sure, the flat growth of the top and bottom lines are typical of a mega-cap company, but we like the upward trajectory of its dividend payout to shareholders. Dividends keep us compensated in the short-term as we wait patiently for capital appreciation of the company's stock over the long term.
Led by Nadella, the senior executives and global employee base at Microsoft are delivering a trailing 12-month operating margin (EBIT or earnings before interest and taxes) at a robust 23.02% of revenue. The operating results are producing a recent cash flow margin of 27.45%, almost tripling our minimum threshold of 10%. At VIMS, we prefer highly profitable, cash-generating companies that provide margins of safety in a literal sense. Although the company is not currently growing cash flow horizontally over time, its vertical conversion of revenue into cash is impressive.
As does Warren Buffett, we place a premium on the return on invested capital (ROIC) or how well a company is allocating its financial resources to generate returns for the business. As value investors on Main Street, we target companies producing 12% or higher in ROIC. Microsoft's ROIC at the time of this writing was just over the goal line at 13.16%.
Stock buyback manipulation notwithstanding, another excellent measure of management effectiveness is the return on equity (ROE) or how the company generates net income as a percentage of total equity in the stock. Since we look for a minimum of 15%, we view Microsoft's most recent ROE of 22.30% as more than adequate.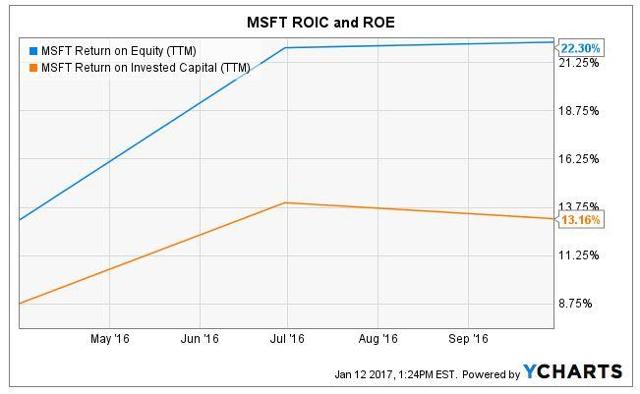 Fundamentally, Microsoft is a progressive technology behemoth as demonstrated by $85 billion in worldwide sales netting operating and cash flow margins that are driving dividend growth. Its top and bottom lines may be the typical mega-cap tortoise, but management seems to be growing everything in between. Is the stock worth initiating or accumulating for the main street buy and hold investor? As always, the answer lies in the stock's valuation details.
Valuations are in the Nosebleed Section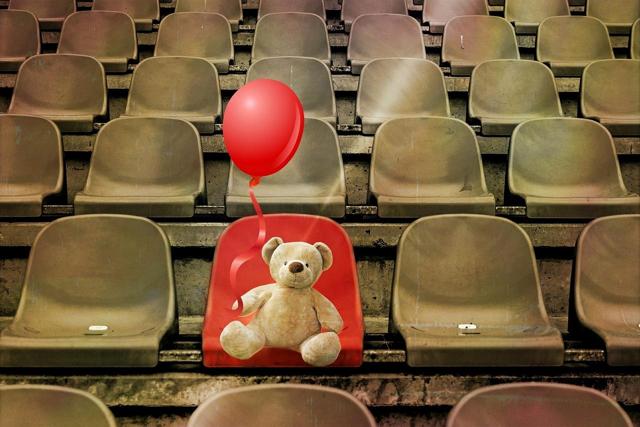 Source: Cocoparisienne/Pixabay
Determining the attractiveness of a stock's price based on valuation metrics relative to a company's fundamentals is a primary tenet of the main street value investor's search for stock investing nirvana, or alpha.
As of this writing, MSFT appears an expensive stock of a fundamentally sound company. Executing with investment intelligence - or perhaps sheer luck - we added an ownership slice of MSFT in June 2011 to the VIMS Model Portfolio at a 59% discount to its current $62 range at the time of this writing. Most of the gain had occurred since Nadella was named CEO in February of 2014 when the stock was ranging in the mid to upper $30s.
Current valuation indicators are arguably in the sell to hold spectrum depending on an investor's metric of choice.
MSFT was recently trading at an alarming 19 times enterprise value to operating margin (EV/EBIT). In general, 12 times or lower would reflect a reasonable stock price. EV/EBIT is a good indicator of whether a stock is oversold in the market, or overbought, as appears to be the present case for MSFT.
Price to sales ratio was 5.81 times as of this writing. That far exceeds the 2.00 or lower that we interpret as a good value when measuring a stock's price relative to its revenue stream. In direct comparison, the technology sector had a P/S of 3.16 and the S&P 500 was 1.97. Apparently, on a sales basis, MSFT is more expensive than both its tech peers and the large cap universe.
The price-to-earnings growth ratio (PEG) is a favorite among growth investors. However, main street value investors are more cautious based on the projection nature of PEG as opposed to actual trailing results. Nonetheless, PEG can provide a substantive peek into a stock's price worthiness. We prefer a ratio below 2.00, but MSFT was recently trading at an elevated 3.32 times PEG based on a five-year growth projection.
Microsoft also appears expensive by its price-to-book or P/B ratio. As of this writing, the stock is trading at 6.89 times its book value. We focus on fundamentally sound companies selling at a P/B ratio of less than 2.00 or at least below the industry average.
Some investors may prefer a measurement of tangible book, where intangible items, such patents, intellectual property, and goodwill are removed from the denominator. MSFT's price to tangible book at the time of writing was 9.92. Nevertheless, the stock's book value remains concerning when compared to the technology sector's recent collective P/B of 3.38 versus 2.98 for the S&P 500.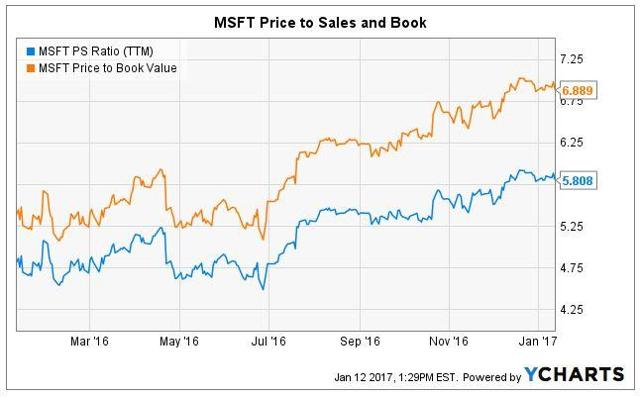 We also measure cash flow as a reliable predictor of the intrinsic value of a stock price. MSFT's price-to-cash flow ratio (P/CF) was 12.50 compared to 14.89 for the technology sector as a whole. At VIMS, we look for stocks trading at less than 10.00 times P/CF, or at least significantly below the sector or industry averages.
Arguably, mega-cap stocks, techs being no exception, are collectively expensive at the moment. Price to cash flow being a notable exception, MSFT is residing in the nosebleed section relative to its peers.
A Main Street Tutorial in Margin of Safety
Notably, MSFT is moderately volatile to the current market. For example, the stock's beta or the measure of its volatility in comparison to the market as a whole was 1.11 at the time of this writing. We typically look for beta below 1.25, or no more than 25% more volatile than the market.
Another important measure of risk is a company's liquidity, e.g., long-term debt as a percentage of current assets. Less than 1.00 is ideal as we want to own businesses that theoretically can pay down debt with liquid assets. Our most recent measure of Microsoft's liquidity was an attractive 0.39. In theory, the company could pay off its long-term debt obligations using only 39% of its liquid assets such as cash on hand, short-term investments, accounts receivables, and unsold inventory.
Current ratio (CR) is another simple but telling measure of a company's financial stability. CR is current assets divided by current liabilities, the higher above 1.00, the better. Microsoft's balance sheet had a recent CR of 2.69, demonstrating that liquid assets are exceeding near-term liabilities, such as accounts payable, short-term debt obligations, and customer extensions of credit by more than two and half times.
A stock's "margin of safety" is an estimate of the difference between the intrinsic value of the stock and its current market price. One measurement allegedly used by Benjamin Graham and Warren Buffett contemplates net profit margin in relation to dividend yield and book value. Dividing the sum of Microsoft's recently reported net profit margin of 19.42% and its annual dividend yield of 2.47% by its book value of 6.89 produces a margin of safety of 3.18. Above 2.00 is considered hold territory and above 10.00 is a buy signal. Because of its current high book value, MSFT is screaming hold or avoid in the value investor's vacuum.
Some professional value investors prefer to calculate margin of safety with discounted free cash flow projections or, similarly, Warren Buffett's infamous "owner earnings calculation:"
Owner earnings represent [A] reported earnings plus [B] depreciation, depletion, amortization, and certain other non-cash charges, less [C] the average annual amount of capitalized expenditures for plant and equipment, etc. that the business requires to maintain its long-term competitive position and its unit volume fully.
These types of overly sophisticated margin of safety or intrinsic value measurements are what allegedly justify the high fee structure of Wall Street; and the legendary pedigree of Mr. Buffett, of whom we hold with the utmost respect. But we are suspect of the projection nature of both formulas. If we have to start predicting future cash flows, interest rates, and capital expenditures, haven't we become a speculator as opposed to an investor?
At Value Investing for Main Street, we take a modest and, frankly, realistic approach to estimating margins of safety. We prefer to measure intrinsic values in a broader sense, as opposed to Magic 8 Ball specificity. Without question, Mr. Buffett has earned his value investor wings with the owner earnings approach to investing. But Wall Street in general continues to regurgitate sophisticated financial models of predominantly pie in the sky price targets. If those models consistently worked, we would all be rich, wouldn't we?
The Intrinsic Value of a SEC Filing
In Microsoft's most recent 10-Q filing with the U.S. Securities and Exchange Commission (SEC) - documents main street value investors should be reading for all current and potential future investments - no significant risk levers such as weighty legal matters or financial discrepancies were evident. Of note, the new unified federal government's cry for lowering corporate income taxes will have little effect on Microsoft as it reports an effective tax rate of just 12%. Nevertheless, the company's sizable foreign cash holdings and any tax effect from repatriation incentives remain speculative at this time.
The VIMS Model Portfolio ranks Microsoft's overall market risk profile as low. We like profitable, dividend paying, wide moat companies with low volatility that have the free cash flow and liquidity to pay its bills, both short and long term. Microsoft entices us with its dividend growth and yield, operating and cash flow margins, beta, and strong balance sheet, but gives us pause when analyzing its overall current valuation metrics and negative five-year earnings growth.
We own companies for the long-term benefit of being part of helping customers with an in-demand, beneficial product or service mix; and for rewarding shareholders by way of world-class internal financial controls. But attempting to predict explicit future prices or percentage gains and declines is a Wall Street game that we respectfully choose to avoid on Main Street.
The Crowd's Take on MSFT
As value investors, we do not interpret market consensus as a definitive buy or sell signal, but more a suggestion to perhaps run the other way. However, evaluating the Wall Street consensus on a stock is an entertaining if not serious dive into a contrarian's treasure trove.
According to data miner, TipRanks, the Wall Street analysts' consensus on MSFT is a buy with a price target of $67.93, or an upside of about 8%, based on the models of 18 analysts. The financial blogger consensus, including contributors from Seeking Alpha, is bullish per TipRanks.
At VIMS, we place most weight on the blogger consensus as it tends to be more of a Main Street view, although we are mindful that many bloggers focus on fundamentals, growth, and dividends, not necessarily value. It is evident, as of this writing, that both Wall Street analysts and Main Street bloggers are collectively ignoring the high valuation metrics of MSFT.
One cannot sell an overpriced bull to a value-minded butcher.
Short interest, or the percentage of shares that are traded based on a bet the stock price is poised to drop, was bullish for MSFT at just 0.7% of shares outstanding as of this writing. We think of short interest as the hedge fund consensus since a significant shorting of stocks is executed by the Wall Street money manager elite. According to TipRanks, hedge fund holdings of MSFT had decreased in the most recent quarter.
As of this writing, it appears that insiders at Microsoft, i.e., its senior management and directors, are selling. At VIMS we more often take insider activity with a grain of salt. Why are senior corporate managers exercising stock options? The insider charts rarely possess such critical, perhaps material, non-public, and illegal information. Nonetheless, a stock will get our attention when insiders start buying company shares on account as that demonstrates a sincere interest in owning the business that employs him or her.
Nonetheless, we also duly note that Microsoft company insiders are selling shares despite the bullish consensus of analysts and bloggers. Who would you trust, the insider or the outsider?
Until a Black Swan Shows up on the MSN Money Homepage
Microsoft remains a wonderful and generous technology company to the world as well as to its shareholders. As of this writing, our measure of the company's fundamentals, its prospects under CEO Nadella, and overall risk to the market are highly favorable to the "buy and forever" main street value investor.
Despite a market consensus of buy that is perhaps a warning in disguise, we remain a hold as we await a black swan entrance to the stage from our previously purchased $25.60 MSFT tickets in the nosebleed section of the S&P 500 Arena.
Thank You for Reading the Value Investing for Main Street Series Exclusively on Seeking Alpha
I am excited and humbled by the number of readers and new followers from the first six articles in the Value Investing for Main Street series, including the two inaugural submissions: Introducing: Value Investing for Main Street and Buy When The Black Swan Flies; Sell When It Comes Home To Roost. I encourage reading or revisiting each at your convenience (Click bait disclaimer: I own the exclusive copyrights to both articles as each is an excerpt from my upcoming book, Value Investing for Main Street, and therefore I receive no compensation from Seeking Alpha).
I also invite readers to "Follow" me by clicking the orange button and choosing to receive alerts for the subsequent build-up of the Value Investing for Main Street Model Portfolio (VIMS) here on Seeking Alpha. Comments are strongly encouraged and always welcomed. Then join me, one primary ticker at a time, in literally seeking alpha with limited capital, lower costs, and less risk than the titans of Wall Street.
Please read the important accompanying disclosures.
Value Investing for Main Street and the VIMS Model Portfolio are trademarks of David J. Waldron, LLC.
Microsoft brands and proprietary content are trademarks or copyrighted material of Microsoft Corporation.
Monopoly board game brand is a trademark of Hasbro, Inc.
Magic 8 Ball fortune-telling toy brand is a trademark of Mattel, Inc. (NASDAQ:MAT)
Data Sources: Seeking Alpha, YCharts, and Charles Schwab & Co. (Morningstar, Thomson Reuters, and S&P Capital IQ).
Disclosure: I am/we are long MSFT.
I wrote this article myself, and it expresses my own opinions. I am not receiving compensation for it (other than from Seeking Alpha). I have no business relationship with any company whose stock is mentioned in this article.
Additional disclosure: Data is for illustrative purposes only. The accuracy of the data cannot be guaranteed. Narrative and analytics are not intended for portfolio construction beyond the contributor's model portfolio which is solely for educational purposes. David J. Waldron is an individual investor and author, not an investment adviser. This article is neither intended as investment advice or as a recommendation to buy/hold/sell/short or avoid any securities. Readers should always engage in further research and consider (if appropriate) consulting a fee-only certified financial planner, discount licensed broker/dealer, flat fee registered investment adviser, certified public accountant, or reputable attorney before making any investment, income tax, or estate planning decisions.