Equinix's (NASDAQ:EQIX) acquisition of 29 data center buildings from Verizon (NYSE:VZ) strengthens the company's leadership in the USA and opens the door of three new markets, each of them with its own specific characteristics:
Bogotá, Colombia (highest number of subsea cable landings in Latin America);
Culpeper, VA (key location for Federal cloud and IT initiatives);
Houston, TX (fourth largest metro in the US and fourth highest market for presence of Fortune 500 companies).
The crown jewel of the acquisition is represented by the Miami NAP of the Americas ["NOTA"], a key interconnection point (the fourth largest Internet Exchange in the U.S.) and the main gateway to Latin American.
Equinix selected these 29 data center buildings out of Verizon's 53 assets for sale.
While some data centers were carrier neutral prior to Verizon's acquisition and already feature multiple networks, Equinix will unlock more value out of the other non-neutral assets by converting them to its business model, giving Verizon's existing customers significantly more network choice and its existing network providers more assets to deploy in.
Equinix: a perfect business model - some background
Al Avery and Jay Adelson founded Equinix as a next generation neutral exchange to "eliminate the roadblocks that have restricted the Internet's ability to scale and keep up with the growth fueled by explosive corporate and personal Internet use."
The Internet as we now know it has been made possible thanks to the proliferation of Internet Exchanges [IXs] all over the world - think of them as the "heart" of the internet:

Picture from Infinera, emphasis added.
As a neutral player, Equinix offers the largest choice of networks under a single company's umbrella:
Keith Taylor, Equinix, Inc. - CFO

I think for those that understand our story and those that maybe don't understand our story, the most important thing that you have to realize is there's 1,400 networks that reside inside our facilities. We're effectively the on-ramps and off-ramps to the Internet and so that is foundational to who we are, it is tough to replicate, it provides stickiness in the revenue stream, but also is the core differentiator us compared to almost anybody else. And so, those 1,400 networks that will continue to grow and prosper with us represent 25% or just under 25% of our revenues and is the most differentiated point that we can share with our investor base.

Transcript from the recent Nasdaq Investor Program, London - courtesy of Sentieo
One of the first analogies used to explain EQIX business model to non-tech people was an airport hub, where you give bits, rather than passengers, the opportunity to get their connection to the final destination.
This analogy is interesting as it also introduces some of the key strengths in Equinix's business model.
At the start of the commercial Internet, EQIX built very well connected, highly secure "tech airports" in key strategic locations, generating a domino effect that would end up attracting and benefiting all its customers - while building a great moat for Equinix itself.
As for real airports, once you've become the clear leader in the market you serve, you don't really expect someone to be able to compete with you in the same area (first mover advantage).
Equinix also belongs to a very limited category of businesses that get stronger as it gets bigger and as more people join the service.
Getting the largest U.S. Telecoms to peer inside EQIX main data centers was key to open the door for other international or smaller domestic Telecoms, thus making these assets a "must join" destination for the largest content providers, who could benefit from negotiating with several bandwidth providers.
Equinix's capacity to offer these content providers also the opportunity to expand internationally, quickly and easily, also generated a snowball effect on their international assets.
Apply the same concept to different verticals (such as the financial industry), and you get another interesting part of the strength of Equinix's business model: the capacity to build local ecosystems that can only grow in size and often lead to additional business to other locations, especially if their applications are very sensitive to latency.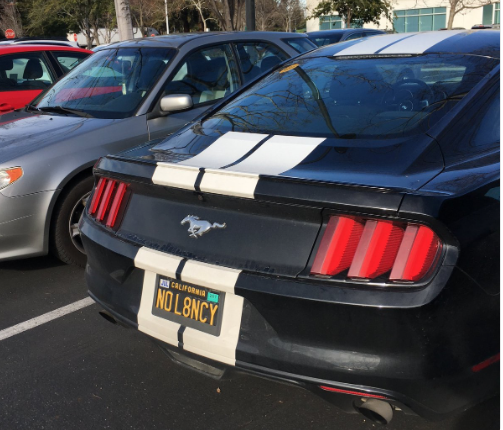 Picture courtesy of Max Olson - latency matters, to some people.
Equinix's business model was created just perfect: for its overall purpose (help the Internet scale), because it provides value to all its customers, and because of its potential great returns for investors.
A very good example of our last statement is given by the margin rich environment that Equinix has been able to build through its interconnection services.
Once a customer decides to interconnect with another data center participant, Equinix basically runs a cable between the two cabinets (one-time limited cost).
From that moment on, the customer pays a monthly fee that is not only recurring in nature (high visibility into revenues), but also extremely margin rich (little to no maintenance needed).
Add to this the fact that the expansion of an existing data center campus leads to overall lower costs for Equinix, while the company's pricing power probably gets even stronger as the size of the asset grows.
Katrina Rymill, Equinix

More of the leverage is dropping to the bottom line. So, with 10% revenue growth, we expect 12% EBITDA, 14% AFFO CAGR, and 15% dividend.

Transcript from the recent Bank of America Merrill Lynch America Leveraged Finance Conference - courtesy of Sentieo
The biggest risk to this business model is the very high investment necessary upfront to build these centers, as all data center providers experienced in the post Telecom bubble burst times.
However, these $100 million bets (on average) on each new data center are now less risky in nature than several years ago, given the company's size, and have contributed to building EQIX' strong leadership position:
Steve Smith, Equinix CEO

We've spent over 18 years approximately $19 billion organically and inorganically to put in place 175 datacenters with 190,000 cross connects and thousands of ports on our switch fabric.

transcript from the recent Citi Internet, Media & Telecommunications Conference - courtesy of Sentieo
A successful history of integrating assets
Since the merger/acquisition of i-STT and Pihana Pacific in 2002, Equinix has conducted a good number of small and large acquisitions, as resumed in this chart: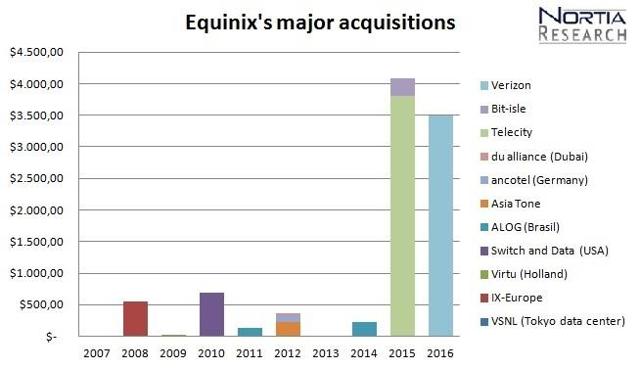 Source: Author chart, Equinix data
While integrating assets always leads to execution risks, so far Equinix has a proven track record when it comes to "Equinize" (bring to Equinix standards) acquired businesses, converting them to its high margin business model.
"This particular acquisition is very gratifying because it puts Nap of the Americas inside Equinix where it belongs."
Nothing like the founder words can perfectly resume the main reason why the Verizon acquisition may represent, for Equinix, the fulfillment of its initial dream, and the start of an even stronger trip:
This particular acquisition is very gratifying because it puts Nap of the Americas inside Equinix where it belongs.
Through the Switch and Data acquisition, EQIX brought PAIX, the first-generation neutral peering facility, under its umbrella.
As a result of the Verizon acquisition, Equinix now owns the major second-generation and historical U.S. Internet Exchange points, strengthening its role of preferred destination in an Internet-centric economy.
For a different opinion on Equinix, look no further than Seeking Alpha
Seeking Alpha author Investor Poirot recently published an interesting article, divided into three different sections (I, II, III), where they are laying down a short thesis for the company.
We invite you, if you haven't already, to read their position and especially the commentary section, where some very interesting points are discussed by the author and some readers from different perspectives - the beauty of the Seeking Alpha model, where you can exchange opposite ideas and usually end up with a deeper knowledge of the situation, whatever your position.
However, in reference to Investor Poirot's point that technical innovation may lead to a structural decline for Equinix, we'd like to add our opinion, not necessarily related to their specific commentary.
Since Equinix was born, we've heard (and investigated) many reasons why its business proposition was at risk of obsolescence or becoming marginal because of different technologies/approaches to colocation.
Fears that "power hungry" servers would make older data centers obsolete emerged very soon - however, Equinix is still enjoying strong (and still growing) revenues in its oldest assets, due to the proactive creation of a proper mix of customers, mostly with power-limited interconnection needs.
The data center wholesale model seemed, at a certain stage, the best one - wrong again.
We witnessed firsthand the big concerns among analysts and investors when large customers like Google (NASDAQ:GOOG) churned, for example, in the first Equinix Ashburn (DC metro) data center: however, Google left there its key interconnection gear (a testament of the strength of EQIX business model), and moved to owned or wholesale data centers to reduce its overall costs for large servers deployments.
Equinix was able to sell the empty cabinets returned by Google in just a few months to other customers, at much higher prices. The fact that EQIX has since expanded its data center number in the area is a testament to the fact that you shouldn't go against a big trend, looking at small hiccups.
Cloud - friend or foe?
More recently, fears that the move to the cloud could signal the end of the traditional colocation model have also emerged.
Wrong again. For Equinix, it's been more like a catalyst for more business.
Mike Rollins, Citigroup - Analyst

One of the more popular questions that we get from investors is trying to figure out how the cloud fits with datacenter companies and I'm sure you've heard the question of friend or foe, and it's probably not that simple. But how do you look at the cloud and what it means for your business, you can take it over a three to five year view?

Steve Smith, Equinix CEO

Yes, the general statement I would make is that cloud and colo are natural allies.

And the reason I say that is five, six, seven years ago when the big infrastructure companies decided - AWS, Microsoft, Google, IBM, SoftLayer and more recently Oracle - that this was the way that the cloud was going to unfold, we got very close with them and listened very, very sharply about how it was going to unfold. And they basically told us: we're going to go put access points, they call them different things, all over the world, multiple data centers you guys have a lot of data centers, we have a lot of business with you, we trust you. We jumped in feet first with them, and built capability with all the big players who had taken most of the share initially.

Transcript from the recent Citi Internet, Media & Telecommunications Conference - courtesy of Sentieo, edited for clarity, emphasis added.
Whatever the next technology paradigm shift, you can't rule out that the company with 1,400 networks under its umbrella worldwide will be in a privileged position to find a way to take advantage of it.
While we may agree on a short position based on the fact that EQIX is somehow priced for perfection at the moment, which could lead to its share price going south in case something goes wrong, we hardly see a possibility that "the heart of the Internet" may be bypassed soon - at least as much as we don't see real airports becoming unnecessary for travel.
In all honesty, we signaled, in the past, small road bumps like the Switch and Data integration hiccup as a great entry point to buy more shares.
Conclusion
We believe Equinix should be on every investor's radar screen: a perfect business model, a great management team, a history of excellent execution and a secular trend as tailwinds.
The worst times are certainly behind the company: adapting Gartner's hype cycle to this specific situation, we see Equinix as approaching its plateau of productivity: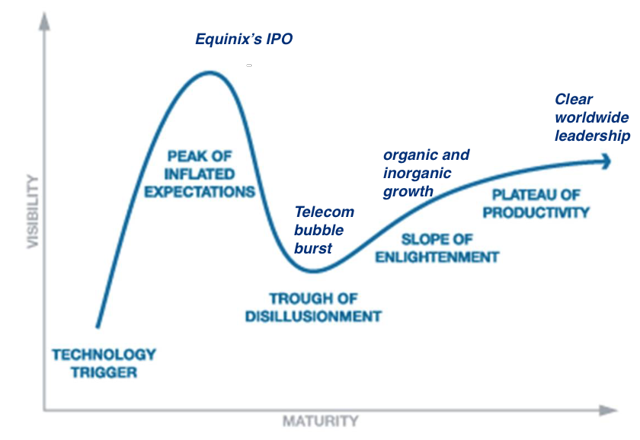 We may obviously be biased in our opinion, as Equinix was the very first company we started writing about here on Seeking Alpha back in 2008, and as we spent several articles describing its unique turnaround throughout these years. Having invested mostly in its darkest times, we have the privilege to look at this story sitting on a low entry point.
Whatever your view about the company's valuation today, it is certainly worth keeping an eye on (and we'd like to extend the suggestion to the whole colocation sector).
The headwinds for the company, now that its initial business model dream has been finally realized, are stronger than ever.
Proper valuations are far more art than science
John Hempton recently published an interesting and funny blog post, to answer the question "do you have a valuation for everything in your portfolio - a buy and a sell price?"
Playing a nice trick to his readers, using old Coca-Cola financials, he concludes that "proper valuations are far more art than science." Warren Buffett bought that company because of his capacity to see beyond its financials/valuation at the time.
Investing is, sometimes, about making a bet on the fulfillment of a vision (and keeping a close eye to execution).
Equinix is completely different from Coca-Cola, and we all know that technology stocks are much more risky in nature than anything else.
However, investing in EQIX, even at this stage, may be seen as an educated guess on the fact that the company will see the number of bits exchanged in its "techports" increase exponentially in the future, whatever the driver: cloud, mobile traffic, video, Internet applications, etc. etc.
Equinix's built-in capacity, due to its business model, to extract basically a small fee from each bit exchanged in its data centers may make it look to investors more like a "toll bridge" than a complicated tech company.
Is it worth excluding from your investment scenario owning the toll bridge sitting at the heart of the Internet?
PS: This article is dedicated to the memory of Alex Shaw, who passed away early last year.
Alex was one of the first investors capable of recognizing the incredible value of Equinix's business model. He was also one of the few people who could foresee the company becoming the 800 pound gorilla in its (very margin rich) niche, even in the dark times of the post Telecom bubble burst.
It's been a great privilege to exchange ideas and diligence throughout these years with him - and quite a unique learning experience. R.I.P.
Disclosure: I am/we are long EQIX.
I wrote this article myself, and it expresses my own opinions. I am not receiving compensation for it (other than from Seeking Alpha). I have no business relationship with any company whose stock is mentioned in this article.