Introduction
Think the Trump rally has sucked all the bargains out of the market? Starting to look overseas for fairly priced dividend stocks?
Think again. Below we discuss and profile four fairly priced dividend growth opportunities that have been lagging behind the market the past few months.
1. International Flavors & Fragrances
Our first stock is an international provider of fragrance and flavors that power most of the foods, beauty products, colognes, beverages, and cleaners that we know, love, and trust.
The stock is down 11.46% in the last 13 weeks.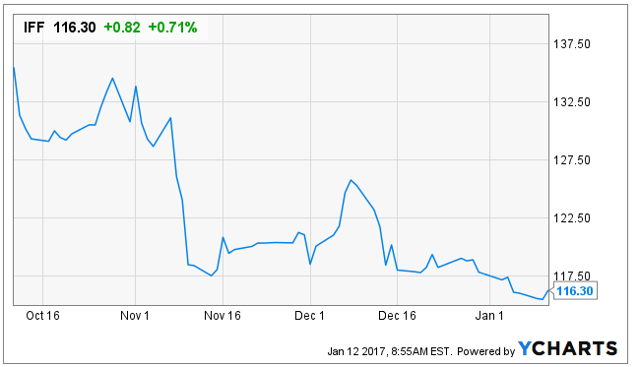 International Flavors & Fragrances' (NYSE:IFF) growth has been tepid since the great recession. Revenue has grown 76% since 2009, which in a bubble sounds impressive but is far slower than most of the large-cap companies I look at.
EPS, on the other hand, has essentially doubled since 2009. This has not been fueled by a reduction in share count as you might expect. The number of shares outstanding for the period is roughly flat.
The EPS improvement as compared with the rate of revenue growth comes from cost-cutting mostly. Gross margin improved from 57% to 52% over the period, while SG&A has gone up largely in line with revenue.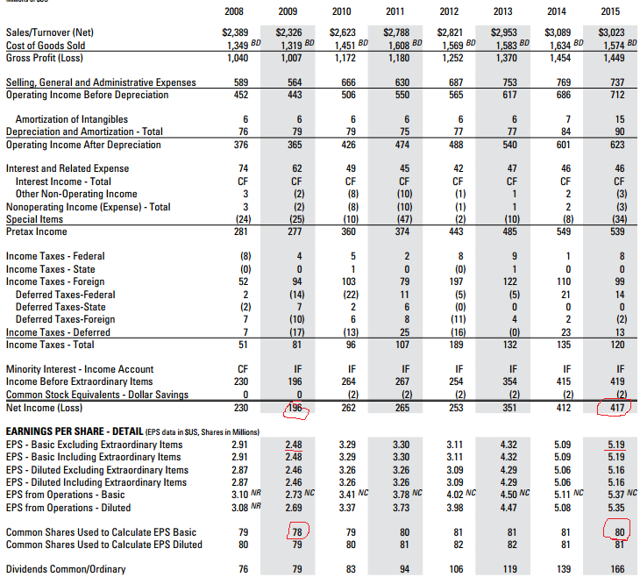 2. Medtronic PLC
Medtronic (NYSE:MDT) is the world's largest medical device and device-based therapy company.
Its products include insulin pumps, heart valves, instruments and technology for surgeries, and so much more.
The stock is down 11% in the past 13 weeks.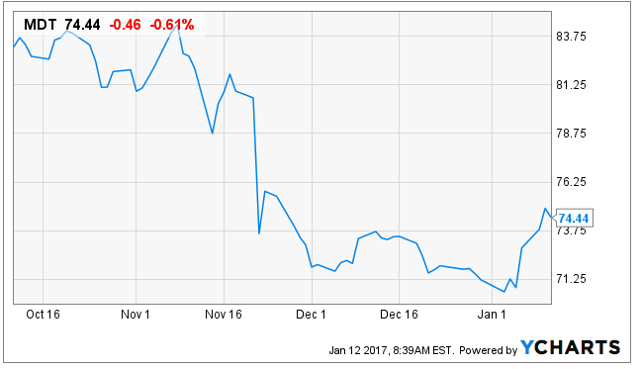 Many large biotech, healthcare, and pharmaceutical companies could have made this list, especially as Trump's recent press conference took a shot at these companies, but I decided to include Medtronic specifically because it is not a drug maker.
That does not mean, however, that it will not face some price controls or new restrictions in relation to its products. Also, that does not mean that it has not raised prices on some of its products or is the white knight of the healthcare space.
That being said, Medtronic is an extremely large company operating in multiple companies with thousands of products.
The company has a 5-year dividend growth rate of 12.14%. The company did NOT cut its dividend during the Great Recession and continued to raise in 2008 and 2009. The payout ratio is starting to creep up at 57.14%.
Medtronic has mixed financials. Revenue is growing very quickly, helped in part by serial acquisitions(20+ since 2010). Net income, however, has bounced around since 2009 and not shown any real pattern of growth.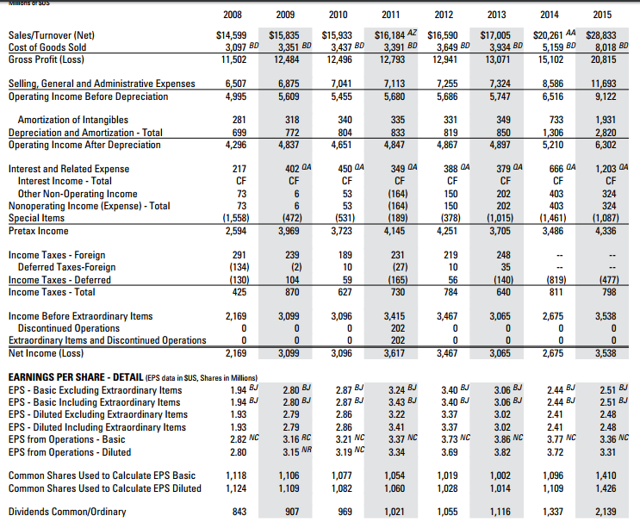 Interest expense, long-term debt, and intangible assets are also exploding, potentially weakening the balance sheet. Serially acquiring companies with debt is one of those strategies that is great until it isn't. A few poor purchases or bad execution and lack of innovation with the acquired assets can turn the debt into a true liability where it used to be a growth engine (ex: Valeant).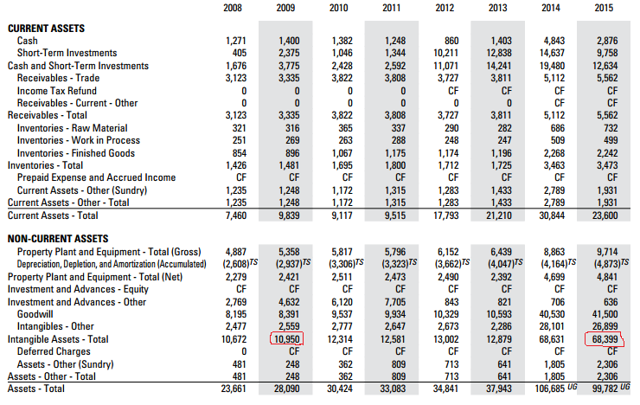 I would initiate a half-sized position at this time and keep a close eye on the company and any effects US healthcare regulation might have. The 57% dividend payout might become more like a 80-90% ratio if a modest amount of declaration in the business' fundamentals occurs, especially in their largest market.
3. CVS Health Corporation
CVS Health (NYSE:CVS) is a chain of corner drug stores combined with a pharmacy benefit manager. The company makes money in two segments: its front of store retail operations and pharmacy and benefit managing operations.
Its principle competitors, Rite Aid (NYSE:RAD) and Walgreens (NASDAQ:WBA), appear close to closing their merger after divesting 700+ stores to Fred's (NASDAQ:FRED).
CVS Health is down 5.37% the past 13 weeks.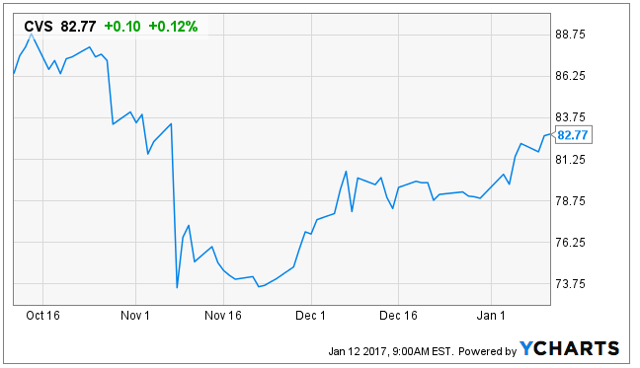 CVS has a 5-year dividend growth rate of a whopping 31.95%. The company did not cut its dividend during the Great Recession and actually raised it in Q4 of 2008 and Q1 of 2010.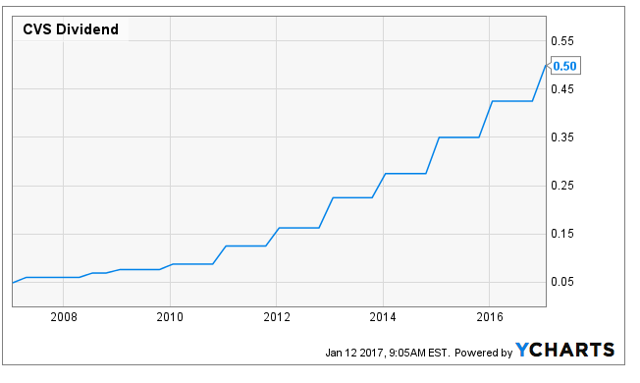 The company has all but put behind itself the blemish of stopping cigarette sales despite the loss of billions of dollars in revenue and profits that would cause. CVS views itself as a healthcare company first and foremost and is transforming more towards that end.
CVS' debt has jumped recently, related primarily to the acquisition of Omnicare, a distributor of drugs to nursing homes and assisted living facilities and the acquistion of 1600 Target in store pharmacies.
I am a big fan of this acquisition as it gives the largest dispenser of drugs more customers without much effort and the company has plans to operate pharmacies in new targets and roll out more of targets minute clinics.
Other than that there is not much to look at in the financials: steadily rising profits and revenue since the GR as the company continues to execute.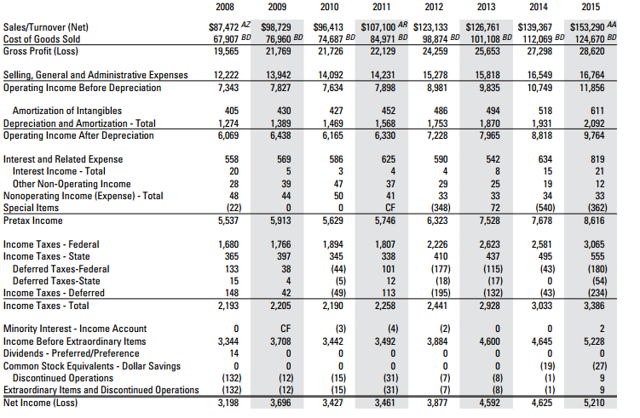 CVS' valuation is also compelling. While it is not a smoking hot bargain, few US stocks are, relatively it looks attractive. It trades at around 17 times prior earnings while Walgreens is at 22. It is also cheaper than the S&P500 average.

4. Simon Property Group
SPG (NYSE:SPG) is the nation's largest operator of shopping malls and similar properties.
The stock is down 8.5% the past 13 weeks and flat since the election.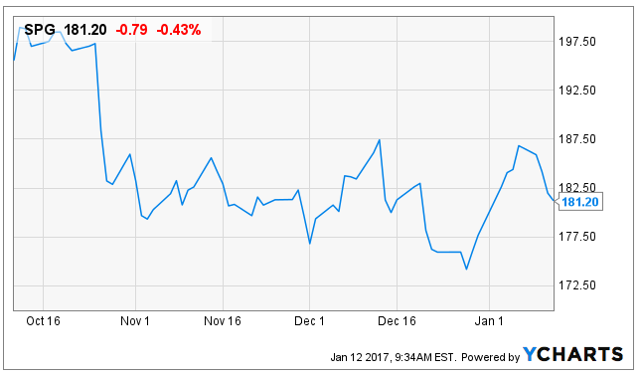 This company might scare you as the headlines about mall retailer struggles and bankruptcies are all the rage lately.
I personally believe that the mall is definitely not dead but rather just in a state of change. Retailers that are struggling are being beaten by competition and change rather than a death of the mall as a concept.
Brick and mortar stores account for 90% of US retail despite the explosive growth of e-commerce. Anyone go out on Black Friday?
And if the mall was struggling, SPG's occupancy rates are not showing such a trend. Occupancy rates are up slightly from 2015 to 96.3% in 2016.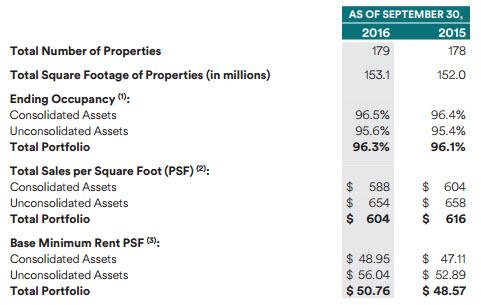 SPG does have some top tenants that could be a concern, such as Sears (NASDAQ:SHLD) and Ascena Retail (NASDAQ:ASNA). The latter just posted horrible holiday sales numbers, and Sears has been long sliding into the inevitable bankruptcy for years now, staying afloat only with financial trickery and asset sales.
SPG has a 5-year dividend growth rate of 12.89%. The payout ratio is listed as above 100%, but REIT payout ratios are not all that helpful since by law they should have at least a 90% payout ratio.
SA contributor and REIT expert Brad Thomas is still bullish on SPG. As he writes in his Jan 4 piece covering the company:
"In closing, we believe the market has overreacted to Amazon (NASDAQ:AMZN) and the fear of online shopping. SPG has continued to execute on all cylinders, and we are forecasting strong occupancy (98%) and leasing for 2017. It is trading at the median mall group P/FFO of around 16x (discounting the lower-productive peers), clearly indicating that shares are cheap (especially since SPG is "A" rated, with strong earnings growth forecasted in 2017)."
Conclusion
The Trump Rally has caused many stocks to fly high on hopes of one kind or another, be it infrastructure or tax reform. The four stocks profiled above have been relative laggards but may be priced for a solid entry point for long-term dividend growth investors.
Disclosure: I am/we are long CVS.
I wrote this article myself, and it expresses my own opinions. I am not receiving compensation for it (other than from Seeking Alpha). I have no business relationship with any company whose stock is mentioned in this article.