Many a time, I read a piece of news and the explanation for events is just marvelous and in hindsight, so obvious. For this reason, I decided to kick off my first article about gold in 2017 about the various reasons that a journalist might decide to report why gold (NYSEARCA:GLD) will move higher in 2017. And speaking of reasons, there are so very many of them that I had to trim down my list to the top three.
1) Gold had been oversold by traders following the US elections
Yes, gold is oversold. It is deeply, utterly oversold and a reversion to the mean alone could move gold prices higher. Since pictures are worth a thousand words, take a look at the chart below. It shows how decisively traders and CTAs have sold their long gold positions recently in the futures market: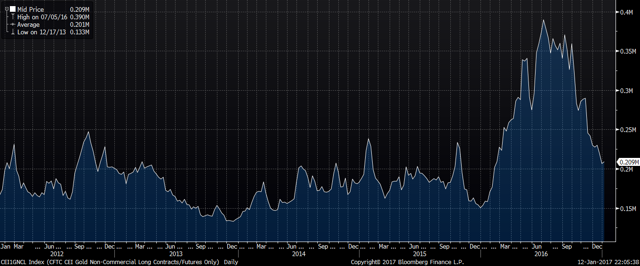 Almost 200k contracts liquidated since August 2016, representing almost 20M ounces of gold - stunning!
Let's not forget the ETF sellers who have sold almost 10M ounces: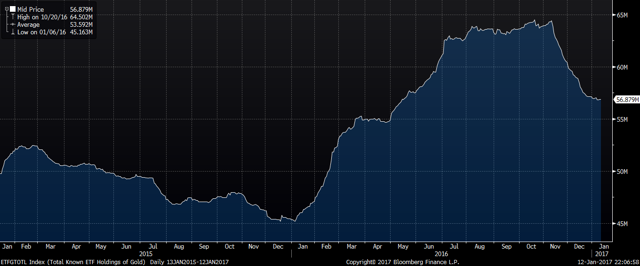 As oversold conditions subside, the metal should bounce nicely, and we are beginning to see just that as ETFs are slowly adding ounces and the selling pressure on the gold futures market has slowed.
2) Inflation levels will pick up in 2017
Yes, I just said the "I" word. But hey, look at my pretty graph below. CPI is barely below 2% now and it's back from the 0% bound.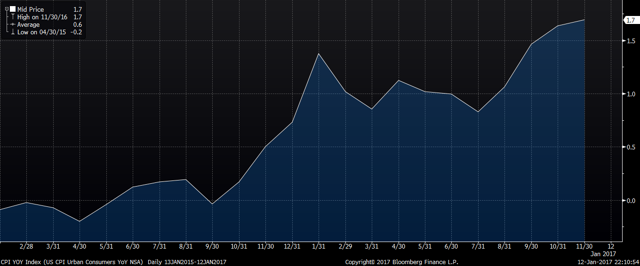 It sure looks like the CPI will continue to accelerate further. Why? The most simple reason is wage pressures in the U.S. Wage inflation has been rising by 3-4% annually based on the recent readings as unemployment moves lower and a shortage of skilled workers persists. Higher wages are one of the most potent creators of persistent, higher inflation.
Therefore, another reason why gold will do well in 2017 could be that inflation numbers will pick up.
This conveniently feeds into my last and favorite point.
3) Real rates will continue to move lower
As many of you who have read my previous work know, I always make a point of talking about real rates and gold. Gold is the anti-monetization trade. When inflation outstrips interest rates, real rates are negative because your currency is losing value. Gold holds its value alongside real estate, expensive art, expensive wine, etc.
When real rates move lower, which they are once again beginning to as a result of higher inflation, gold does quite well.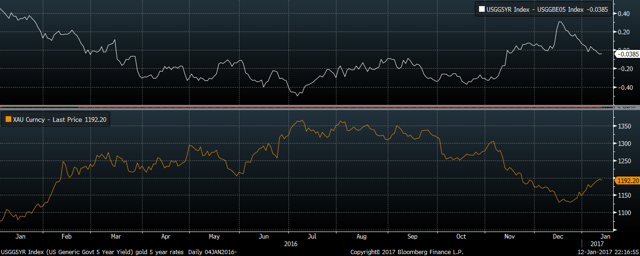 Therefore, my third reason for explaining why gold will move up in 2017 will be that investors will seek out gold as a hedge against a decline in paper assets such as bonds and stocks.
Of course, beyond pointing to increasing inflation, weakening real yields and deeply oversold conditions, there are other factors that can also help drive gold prices higher. These include increased volatility in equities and other asset classes. The US equities are currently stuck in a period of remarkably low volatility. Another factor which until recently was working against gold was a strengthening US dollar. This trade seems to be getting slightly long in the tooth as other economies around the world seem to be showing signs of life.
To put it plainly, there are plenty of reasons why gold will be a profitable trade in 2017. Over the past few months, I have been guarded on the prospects of gold. Maybe it's the new year, but I am beginning to see strong reasons to be optimistic about the yellow metal.
Disclosure: I am/we are long GDX CALLS.
I wrote this article myself, and it expresses my own opinions. I am not receiving compensation for it (other than from Seeking Alpha). I have no business relationship with any company whose stock is mentioned in this article.