Donald Trump has fired a volley of protectionist warning shots, triggering the widely touted 'trade war' with China debate. The US may not have the ammunition or the strategic economic advantage to wage this war to a fruitful conclusion. The trade war will consequently likely be nothing more than a brief skirmish.
Mr. Trump is less than two weeks away from taking the oath of office. Sticking it to China - the nefarious stealer of US jobs - was a popular crowd pleaser on the campaign trail and has remained a dominant talking point in the continued quest to decipher the probable policies - economical, trade and others - the president-elect may wish to impose. Trump has threatened, through a diverse range of sound bites, to impose protectionist tariffs on Chinese import of between 35% and 45%. This tactic, sustained by related podium and Twitter outings, is however likely to remain, as is regarded by many, within the annals of campaign rhetoric.
Not even the Chinese are convinced that these threats will come to pass.
Justin Lin, a former chief economist at the World Bank, was quoted as saying that "some people always use rhetoric to win the election, but I am confident that when it comes to reality, what's good for China is good for the US." According to the Global Times, a Chinese government mouthpiece, Trump "cannot change the pattern of interest between China and the US." The reigning lackadaisical attitude towards the protectionist threats is borne out of certainty shortage, because the Chinese, like most, are still unclear as to what policies, if any, might come to fruition. There are also lingering questions surrounding the sensibility - and ability - of imposing such stringent measures.
This attitude is sustained in the knowledge that President Trump, despite his and his team's continued chest thumping, can exert limited immediate influence on US trade policy. A majority of the US electorate is likely unaware of the legal impediments surrounding a unilateral enactment of a 35% to 45% tariff on trade imports: the US president simply does not have the authority to impose such a high blanket tariff on imported goods. The president could impose a maximum 15% tariff, but this individual, discretionary prerogative is moreover limited to 150 days. A president may impose a tariff in addition to the above-mentioned exception, but then only on individual commodities, and not targeted wholesale on any particular trading partner. Any other tariff levies will have to pass through the usual legal processes of the legislative branch.
Importing from a Giant
What is, however, not suffering from any uncertainty is the mutual importance of the trade relationship between the US and China.
The US imports more from China than any other nation. Figures from the US Department of Commerce show that the share of imports from China in 2015 stood at 21.49%, beating out both of its NAFTA partners and neighbors: Mexico (13.18%) and Canada (13.17%). The share has consistently increased since 2005 when the share of Chinese imports was 14.55%.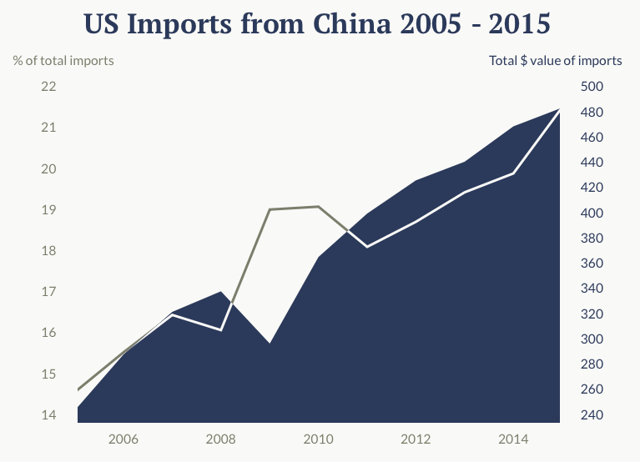 Source: International Trade Administration, US Depart. of Commerce
The US also imports significantly more goods than it exports. The result is the US tallying a meaningful, negative trade balance of $366 billion with China. Imposing obstructive tariffs could stem the flow of cheaply produced goods from China and, as the economic argument goes, bolster domestic US production. Such a move may create additional US manufacturing jobs, a key prerogative of the Trump campaign.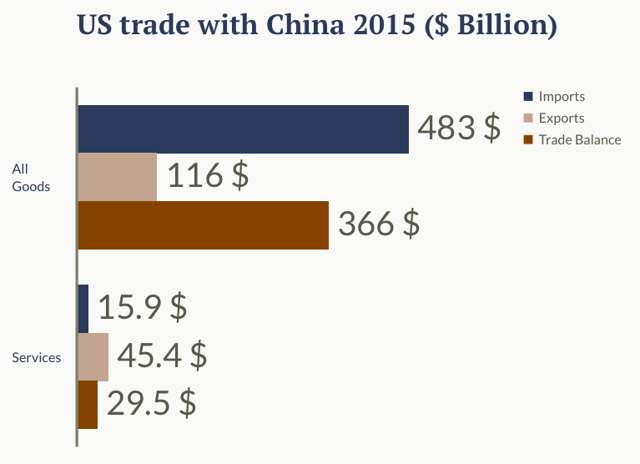 Source: International Trade Administration, US Depart. of Commerce
There are, however, a number of issues that may limit the effectiveness of any additional tariffs.
China is well underway in its ambition to shift away from an economy based on export-oriented industrialization, towards a services-led, consumer driven economy. The policy will focus, amongst others, on spurring household income growth in order to stimulate domestic consumption, develop a fledgling social safety net, and support the growth of the service sector and private enterprises. The Party's strategy seems to be bearing fruit. The China Caixin Services PMI - a monthly indicator tracking variables such as sales, employment and prices in the service sector - have been consistently above 50, the threshold that suggests expansion in the sector.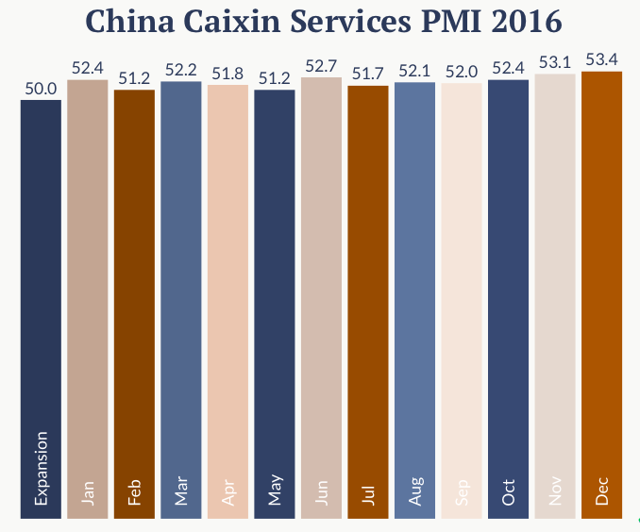 Source: Caixin
Beijing is likewise pursuing policies, albeit at a slow pace, to limit overcapacity, most notably in the country's heavy manufacturing industries such as steel production. The prediction is that this transference will not only stem manufacturing output, but also focus on marketing its produce on the burgeoning, domestic market.
Data from the Demand Institute shows that domestic consumption as part of GDP has consistently declined since from 76% in 1952 to 28% in 2011 - this data was available last year. This despite the fact that consumer spending rose more than 50%, in real terms, between 1999 and 2011. The simple explanation was China's disproportionate emphasis on investment and exports, coupled with an envious economic growth rate. The Demand Institute, however, suggests that the downward trend has reached its trough and claims "that the decline in consumption as a share of GDP is likely to halt soon, if it has not done so already." It, moreover, expects this figure to "hover at around 28% until 2025." With an economy expected to maintain a growth rate at or near 6% in the foreseeable future, a steady consumption share of 28% will translate into the cementing of a healthy consumer community, belaying the need of Chinese manufacturers to look abroad to sell their wares.
Additional tariffs will also make Chinese produce goods significantly more expensive. The bottom line of retailers such as Wal-Mart (NYSE:WMT), which are heavily reliant on the ability to import cheap goods from China, will be directly affected if these goods are slapped with high tariffs. This will in turn directly affect the spending power of middle-class Americans and, in a country where 68% of GDP comprises of personal consumption expenditure, constitutes a material downside risk.
American consumers, equally US telecommunication firms and networks, are profoundly reliant on economically priced telephony imports from China, a sector occupying a disproportionately heavy share of total imports. Mobile phones constitute 8.4% of total imports from China and pricier iPhones (and other Chinese produced technologies) will have a direct effect on the profits of companies such as Apple (NASDAQ:AAPL) and the wallets of consumers.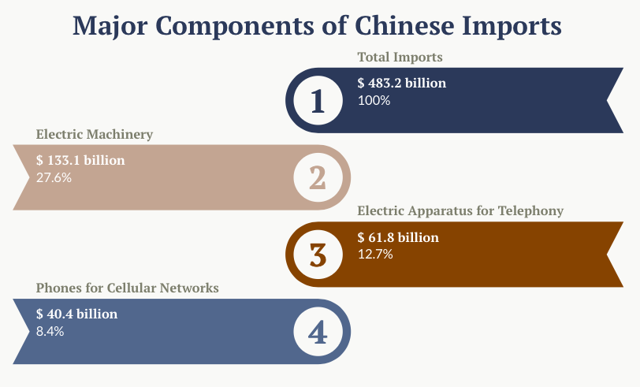 Source: International Trade Administration, US Depart. of Commerce
Exporting to a Giant: The exporting storyline paints a very similar narrative when compared to the importing statistics. China is currently the third-largest destination for US exports. What is more telling is the remarkable growth this market has shown during the past decade. Since 2005, exports to China have grown by 182% in dollar terms, unmistakably the largest growth market for the US.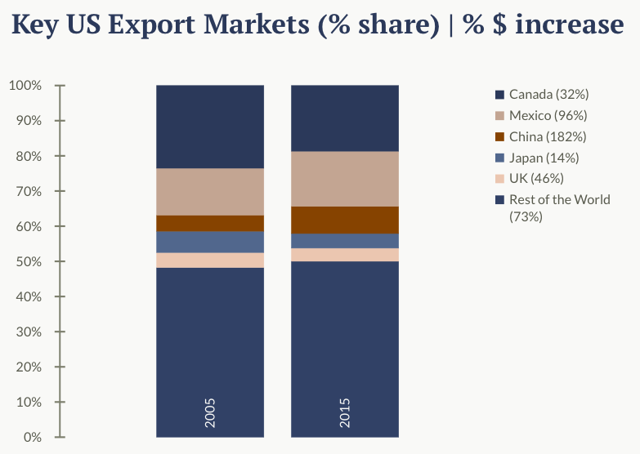 Source: International Trade Administration, US Depart. of Commerce
A cursory look at the trading data reveals how transportation equipment occupies a dominant share of the total export market to China. Transportation and related goods represent 23% of total exports to China, and, of these, aerospace products and parts make up nearly two-thirds at 59%.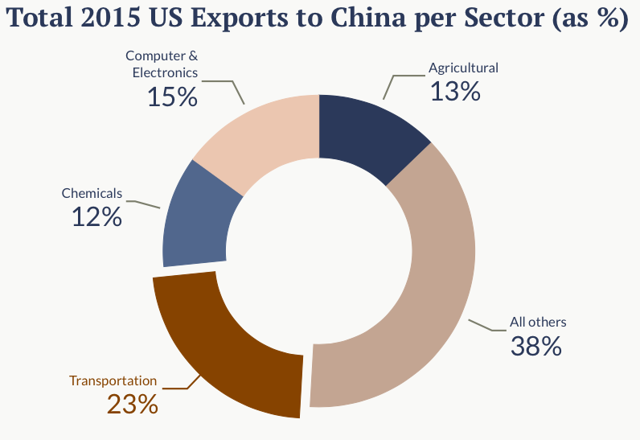 Source: International Trade Administration, US Depart. of Commerce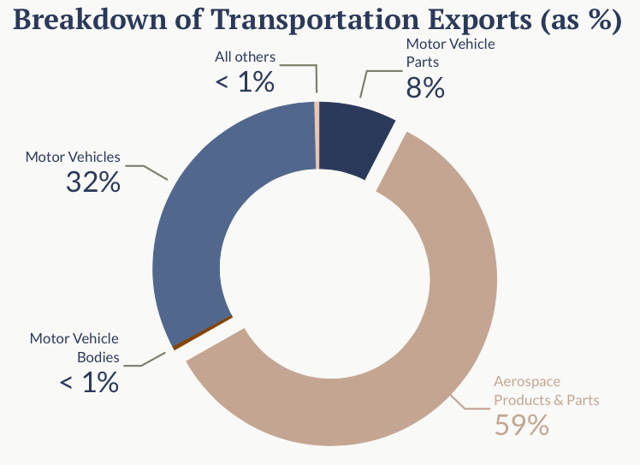 Source: International Trade Administration, US Depart. of Commerce
A tit-for-tat trade war, where China will likely reciprocate with equally protectionist tariffs (or unfriendly business conventions), could spell disaster for one of the US' largest aerospace firms and exporters - Boeing (NYSE:BA).
Chinese domestic air travel, according to figures from the International Air Transport Association (IATA), grew by 14.9% year-on-year in November 2016 - outstripping the 3.9% growth seen in the US. The IATA also expects that the Chinese domestic market will overtake the US to become the biggest airline market somewhere between 2025 and 2035. Forecast by Airbus (OTCPK:EADSF), the European-based archrival of Boeing, paints a similar picture, expecting a 3.7-time increase in annual traffic flow per leg for China, compared to a 1.5-times multiple in the US. To sustain this growth, a 109% increase in passenger aircraft deliveries between 2015 and 2035 is projected; the majority of which will come from the Asia-Pacific region.
Boeing's estimates are in line with its main competitor, expecting a demand for 6,810 new airplanes for the Chinese market during the next 20 years at a value of $1.025 trillion. This comprises just north of 17% of Boeing's total expected deliveries of 39,620 aircraft over the next two decades. Although China accounts for only 5.5% of all Boeing's current outstanding orders, the upwelling in the Chinese middle class with an accompanying surge in airline traffic is too rewarding a market to forfeit.
Both Airbus and Boeing will also be competing with a Chinese-built rival for profitable contracts. Commercial Aircraft Corporation of China (Comac) moved into the fray when its ARJ21-700 regional jet entered service for the first time in June 2016. Despite being technologically inferior to offerings of most other established aircraft manufacturers, it heralds an era where the mostly state-owned Chinese airlines are now presented with a viable alternative when purchasing aircraft.
The launch of the ARJ21-700 was beset with delays; incorporate avionics and parts from established technologies; and, as of yet, lack of U.S. Federal Aviation Administration (FAA) certification. Comac has however a second - and larger - jetliner in the works: the so designated C919. This version is of similar size of Airbus' A320 and Boeing's 737 series of airliners, the most popular versions in both of these manufacturers line-up of planes. (And incidentally the most popular size of aircraft destined to fill the needs of the Chinese market.)
The burgeoning domestic airline market in China will require thousands of new aircraft and a standoff with the US on tariff measures could easily prompt the Chinese government to push for the purchase of Airbus craft and a new Chinese-built airliner in lieu of Boeing. Trade disputes with the US could as such invoke a worry for Boeing on two fronts: matched tariffs on airplane parts and products imported from the US, making competitors' offering economically much more appealing; and the availability of a Chinese rival - despite its myriad of flaws.
China's homegrown aviation manufacturing ambitions, although being a wholly nascent endeavor, could be handed a welcome boost when airline companies are prompted (compelled) to purchase homegrown planes.
Conclusion
The 'America first' strategy is (was) a popular campaign slogan. Engaging in fully-fledged trade warfare with the world's largest manufacturer and exporter might however not yield the upshot that President Trump foresees.
The US, and other established high-sophistication-manufacturing hubs, faces a nation diversifying its industrial output, especially in terms of sophistication. China is aggressively pursuing a shift away from focusing on quantity in favor of quality through its 'Made in China 2025' initiative. This enterprise has already produced tangible results, and consumers in China are gradually being tempted by domestically produced goods of comparable quality from firms such as mobile producer Huawei.
The trade relationship between the world's two largest economies is and will remain tumultuous. Both countries have pending cases lodged at the World Trade Organization (WTO) and frequently launch threatening warnings of import duties and tariffs to protect their respective domestic manufacturers. A wholesale protectionist offensive by the US could unravel a trading relationship that has been forged over many decades and unleash negative economic repercussions for, as of now, the world's largest economy. The US has more to lose than China and is bound to be the first to blink.
Disclosure: I/we have no positions in any stocks mentioned, and no plans to initiate any positions within the next 72 hours.
I wrote this article myself, and it expresses my own opinions. I am not receiving compensation for it (other than from Seeking Alpha). I have no business relationship with any company whose stock is mentioned in this article.
Editor's Note: This article discusses one or more securities that do not trade on a major U.S. exchange. Please be aware of the risks associated with these stocks.