Silver & The U.S. Dollar
The U.S. Dollar Broad Trade Weighted Index has been soaring higher for several years now. The following chart courtesy of the St. Louis Fed shows this trend: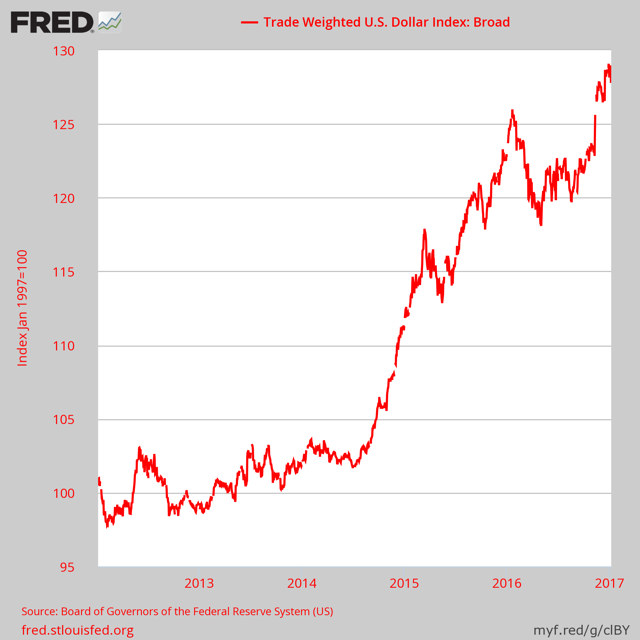 When I released my silver price forecast last September, I concluded:
Given the balanced fabrication demand profile for silver and the steady, longer term focus of investors buying the metal in its various forms, silver is in a position of fundamental strength. I am forecasting that the average annual price will rise slowly over the next two years-$17.5 in 2017 and $18 in 2019-before spiking higher in 2019 into the mid-$20s as inflation begins to accelerate.
At the time, the price of silver was hovering in the $19 to $20 per ounce range and sentiment was hot. It was a bit of a near term bearish call at that time. I was correctly anticipating another surge higher in the U.S. dollar that would ding the price of gold and drag down the more fundamentally sound silver with it. As the following chart demonstrates, silver has a historically strong inverse correlation to the U.S. Dollar Trade Weighted Index: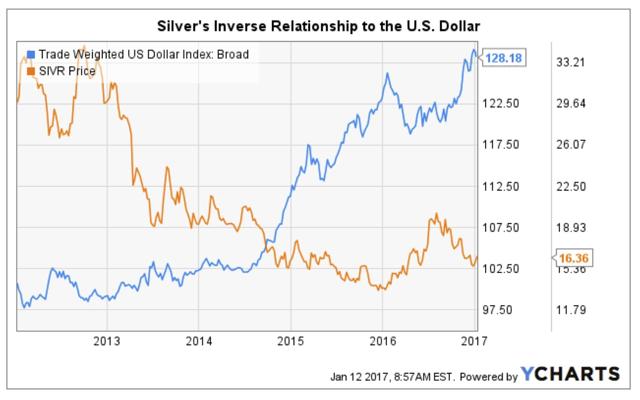 From my vantage point, an average price of $17.5 for 2017 is still looking good. It is a positive for silver that it has recently rallied as the U.S. dollar has remained elevated.
Last summer I was avoiding investing in all silver miners that did not have a significant, alternative catalyst to propel their price higher. This generally meant avoiding the silver majors, because their price is highly correlated to the near term price of silver.
Peso Tumbles
When it comes to silver mining investing, a new interesting variable was thrown into the equation over the past two quarters. The U.S. dollar has been careening higher against the Mexican peso. I do not have to tell you why. This is important to the silver mining industry because Mexico accounts for 20% of the world's silver production and more than half of primary silver mine production.
The following chart shows how the peso has declined by over 20% over the last several months: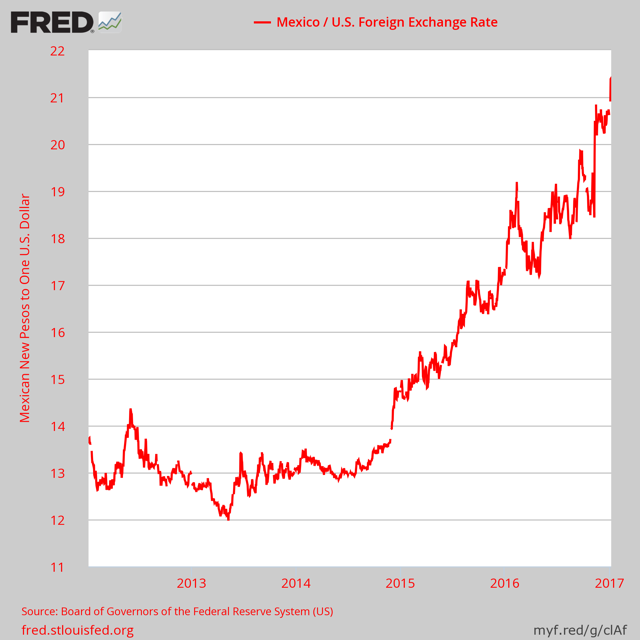 All else being equal, the falling peso benefits silver miners with operations in Mexico because a good portion of their costs are in the falling peso while their revenue is in the rising U.S. dollar. To the extent that the price of silver stabilizes and the peso remains much lower, silver miners in Mexico stand to benefit.
The premier large capitalization ("cap") silver miner is Fresnillo (OTCPK:FNLPF; FRES in London). I had been avoiding the stock due to my view that it was overvalued, but began picking up shares during the recent pullback. The following chart shows how Fresnillo fell in lock step with silver, but even more due to its inherit leverage to the price of silver: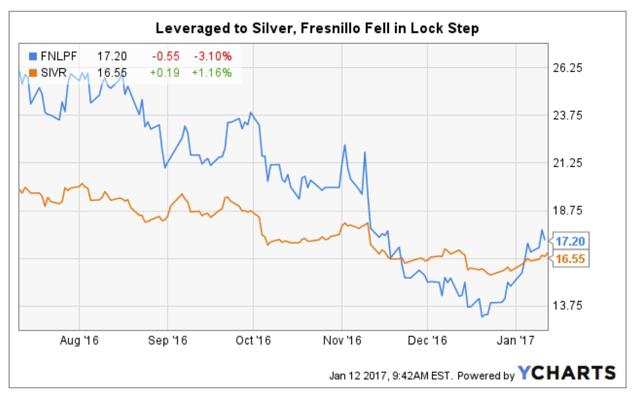 Fresnillo has some superb mines that tend to cause the stock to trade for a premium valuation. Its silver production is also scheduled to increase by a whopping 74% over the next 3 years-from 43.5 million ounces to 75.5 million ounces.
GoGold Resources (GGD in Toronto; OTC:GLGDF) is another Mexican based silver producer that I recently wrote about that also stands to benefit directly from this trend.
Strategic Conclusion
To what extent has the market priced in a lower cost structure for Fresnillo and other Mexican silver miners? My observation is not at all. The financial media has been consumed with other things and I do not recall ever even seeing one article about any mining company with respect to a lower cost structure due to a rising U.S. dollar.
When Mexican silver miners start releasing Q4 and 2016 numbers, I expect some general cost surprises to the downside. As long as the price of silver remains stable, profitability is going to tick up for the Mexican silver miners.
Ongoing Updates
I often do not have time to write full articles on everything. Follow me on Twitter @truevineinvest if you are interested in ongoing updates on industries, markets, commodities, and companies I follow (like those I write about on Seeking Alpha). Tweet at me to join the discussion.
Promoting Quality Comments
In order to promote quality discussion about the topics I address in my Seeking Alpha articles, I have decided to give away a free copy of my book, The Truth On Investing: From The Darkness Of The Crowd To The Light, to the individual who provides what I think is the most thoughtful comment on the article (U.S. residents only). This can also be a quality view that is opposed to my thesis. I will pick this person about a month after the article is published to allow time for comments. If there are no exceptional comments, then no book will be given out. Thanks for reading and hopefully contributing to the discussion.
Important Regulatory Disclosure
I am an investment adviser and owner of True Vine Investments, a Registered Investment Advisor in the State of Pennsylvania (U.S.A.). I screen electronic communications from prospective clients in other states to ensure that I do not communicate directly with any prospect in another state where I have not met the registration requirements or do not have an applicable exemption.
Any investment advice or recommendations involving securities referenced in this article is general in nature and geared towards a readership of sophisticated investors. This article does not involve an attempt to effect transactions in a specific security nor constitute specific investment advice to any particular individual. It does not take into the account the specific financial situation, investment objectives, or particular needs of any specific person who may read this article. Individual investors are encouraged to independently evaluate specific investments and consult a licensed professional before making any investment decisions.
All data presented by the author is regarded as factual, however, its accuracy is not guaranteed. Investors are encouraged to conduct their own comprehensive analysis.
Positive comments made regarding this article should not be construed by readers to be an endorsement of my abilities to act as an investment adviser.
My clients always come first. I reserve the right to buy or sell any security at any time, often for reasons not related to my articles, in order to properly manage their portfolios.
Disclosure: I/we have no positions in any stocks mentioned, and no plans to initiate any positions within the next 72 hours.
I wrote this article myself, and it expresses my own opinions. I am not receiving compensation for it (other than from Seeking Alpha). I have no business relationship with any company whose stock is mentioned in this article.
Additional disclosure: I personally do not own shares of Fresnillo & GoGold Resources, however, they are holdings in many client portfolios whereby most of my salary is derived.
Editor's Note: This article covers one or more stocks trading at less than $1 per share and/or with less than a $100 million market cap. Please be aware of the risks associated with these stocks.