Quick Take
Canadian logistics software provider Descartes Systems Group (NASDAQ:DSGX) recently announced it has acquired trade data content company Datamyne for $52.7 million in an all cash transaction.
Datamyne is considered the leading trade data database and counts nearly 3,000 customers worldwide.
Descartes is executing an acquisition strategy that adds to its global software and systems footprint as well as now integrating trade data into its Global Logistics Network.
The deal for Datamyne is a smart move, and I'm positive on the outlook for Descartes' continued impressive stock performance.
Target Company
Miami, Florida-based Datamyne was founded in 1992 to provide businesses with import-export trade data covering the Americas, Asia, Africa and the European Union, to assist them in streamlining their business operations.
The company tracks a variety of data, including:
Import-export trends
Cargo tallies for shippers or consignees
U.S. Bills of lading
Potential trade partners
Global trade rankings
Primary industry coverage includes the Global Transport Sector, Chemical Industry, Energy Industry and Food and Beverage Industry.
Below is a brief explainer video:
(Source: Datamyne YouTube)
Direct and potential competitors of Datamyne include:
Import Genius
PIERS
Trade Data Online
Panjiva
Comtrade - United Nations Database
CITIES
IHS Markit - Global Trade Atlas
USITC Tariff and Trade Database
WTO - International Trade and Tariff Data
WISERTrade
Datamyne received $750,000 in disclosed financing in 2010, likely from majority shareholder Nassau Point Investors, and an undisclosed amount of debt investment in December 2015 from Praesidian Capital and Kemper Corp.
In 2015, Datamyne acquired Zepol Corporation for an undisclosed amount, which was also a provider of US import and export data for competitive intelligence, market research, sourcing, trade compliance and lead generation.
Acquisition Terms, Rationale and Commentary
Datamyne was acquired in an all-cash deal for $52.7 million.
The company is considered the top trade data resource in the logistics industry, so no doubt commanded a premium for that position.
Descartes has been on an acquisition binge throughout 2016, acquiring the following additional companies:
EMEA e-commerce order fulfillment software company Pixi Software GmbH - for $10.6 million cash
U.S. supply chain integration software company Appterra LLC - for up to $7.3 million in cash and contingent consideration
Australian B2B supply chain integration software company 4Solutions Information Technology Pty Ltd - for $2.5 million cash
In advance of these acquisitions, in March 2016 Descartes amended its $77 million credit facility to now consist of $150 million in revolving operating credit.
As of October 31, 2016, and prior to the acquisition of Datamyne, Descartes had $77.9 million in cash and a credit facility usage of $3.3 million.
The company did not say to what degree it tapped the credit facility to fund the $52.7 million purchase price of Datamyne, but it is likely to have utilized the facility for a material amount of the transaction.
Descartes acquired Datamyne to provide added value to its Global Logistics Network, which it claims is the "world's largest, collaborative multimodal logistics community."
With the new combination, customers of Descartes software system will now have a large amount of trade and logistics data at their fingertips, without having to leave the system to search for the data.
"Datamyne broadens our trade data content footprint beyond customs and regulatory data and into the logistics trade data," said Descartes CEO Edward Ryan in a company statement.
Descartes also gains almost 3,000 Datamyne customers.
So, with these four acquisitions, it appears Descartes' strategy is to add supply chain software capabilities in the major global regions of Asia, US and EMEA along with worldwide trade data from Datamyne.
The company's stock has had a neutral short-term reaction to the announced deal. DSGX' stock performance over the past five years has been impressive, as the chart below indicates.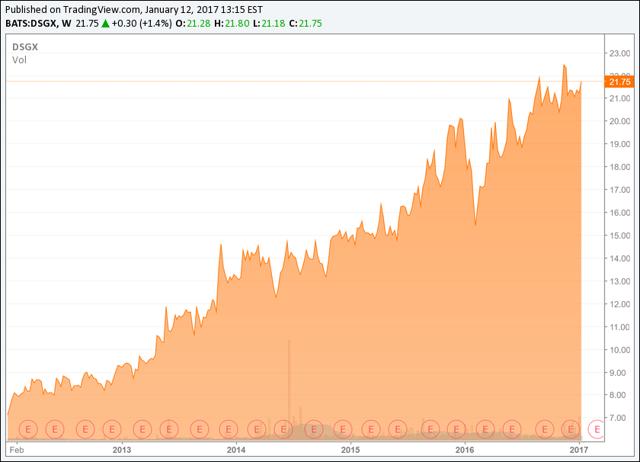 (Source: Seeking Alpha)
With its 2016 acquisition strategy in full execution mode, Descartes is poised to build on its historically impressive stock performance to reach new highs with a dramatically improved offering spanning the major trading regions of the world.
I write about IPOs, follow-ons, secondaries, and M&A. If you want to receive future articles automatically, click the +Follow link next to my name at the top of this article.
Disclosure: I/we have no positions in any stocks mentioned, and no plans to initiate any positions within the next 72 hours.
I wrote this article myself, and it expresses my own opinions. I am not receiving compensation for it (other than from Seeking Alpha). I have no business relationship with any company whose stock is mentioned in this article.