I have written many articles over the years on Exelon (NYSE:EXC), most of which were positive, and, based on the reader comments, seemingly controversial. Recently, I sold half my position, and not necessarily for the reasons many readers would think. A bit of history of the industry is important to understand the flight path Exelon is on. The important aspects involve three simple concepts: 1) merchant power, 2) auction vs PPA electricity pricing, and 3) latest development favoring nuclear power.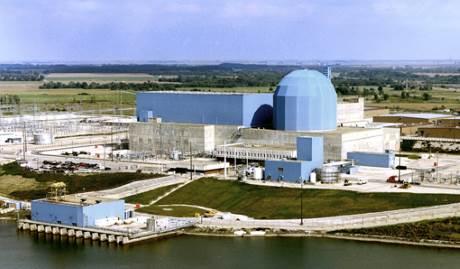 Simplistically, power is produced under two different types of financial arrangements: vertically integrated regulated power pricing set by state regulators and merchant power sold to third parties. Merchant power pricing can be further classified as either spot pricing, purchase power agreements PPA, or 3-year rolling auction. Spot pricing is sold for immediate delivery. Purchase power agreements are usually long-term purchase contracts between a power generator and an electricity buyer, usually an electric utility. PPA contracts regularly include price escalation clauses and/or fuel cost pass-through, and may or may not be subject to state regulatory oversight. As of the enactment of the Energy Policy Act of 2005, most PPAs are also subject to review by the Federal Energy Regulatory Commission FERC. Unique to the mid-Atlantic, Northeast, and eastern Midwest states, electric power pricing is controlled by Regional Transmission Organizations, such as PJM Interconnect, the largest RTO. PJM controls the pricing structure of 1,300 generating facilities in 13 states. The structure of choice is a 3-year rolling auctions when power producers offer their production for a set price during a 12-month timeframe 3-yrs out. Historically, integrated regulated pricing and PA agreements offer more stable electricity pricing than the auction process.
The auction pricing process creates variable pricing based on the economics of various fuel types. As product pricing dictated by the auctions fluctuates, so does the profitability of EXC's respective plants. EXC is the largest operator of nuclear power plants in the US and all its nuclear plants lie within the control of 3-yr auction pricing structure. There are a few "adjustments" made to the auction price based on availability of power to meet demand. For example, back in the day of the 2013-2014 Polar Vortex, many power plants went off-line due to problems operating in extremely cold temperatures, including frozen gas values and exterior storage of coal. By some estimates, the JPM power grid was dangerously close to curtailing power through rolling blackouts reminiscent of California in the early 2000s. Texas experienced a similar situation in 2011 when 50 power plants went offline simultaneously due to cold temps. The polar vortex scare motivated JPM to offer a "premium" for companies willing to "guarantee" availability, known as "capacity performance", with the stipulation they face excruciating large fines for non-compliance. Nuclear power, and hence EXC, fit the definition of "guarantee" JPM was looking for. None the less, EXC's profitability is directly tied to the auction price of its product.
In April 2008, natural gas was selling for $10.18 per million BTU, driving power prices higher. Prices in PJM service territory was approaching $140 per MWh, up from under $80 the year before substantially higher than the range of $80 to $100 of the previous 3 years. Exelon at the time was generating 83% of its earnings from merchant power plants, and was riding the tide of the profitability this generated. Share prices topped out at $93, driven by earnings of $4.10 per share ($3.40 from merchant power generation and $0.60 from regulated utility business), $6.5 billion in operating cash flow, $3.4 billion in free cash flow and $2.1 billion in free cash flow after deducting dividends. Return on invested capital peaked in 2008 at a whopping 13.7%, in a sector where average ROIC is between 4.5% and 5.0%.
Power prices began to unravel by the end of 2008 and currently trade 65% below their peak of 8 years ago, at around $50, and in tune with the 68% drop in natural gas pricing. Below is a chart of power prices from March 2005 to Nov 2016 offered by sriverconsulting.com. It shows the dramatic collapse of power prices from 2008 to current.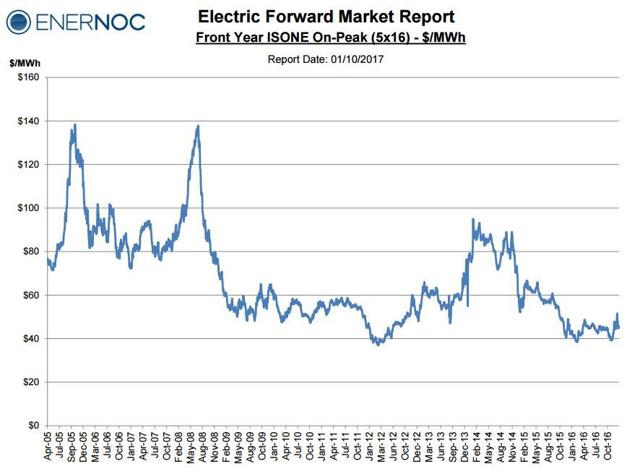 As one would expect when a company's product pricing drops precipitously, earnings and share prices for Exelon collapsed. EPS sank from $4.10 in 2008 to $1.42 in 2012, and share prices declined as well to below $28 in 2013. Along the way, management made two strategic decisions 1) to cut the dividend and 2) to expand their regulated footprint. Management has acquired regulated electric utilities within its power generating territory and regulated earnings are expected to produce a bit more than 50% of the $2.61 EPS expected this year.
However, low natural gas pricing is still affecting wholesale power pricing, and it appears will do so over the next few years. Competitive pricing pressures from natural gas powered facilities, added to subsidies for wind and solar power generation, are driving down profitability for nuclear power plants, with operators voicing their concerns over viability. For example,management has commented three nuclear plants in Illinois are in such precarious financial situations that they threaten permanent closure.
According to the earnings conference call of May 6, the Clinton, Il reactor (pictured above) and two at Quad Cities, with a combined capacity of about 3,000 MW, had a negative cash flow of more than $800 million between 2009 and 2015, for an average of -$115 million a year.
After several attempts, Illinois regulators last month decided to give EXC a subsidy of $235 million a year for the next ten years, totaling $2.35 billion. Ill regulators agreed purchase from EXC "zero emission credits", or ZEC, to subsidize the two power plants in Quad Cities and Clinton, in effect rewarding these plants for their low carbon outputs. Known as the Future Energy Jobs Bill, the implication is its enactment will save several thousand jobs in Illinois. According to the National Renewable Energy Laboratory, a 1,000 MW wind farm employs 250 full-time employees while ECX's three plants combined employ over 4,200 specialized employees in high paying jobs. Wind power generation from farms over 140 MW each for the entire state in 2016 was 2,885 MW, which would represent 713 jobs full time jobs.
Last August, the state of New York passed similar legislation for a ZEC program to save three nuclear plants in upstate. The program will last 12 years and provide upwards of $600 million a year to its operators. Exelon currently owns two of the three and is seeking to purchase the third from its current owner. Last month, the New York Public Service Commission, the state utility regulatory agency, approved of the plan, over the objections 17 petitions for its dismissal.
Other states with large nuclear plant exposure could be under pressure to pass their own ZEC programs, including Pennsylvania, New Jersey, Ohio, Connecticut, and even Massachusetts. However, over the next few years, investors should expect legal challenges to ZEC programs from non-nuclear power producers.
The ZEC programs are adding to analyst's positive opinion of Exelon. According to UtilityDive.com:
From an investor's point of view, passage of the Future Energy Jobs Bill is a "broad positive" for Exelon, says UBS analyst Julien Dumoulin-Smith, though the subsidy does not solve "structural market issues."

In a Dec. 2 note, Dumoulin-Smith cautioned investors about "expectations for broader nuclear fleet issues in future periods, creating a need to support other plants in the state as wind imports and merchant transmission can continue to meaningfully depress" locational marginal prices. He also noted that increased funding for the state's RPS program would put more pressure on uncompetitive generation throughout the state, such as fossil fuel plants.

Dumoulin-Smith reads the success of Exelon's ZEC has an emboldening signal for other states. He is cautious on that front but says Connecticut could make a similar move in 2017, for the Millstone nuclear plant, and Ohio might float similar legislation in 2017, followed by Pennsylvania and New Jersey in 2018.

"We are hearing rumors that other states in the Northeast and Mid-Atlantic region are beginning to look at similar ZEC legislation," Timothy Fox, a vice president at Clearview Energy Partners, told Utility Dive.
Earnings per share and dividend estimates are increasing, with the latest expectations from 4-traders.com:
2016 earnings $2.49, dividends $1.26
2017 earnings $2.61, dividends $1.30
2018 earnings $2.81, dividends $1.33.
With the brighter outlook comes upgrades and buy recommendations from various street firms. Below are the recommendations of street firms going back to this time last year, per marketbeat.com. Currently, there are 10 "buy" recommendations and 4 "hold" recommendations.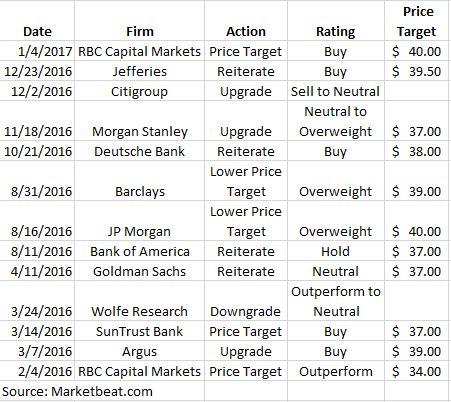 So, with all this love and positive karma, why would I sell half my position? There are three reasons, with the first being the negative impact of a rollback of the Clean Power Plan CPP on wholesale power prices. With the Republican control of the White House and legislative branches, CPP's days of restricting coal -fired power generation may be waning, which could enable power generators to extend the life of some coal-fired plants that were previously slated for closure. Companies have announced they will retire 21.3 GW (7.9%) of coal-fired capacity between 2017 and 2020, with 8.4 GW slated for 2017. If repealed by the current administration, it could take 7 or 8 years to fully reinstate CPP by any future administrations. This will add pressure to wholesale power markets as the added capacity from delay of coal plant closures is not currently factored into most long-range supply/demand analysis. As always in a commodity market, the higher the supply in relation to demand, the lower the price. This adds a bit of power pricing uncertainty, and might offset some of the ZEC benefits for EXC.
Secondly, I believe Exelon is almost fully valued at its current price. According to fastgraphs.com, EXC is in a "fair valuation" range, as shown below. Morningstar rates EXC as 2 Stars with a $32 price target and S&P Capital IQ rates EXC as 4 Stars with a $40 price target.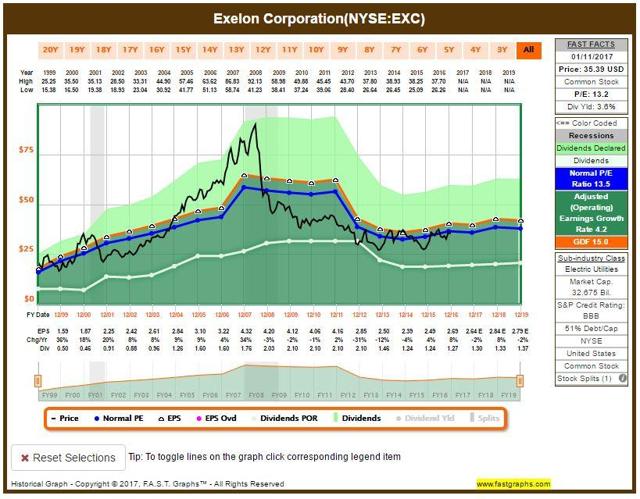 The last reason is much more personal. I started buying EXC in the mid-$40s in 2011. As one who drinks his own Kool Aid, I bought substantially more shares when prices were below $30. With a 26% gain on those lower priced shares (representing 6 years of dividend income) and a positive gain based on my total average cost in the position, it was time to trade out of the higher price shares, realize my "capital loss", and retain my lower cost shares. My total EXC position was also reduced from an overweight position within the utility allocation to an even weighting.
For the foreseeable future, EXC will be directly impacted by fluctuations in the wholesale power markets and their merchant power exposure is still about 50% of earnings. Electricity demand, and therefore pricing, in the Northeast, Mid-Atlantic and eastern Midwest is not expected to recover to pre-2008 levels over the next few years, limiting EXC's upside potential.
For those interested, I reinvested the proceeds and added to my exposure to healthcare, consumer cyclical, and energy MLPs.
Author's Note: Please review disclosure in Author's profile.
Disclosure: I am/we are long EXC.
I wrote this article myself, and it expresses my own opinions. I am not receiving compensation for it (other than from Seeking Alpha). I have no business relationship with any company whose stock is mentioned in this article.