CafePress (NASDAQ:PRSS) IPO'd at $17 per share back in 2012 and has essentially been in a downward trajectory ever since. This sell-off has come amid deteriorating business fundamentals. However, with the founders having rejoined the company and pivoted PRSS' business and created a leaner company, I believe that PRSS presents an asymmetric risk/reward opportunity.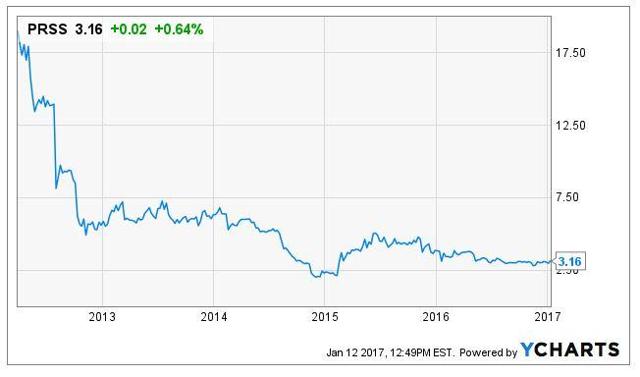 I last reported on PRSS back in November 2014, when the stock was trading at $2.30 per share. In my article, I noted that PRSS was trading at an incredibly low level compared to its assets and discussed how I thought management's turnaround plan could be successful. Since then, the stock has improved a bit, but in my opinion is still significantly undervalued.
About CafePress
CafePress is an online retailer of personalized products offering a wide variety of gifts and accessories, including t-shirts, apparel, mugs, drinkware, and homegoods. Additionally, CafePress sells branded products through other online retailers. Their products are customized with designs contributed through crowd-sourced user generated content, stock art licenses, and licensed content relationships with large entertainment companies and brands. Most of CafePress' business is conducted in the United States, but they also operate in the United Kingdom, Canada, and Australia.
The majority of their revenue is generated from sales of customized products through their e-commerce websites, associated partner websites, or through CafePress owned storefronts. PRSS also generates revenue through fulfillment services, including print and production services provided to third parties.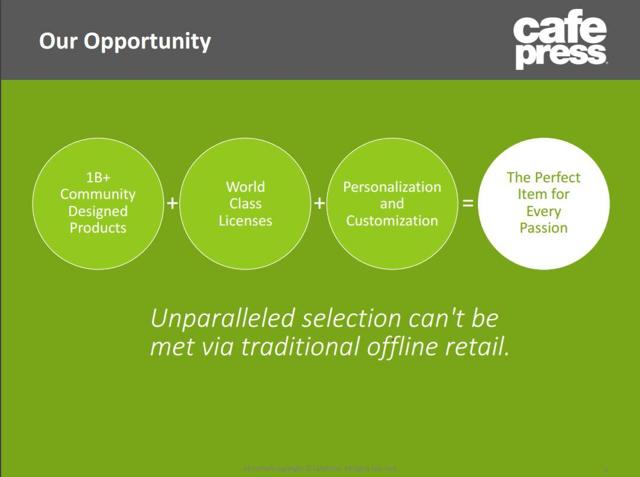 Source: Investor Presentation
Q3 2016
In the last quarter, for the three months ending on September 30, 2016, PRSS saw net revenue of $19.2 million, which was down 2% from the same quarter a year ago. In the press release, CEO Fred Durham commented "[w]hile we have not turned the corner on revenue growth, we have substantially narrowed the net revenue decline. We believe that these early proof points that we have positioned the company for a return to growth."
During the earnings call, Mr. Durham gave further color and noted that this decline marks a considerable improvement from the year-over-year declines "from minus 23% in Q1 to minus 9% in Q2 to just minus 2% during Q3."
Although the company reported a net loss of $3.4 million, that loss represented an improvement from the prior year quarter, which was $3.7 million. The loss would have narrowed to $2.4 million, but one-time restructuring costs in the quarter were $1 million. These restructuring costs consisted of severance charges and lease abandonment expenses from the closing of their office in California.
Moreover, gross margin began to tick upwards, with PRSS reporting 41.5% for the quarter, up from 41.1% y/y. Management has done a tremendous job improving margins over the past few quarters and this represents a noticeable improvement from where they were in 2014. With further expense reductions on the horizon, PRSS is positioned to become a leaner company and return to the black.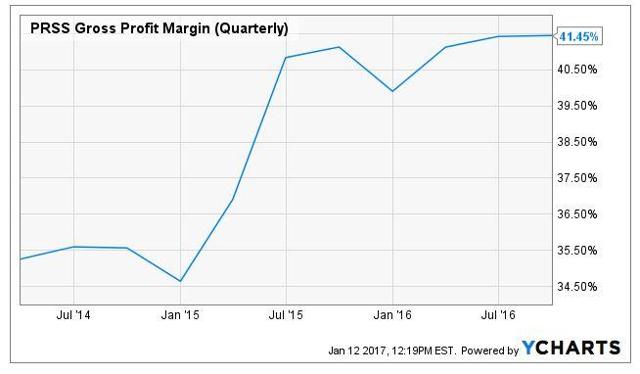 Business Improvements
During the Q3 earnings call, management discussed its plans to further improve the business. First, management discussed that it refreshed its website to "enable customers to quickly find the perfect products for any passions and a perfect gift for any occasion."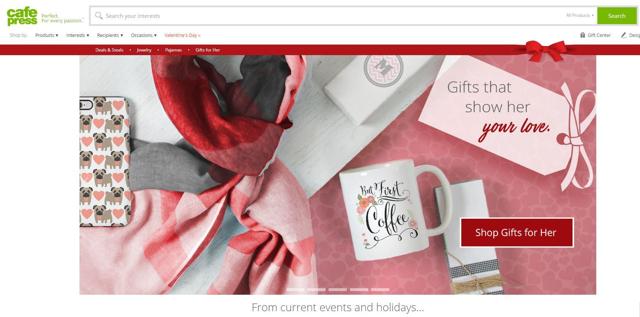 Source: CafePress.com
Additionally, they spent the past several months overhauling their customer database to improve segmentation and targeting. Management said that "optimizing [their] back end marketing tools and expanding [their] partner relationships will empower [them] to increase brand awareness." They went on to say that they've seen early progress from this change in terms of improved site traffic and order volume.
Later, during the Q&A session, management emphasized that their focus was on creating a long-term value ("LTV") with a customer. To do so, they've updated the website to include occasions, not just topics and merchandise. This will allow customers to build a relationship with CafePress and provide return business to the site. Management went on to say that their small sample testing has shown that their changes have improved repeat business.
If the small testing proves to be accurate on a larger scale, PRSS will benefit in two salient ways. First, and most obviously, PRSS will see a boon in terms of revenue. However, PRSS will also become more profitable because the cost to acquire new customers will decrease. By optimizing its structure to improve the LTV of a customer, PRSS will not have to spend as much in terms of marketing dollars.
Share Repurchase Program
Additionally, PRSS repurchased approximately 77,000 shares of common stock, and has repurchased a total of about 1.15 million shares since the second quarter of 2015. CafePress's Board of Directors authorized a total of 3.5 million shares in the stock repurchase program so there is still considerable room for management to repurchase more shares.
Undervaluation
The most important figure that was disclosed in the latest quarterly earnings press release was that PRSS was holding $36 million in cash and cash equivalents, which represents $2.15 a share. That figure represents roughly 70% of its current trading market capitalization! That level of cash compared to the market capitalization means there is downside protection in this opportunity.
Moreover, PRSS trades at just about its asset value. Its total assets were $53,895,000 last quarter compared to its total liabilities of $12,467,000. With a current market capitalization of just above $50 million, PRSS is essentially just trading at its asset value! Furthermore, the lion's share of PRSS's assets are represented in its current assets, $42,738,000 to be exact.
One reason that investors may not been too keen on investing in PRSS is due to management removing guidance in 2014 to allow them latitude to institute a new strategy. Management has not reinstated guidance and during the earnings call only said that they "expect to continue making steady progress narrowing [their] year-over-year revenue gap and begin to turn the corner with modest growth in the fourth quarter." Management also said they expect to return to revenue growth in 2017.
In Q4, management also guided that they expect to incur additional restructuring costs driven by the consolidation of their footprint in their Kentucky headquarters. Despite the one-time expense, PRSS will improve in the future due to a reduction in their expense run rate moving forward.
There is no doubt that this guidance is positive, but Wall Street prefers to have more granular information before many will invest.
Reason for Undervaluation
The principle reason for CafePress being undervalued is due to the myopic nature of the market. PRSS has been experiencing decreased revenue from the divestiture of its assets and focus on becoming a leaner company. Without management giving Wall Street explicit guidance investors are wary of PRSS's future. Moreover, there is a dearth of analyst coverage, so information about the turnaround efforts has not been well disseminated.
Insider Buying
Insiders appear to be bullish about the turnaround efforts. Insider buying has been quite prevalent over the past couple of years. This is a sign from management that they believe the stock is undervalued. Insiders may sell for various reasons, but there is only one reason that they will buy a stock--they think it is undervalued.
Source: Open Insider Transactions
Will Insiders Take It Private?
After such prevalent insider buying, one must wonder if management may try to take PRSS private. With 46.33% of the company owned by insiders, it does appear that this could be a plausible scenario. Management continuing to repurchase shares provides further evidence of this possibility. If management does take it private they will be able to save on reporting costs. Moreover, with so much cash on the balance sheet relative to the market capitalization, PRSS also presents a compelling takeover opportunity.
Be Careful--Use Limit Orders
There is a risk in trading PRSS due its limited liquidity. Therefore, I suggest using limits to prevent wide jumps in the share price, as the bid/ask spread can sometimes be quite divergent.
Conclusion
Although PRSS is currently unprofitable, there are a number of positive catalysts that could turn the tide and return PRSS into the black. I believe that both the top-line and bottom-line will improve from management's prudent shift towards emphasizing a relationship with customers and building LTV. With PRSS trading at essentially its asset level, there in an inherent margin of safety in this investment, which lends itself to an asymmetric risk/reward opportunity.
Disclosure: I am/we are long PRSS.
I wrote this article myself, and it expresses my own opinions. I am not receiving compensation for it (other than from Seeking Alpha). I have no business relationship with any company whose stock is mentioned in this article.
Editor's Note: This article covers one or more stocks trading at less than $1 per share and/or with less than a $100 million market cap. Please be aware of the risks associated with these stocks.