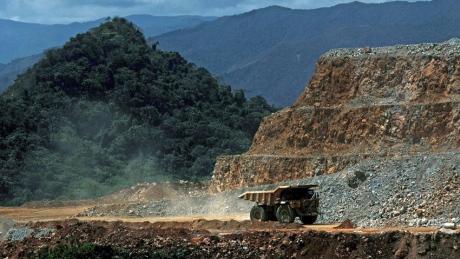 Goldcorp Inc. (NYSE:GG)
This article is an update of my preceding article about Goldcorp Inc. published on December 15, 2016.
Investment Thesis:
Goldcorp is a top-tier Canadian gold miner with operations throughout the Americas. At the end of 2016, the company had ten gold mines producing over 3 million ounces of gold.
The 2016 guidance is reconfirmed for gold production of between 2.8 and 3.1 million ounces at AISC of between $850 - $925 per ounce.
The company increased the reserves by 4% to 42.3 million ounces primarily as a result of the acquisition of the Coffee project.

The gold miner is also producing silver, lead and zinc in smaller quantity as the graph below indicates: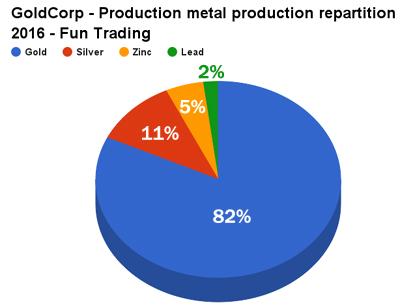 The weakness of the company comes from the quality of its assets. Most of the recent declared commercial mines such as Eleonore mine in Canada, Peñasquito mine in Mexico and Cerro Negro mine in Argentina have been a disappointment for different reasons stretching from earthquake problem, labor dispute and economical regional instability. You name it and GG got it...
However, despite a mediocre asset quality, the company managed to produce $99 million in free cash flow for 3Q'16.
It is good to notice that Peñasquito mine is now back to normal production. M. David Garofalo, CEO, said in the 3Q'16 conference call:
Though an illegal blockade late in the third quarter resulted in a short controlled shutdown of operations on October 3rd, we do not anticipate that production for the fourth quarter will be materially impacted. Our throughput for the fourth quarter is expected to be between 100,000 tonnes and 110,000 tonnes per day with a continued improvement in gold rates between 0.85 grams per tonne and 0.90 grams per tonne. In October, we achieved full design capacity at the Northern Well Field and delivered the project under budget. We expect this will provide sufficient water supply for the life of mine of Penasquito.
On October 9, 2016, I commented on the resuming of the operations at Peñasquito, and said that Peñasquito Pyrite leach project is still on track with commercial production scheduled to Q1'2019.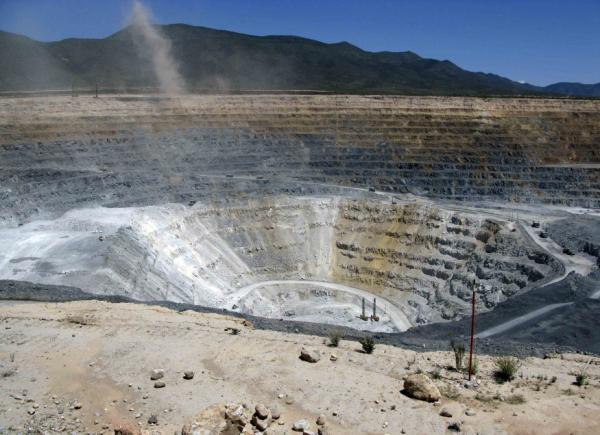 Conclusion, the company seems struggling with too many assets and should focus on a reduced main core portfolio to optimize. This is the strategy that has been started with the divestiture of the Los Filos mine and the sale of the Cerro Blanco project announced a day earlier.
Commentary:
1 - On January 11, 2017, Goldcorp announced the following:
The Company has entered into an agreement (the "Agreement") pursuant to which it has agreed to sell its 100% interest in the Cerro Blanco gold-silver project, located in Guatemala, to Bluestone Resources Inc. (TSXV: BSR) ("Bluestone").

Goldcorp will receive consideration at closing of $18 million in cash, a 1% Net Smelter Return royalty on production, and common shares of Bluestone representing approximately 9.9% of the issued and outstanding shares upon completion of the Transaction. Goldcorp will receive an additional $15 million in cash upon declaration of "Commercial Production" at Cerro Blanco.

In addition, Goldcorp has granted Bluestone a right of first refusal with respect to certain assets and equipment at the Marlin mine, also located in Guatemala. The Marlin mine will continue reclamation and revegetation activities over the next three years, followed by ongoing monitoring and maintenance activities as planned. The last ore production is set to be processed in early 2017.

The Cerro Blanco transaction is subject to financing and other customary closing conditions and is expected to close in the first quarter of 2017.
The total amount is up to ~$36 million in cash and share of Bluestone.
$18 million in cash
1% NSR on production
9.9% of the share issued and outstanding or approximately 2.1 million shares of BSR for a value of $1.5 million.
$15 million cash upon declaration of "Commercial Production" at the mine.
2 - On January 12, 2017, Goldcorp announced the following:
The Company has entered into a share purchase agreement (the "Agreement") with Leagold Mining Corporation (TSXV: LMC-H) ("Leagold"), pursuant to which it has agreed to sell its Los Filos Mine in Mexico to Leagold (the "Transaction"). Under the terms of the Agreement, Goldcorp will receive estimated consideration of $438 million, consisting of $279 million in cash (subject to certain closing adjustments), $71 million in Leagold common shares, and retain certain tax receivables of approximately $88 million. The common shares issued to Goldcorp as consideration are expected to represent approximately 30% of the issued and outstanding shares of Leagold following the closing of the Transaction. By closing of the Transaction, Goldcorp expects to recognize a reversal of a 2015 impairment in mining interests at Los Filos of approximately $30 to $60 million on a pre-tax basis.

"The divestiture of Los Filos is consistent with our strategy of focusing on our core camps to drive increasing net asset value per share," said David Garofalo, President and Chief Executive Officer of Goldcorp. "We thank the team at Los Filos for their commitment and dedication and we wish them continued success as part of Leagold. We will work closely with the team at site to ensure a smooth transition and look forward to working with Leagold to continue to add value at Los Filos."

The Transaction is subject to customary closing conditions and is expected to close in the first quarter of 2017.
Under the transaction agreement, Goldcorp will get $279 million in cash, $71 million in Leagold shares and tax receivables worth about $88 million.
A total of $438 million which is much higher than the $300 million according to an estimate from Andrew Kaip, a Toronto-based analyst at BMO Capital Markets.
Both sales will be closing in 1Q'17. For a total of approximately $475 million.
As a reminder, On December 13, 2016, Bloomberg indicated the following:
Goldcorp Inc. hired the Bank of Nova Scotia to sell its Camino Rojo gold and silver project in Mexico, adding to the list of operations it may unload to focus on more profitable mines, according to people familiar with the matter. The Vancouver-based gold producer is also working with Scotiabank on the sale of its Los Filos operation in Mexico, which is said to be in advanced stages of a sale, the people said, asking not to be identified.

Los Filos might fetch about $300 million while Camino Rojo could sell for about $200 million, according to an estimate from Andrew Kaip, a Toronto-based analyst at BMO Capital Markets.
Let's see what GG will get for the Camino Rojo project (gold and silver) which is still for sale?
Finally, The company is also considering options for its 100 percent-owned Marlin mine in Guatemala and 37.5 percent stake in Argentina's Alumbrera mine.
Assuming that Goldcorp is successful the total cash could easily be roughly above $800 million for approximately 97K Au Oz per quarter or about 14% of the quarterly gold production.
Conclusion:
I regard this move as a good move for Goldcorp shareholders. The cash from the two sales represents well over the Kamina Gold sale and its interesting Coffee gold project.
As a reminder, On May 12, 2016, Goldcorp Announced Acquisition of Kamina Gold Corporation for approximately C$520 million.
Goldcorp had $383 million in cash and cash equivalent and a total debt of $2.68 billion at the end of September 2016.
The question is to know what Goldcorp intends to do in 2017 with this extra cash.
I have estimated the cash on hand at approximately $690 million at the end of 1Q17 and I believe that the company should use approximately $200 million to reduce its total debt and invest the rest in CapEx.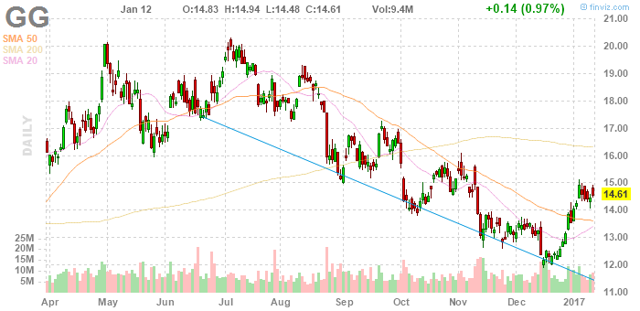 In my preceding article I recommended to buy GG between $11-$12 and it is just what happened in mid-December. Since then, the gold price has experienced a strong positive momentum and GG increased 18% in about a month.
We are now trading at resistance ($15) and it is time to take some profit off the table for the one who have a profit by selling 20% to 30%.
However, GG will be affected by two significant components in the next few months and will trade basically as a proxy for gold.
The price of gold
The $US dollar
This is a really simple equation based in fact on the FED and its interest rate policy in 2017. The US economy seems to do well, which means the interest rate will be raised maybe more than once. This will have a negative effect on gold price and GG.
Nonetheless, the outcome for the next few months is totally unpredictable, especially with Donald Trump as a new atypical President.
Important note: Do not forget to follow me on GG and other gold miners. Thank you
Disclosure: I/we have no positions in any stocks mentioned, and no plans to initiate any positions within the next 72 hours.
I wrote this article myself, and it expresses my own opinions. I am not receiving compensation for it (other than from Seeking Alpha). I have no business relationship with any company whose stock is mentioned in this article.
Additional disclosure: I trade GG