At first glance, it does look a bit strange that shares of Lamb Weston (NYSE:LW) basically didn't move after its fiscal Q2 report on Tuesday morning. LW beat consensus EPS estimates by $0.11, and revenue growth was nearly two points higher than the Street. But after a big gain in early trading Tuesday, shares retreated, and basically are flat from pre-earnings levels: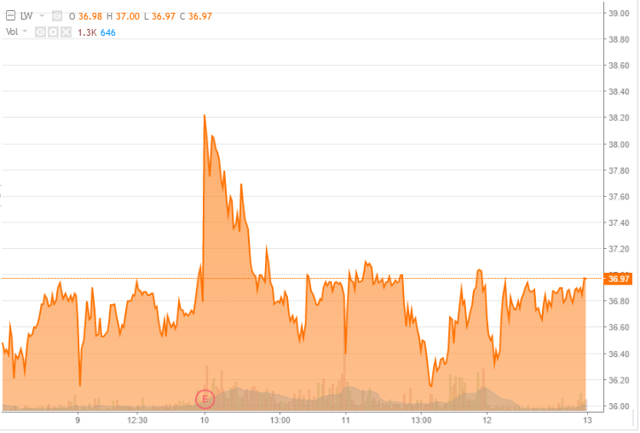 Source: Seeking Alpha
It appears that commentary on the Q2 conference call, which points to a quieter second half in terms of profit and earnings growth, likely led to the reversal of Tuesday's early gains. But that reversal strikes me as simply too conservative. It's not as if LW was expensive heading into the report; in fact, the stock traded at a modest discount to other food peers. And even more moderate second-half growth supports the long-term bull case here.
There's still a question in terms of valuation here, particularly in terms of choosing the peer group, and it's not as if a frozen French fry manufacturer is the sexiest stock in the market. But I liked LW at $37 heading into the report; coming out, after a very strong quarter, it's hard not to like it even better.
A Strong Quarter
It did look as if LW's full-year guidance (given at its Investor Day) coming out of Q1 was conservative, with management admitting at the time that it was giving itself some room for potential disruption after its spin-off from ConAgra Brands (NYSE:CAG). That aside, however, Lamb Weston's Q2 was very impressive. Revenue grew 7%, adjusted EBITDA including JVs rose 19%, and adjusted EPS jumped 26% year over year. I had modeled full-year adjusted EPS near $2 for FY17 (ending May); post-Q2 guidance is for $2.20-2.28.
What's particularly comforting is that the strength in the quarter was broad. Sales grew across all segments except for the "Other" business (which is less than 4% of total revenue). Global segment sales (to major QSR chains) increased 6%, with volume up 5% (well above market growth rates) and pricing up 1%. The Foodservice business (sales to smaller chains and independent restaurants) managed to boost pricing 5% and volume 6 points. And licensed brands and private label growth helped Retail sales rise 5% as well. Those numbers might not appear particularly impressive relative to the market as a whole, but in a deflationary environment where U.S. restaurant sales, in particular, have been rather weak of late, mid-single-digit growth is nothing to sneeze at.
With product costs flat according to the Q2 call, the pricing increases and full capacity utilization allowed gross margin to increase 330 bps year over year. Segment-level product contribution (gross profit less advertising and promo) margins increased sharply as a result, with segment profits up 17% in Global, 39% in Foodservice, and 36% in Retail. Overall, adjusted EBITDA margins increased 225 bps, with higher SG&A (including increased standalone costs post-spin-off) costs offsetting some of the gross margin expansion.
Simply looking at Q2 results, it's not hard to imagine LW shares gaining double-digits on the news, given a major jump in FY17 EPS expectations (which were at $2.03 heading into the report) and the breadth of good news. Add to that the fact that LW took pricing in a tough environment for food manufacturers (and sellers, whether grocers or restaurants) and without increased product costs would seem extremely bullish going forward. 8% higher EPS expectations and a one-turn expansion in the P/E multiple based on pricing potential would seem to imply a ~13% post-earnings gain for the stock. Yet shares actually finished down a fraction of a percent.
Second-Half "Pressure"
The catch with the Q2 report is that commentary towards the second half of FY17 makes the quarter look more like an outlier than part of the trend going forward. LW already had disclosed that its second-half comparisons would be more difficult (another reason for its relatively conservative guidance ahead of Q2), which will limit growth rates in Q3 and Q4. But there's more reason why investors turned a bit cautious toward the back half.
For one, Q2 was basically a perfect environment for Lamb Weston. According to the Q2 call, the company's factories were running at full capacity, if not above, and the same went for the space as a whole. That boosted margins to a level that may not be sustainable - certainly, capacity utilization levels need to come down - and also led to a favorable pricing environment. LW could boost prices with confidence that similarly-stretched competitors wouldn't be able to undercut those prices. That will change: Lamb Weston is bringing new capacity online in CY17, with competitors following.
There are other concerns. Joint ventures in Europe are struggling with a poor crop, and won't be able to fully pass along those increased costs. Those JVs added almost 9% to 1H adjusted EBITDA, and weakness there likely implies a point or two of pressure on a consolidated basis in the back half. SG&A is guided to increase due to higher incentive-based compensation and increased standalone costs. Even the tax rate appears likely to tick up a point or two to 34-35% from 33% in the first two quarters.
So while adjusted EBITDA is guided up "mid teens" for the year, there's a noticeable split: 28% growth in the first half, and an implied ~6% increase in the second half. And while a Q2 surprise seemed more likely to the upside, the issues in Europe and potential pricing changes amid capacity expansion seem to raise the possibility of a downside revision in either Q3 or Q4. More broadly, the sense on the Q2 call, in particular, was that the second quarter results were strong but not representative of LW's potential going forward. And that likely led to the reversal of the post-earnings gains.
Valuation
From my perspective, however, any concerns about back-half performance miss a key point: LW is, and was, priced for that second-half performance anyway. At Thursday's close of $36.96, the stock trades at just 16.5x the midpoint of FY17 EPS guidance, a valuation that suggests modest growth going forward. A reasonably heavy debt load (in part a result of the spin-off from CAG) expands the EV/EBITDA multiple to about 11.5x on a forward basis, but either way it's not as if the market was pricing in explosive growth for LW.
Valuation here still comes down in large part to how an investor sees LW. Those valuations still are roughly in line with CAG or J. M. Smucker (NYSE:SJM), at least on an EBITDA basis - but I still would rather have LW's restaurant exposure than the deflationary end markets that make up the majority of business for those peers. If an investor chooses to see LW as more of a 'staple' play, than a low-20s/mid-teens EBITDA multiple might seem more appropriate, and that could value LW into the mid- or even high 40s by the end of CY17. I'm not quite ready to assign a price target that high - but I still think 16x P/E, in particular, is too cheap. I see LW as deserving a premium to lower-end peers, and something like 18-19x EPS and 12-13x EBITDA both imply a value of $41-42, or ~15% upside.
There are two key risks here. Near term, the question is whether the coming capacity expansions might cause some pricing pressure for LW along with peers (privately held Simplot and McCain), starting in FY18. LW's own long-term targets are for low-single-digit revenue growth, driving high-single-digit adjusted EBITDA increases; a few points of pricing pressure could lead to ~flat results on both fronts. Longer term, the question is whether French fries (a majority of LW revenue, per filings) will see declining sales based on health concerns (or simply changing consumer tastes, and/or a move away from QSR concepts like McDonald's (NYSE:MCD)).
At current valuations, I think those risks are worth taking. LW believes it can take share in the next few quarters by beating competitors to market with its capacity expansion, and even if that impacts margins, it should boost revenue. Of late, stocks that offer LW's kind of targets (steady, if unspectacular, profit growth) have received sharply higher multiples, which seems to argue that those risks are priced in, and then some.
It's not a spectacular bull case, to be sure, but I do think risk/reward is in favor of a long position at $37. I'd love to see a price closer to $34 (a 15x P/E multiple), but LW may not get there. While Q2 may have been an outlier, the results still are a sign that the company is executing well out of the gate after the spin-off. There are still hopes for additional share gains in CY17, and expectations for the back half may be a bit more muted coming out of Q2, perhaps setting up a more sustainable post-earnings gain after Q3 and Q4. Longer term, there's a deleveraging/margin expansion/earnings growth combination that can drive strong results, with a 2%+ dividend yield on top. It's likely that the second half of FY17 won't be as strong as the first half - but that's not the point. The point is that even a weaker second half still supports a higher price for LW.
Disclosure: I/we have no positions in any stocks mentioned, but may initiate a long position in LW over the next 72 hours.
I wrote this article myself, and it expresses my own opinions. I am not receiving compensation for it (other than from Seeking Alpha). I have no business relationship with any company whose stock is mentioned in this article.