After the strong run higher in global equities following the U.S. Presidential Election, it looks as if things have taken a slight pause, but this shouldn't be confused with a potential significant market correction. This is not January 2016, when markets looked to be on the precipice of another financial crisis, but instead, it is 2017, where opportunities are plentiful. Both U.S. and international equities look to be setting up for further legs higher. Moreover, tangible assets, such as oil and copper producers, are set to race higher in coming years after a long stagnation. By investing in the equity sectors that are set to benefit from the new economic environment, one can continue to see capital appreciation among their portfolio.
The theory behind my investing approach is both top-down, and relative value. The portfolio that I help run at my firm is global in nature, with a focus on relative value. The charts presented below are all relative value, and essentially reduce beta exposure, while making sector and asset class bets.
A chart I look at every day is the Guggenheim S&P 500 Equal Weight ETF (NYSEARCA:RSP)/ iShares 7-10 Year Treasury Bond (NYSEARCA:IEF). It represents U.S. equities in terms of U.S. Treasury Bonds. This chart accounts for the effects of general asset price increases, requiring that equities relatively outperform bonds, which happens when bullish sentiment for stocks is strong. Unlike the indexes themselves, this indicator is just now breaking to record highs, eclipsing its 2007 levels. This is extremely bullish for the general outlook of equities, and leads me to believe there could be another 30% upside.
Compare this to the start of 2016, when this indicator was still in a downtrend from its August 2015 decline. Markets started the year weak, and continued lower until it hit a bottom during the first quarter.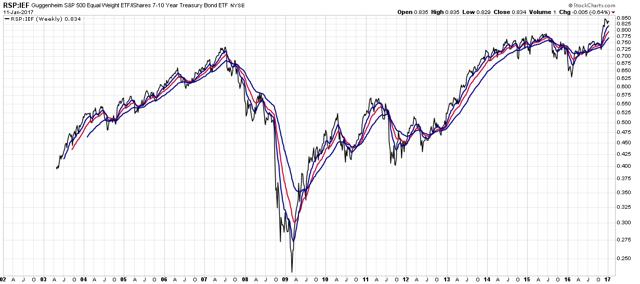 International equities are also performing well. For the first time in a few years, this international equity indicator is turning higher. To be clear, my trading approach is relative value, meaning I will go long the Vanguard FTSE All-World ex-US ETF (NYSEARCA:VEU), and short IEF. After suffering from tepid economic growth and deflation, developed markets are now seeing rays of hope. The populist movement is shaking things up in Europe, and previously beaten down cyclical sectors are turning around. With both International and U.S. markets looking strong, it is important to target sectors that have a lot of upside potential.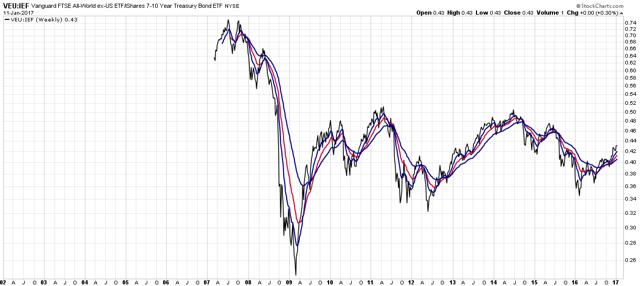 One of the clear standouts is the energy sector. The Energy Select Sector SPDR ETF (NYSEARCA:XLE) has underperformed the broader market since the financial crisis, but it now looks to present an attractive buying opportunity. With oil prices bottoming, and potentially moving higher in 2017 due to attractive supply/demand fundamentals, as well as the sector trading at decade support levels on a relative basis, this pair could see significant strength in coming years. Although commodity producers are a volatile trade, the thesis just makes sense to buy. With investors favoring real assets and cyclical sectors under a Trump Presidency, this pair could appreciate by 50% in coming years.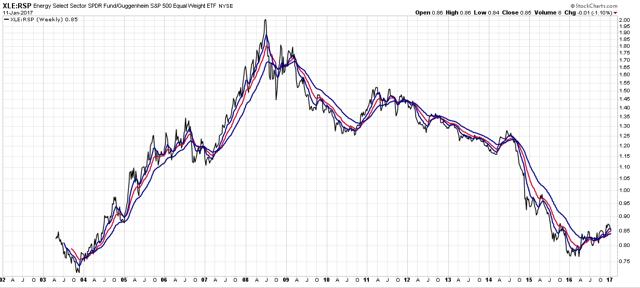 The final pairs' trade is Global X Copper Miners ETF (NYSEARCA:COPX)/RSP. Copper miners haven't been able to catch a break since the inception of this index. Sluggish global trade weighed heavily on commodity prices, and thus negatively affected producer profits. With industrial metal prices now rising, and optimism returning to the sector, this pair could be a home run. There is little overhead resistance, and if U.S. fiscal stimulus really does come in a big way over the next four years, this pair could see 200% gains.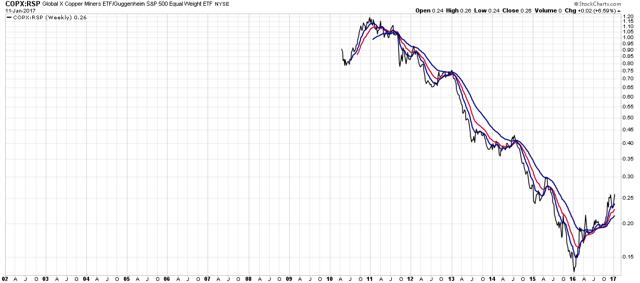 There are clear themes taking place in the market currently, and it is indicative of a fundamental shift. Equities, both domestic and international, are pricing in stronger economic growth. Meanwhile, rising inflation expectations are awakening sectors that have languished the past few years. Among those sectors benefiting are energy and metals producers. Both sectors have underperformed for the last 5 years, and due to now optimistic expectations surrounding the real economy, not just Apps and gadgets anymore, commodity producers should see an inflow of funds. The move higher has begun, but is nowhere near over, signaling a lot of opportunities, even as the market rests at all-time highs.
To take advantage of the current market environment, one can either initiate a pairs trade or buy the ETFs outright. For example, purchasing RSP and shorting IEF in equal dollar terms will mean your return stream looks identical to the chart posted above. Equal dollar terms mean that if you go long $100 of one ETF, then short $100 of the other ETF. I advise purchasing all pairs that I have listed in this article. If you simply want to use the indicator to direct your purchases, then buy the underlying ETF without actually shorting the the denominator ETF. For example, you could simply buy RSP, and choose not to short IEF. Pair trading, or no pair trading the sectors and assets shown above look very attractive, and are worth consideration in you long book.
Disclosure: I/we have no positions in any stocks mentioned, and no plans to initiate any positions within the next 72 hours.
I wrote this article myself, and it expresses my own opinions. I am not receiving compensation for it (other than from Seeking Alpha). I have no business relationship with any company whose stock is mentioned in this article.