On July 13, 2016, paleo-socialist Bernie Sanders sent a shiver down the spines of Americans.
He threatened that Hillary Clinton "will be the Democratic nominee for president, and I intend to do everything I can to make certain she will be the next president of the United States."
Stocks of medical device maker Avinger, Inc. (NASDAQ:AVGR) plummeted from $11.43 on July 12, 2016, to $6.49 on July 13.
Given the gravity of Sanders' threat, can you really blame the sellers?
Now that we got this random exercise in simplistic NPR "Market Place"-style attribution of cause and effect out of the way, let's dig a bit deeper.
Avinger, Inc. is a commercial-stage medical device company that designs, manufactures and sells image-guided, catheter-based systems for the treatment of patients with peripheral artery disease (PAD).
PAD simply means a build-up of arterial plaque in the arteries that supply blood to the legs and feet. AVGR has designed, developed and is marketing a bunch of innovative devices that dramatically improve the treatment of vascular disease. Its Lumivascular platform, the only intravascular image-guided system of therapeutic catheters available on the market, including the Lightbox imaging console, the Ocelot family of catheters, which are designed to penetrate total arterial blockages, known as chronic total occlusions, and Pantheris, the first-ever image-guided artherectomy device, designed to precisely remove arterial plaque in PAD patients.
In other words, they're the Roto-Rooters of arterial plaque.
I freely admit that I was first made aware of this arterial clog-buster through the Facebook posting of a video. I was oddly entranced by how the thing works: Having spent the one or other morning trying to snake the drains of my pool deck and getting nowhere, this contraption seems to be genius. See for yourself!
AVGR IPO'd in January 2015 at $13.00 a share. It peaked at $22.00 on Christmas Eve of 2016 and began bouncing south until July 13, 2016, when the stock lost almost half its valuation in a matter of hours.
I blame Hillary and the prospect of yet another lost decade for these United States of America. (Of course you would, I imagine you mutter disdainfully...)
However, the release of the company's Q2 preliminary earnings report on July 12, 2016, probably has a less tenuous causality. (After all, I'm not Kai Ryssdal and not writing for NPR).
What was wrong with that report?
Nothing, really:
"Total revenue of approximately $4.7 million for the second quarter ended June 30, 2016, an increase of 57% from the second quarter of 2015. Revenues from disposable devices were $3.7 million, a 118% increase compared to the second quarter of 2015 and a 12% increase from the first quarter of 2016. Revenue related to Lightbox™ imaging consoles is expected to be $ 1.0 million, a 29% decrease compared to the second quarter of 2015 and a 17% decrease from the first quarter of 2016. During the quarter, the installed base of Lumivascular™ accounts increased by 19 and ended the quarter at 126 accounts."
Sales were up. Revenues were up. But is a company with an annualized gross of $20 million worth $12.00 a share, let alone $23.00?
I don't think so. Apparently, neither does anyone else by now.
Now, the January 6, 2017, preliminary Q4 earnings read like a carbon copy of those from July 2016. Decent growth based on a smallish base. I see nothing wrong with it… maybe the fact that it reads like a carbon copy of the previous.
What's "the consensus"? Well, most news regarding AVGR are robo-posts jumbling meaningless numbers supposed to indicate that it's "oversold". Useless stuff, if you ask me.
So I'm buying. Mostly because it reminds me of a classic TAIPAN-style technology pick from my misspent youth as the editor and, later, publisher of that venerable newsletter - now surviving only in its German offspring.
After all, it's a real technology and not the kind of stupid race-to-the-bottom app to find the lowest price for earth shoes in your zip code.
On 1/12/2017, I spent the princely sum of $324.00 for 100 shares of AVGR, at $3.24 a share. (See, picture of transaction receipt ->).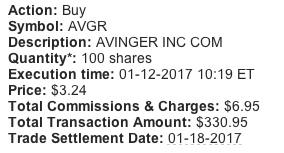 Yep, didn't break the bank, but I'm not attempting to move prices and prefer my readers not go all post-election on me trying to construe conflicts of interest for me should the pick turn out to be a home run.
Buy up to and below $3.50. Yes, this is a purely speculative medium-term play.
Disclosure: I am/we are long AVGR.
I wrote this article myself, and it expresses my own opinions. I am not receiving compensation for it. I have no business relationship with any company whose stock is mentioned in this article.
Additional disclosure: I have a nominal long position (100 shares, purchased at 3.24/s on 10/12/17) in AVGR. This position is intended for independent track record keeping evidentiary purposes. All further buy or sell actions will be published prior to being executed, both on Seeking Alpha and on JonesFallsFinancial.com