In this article, I will be showing why investors have been investing in the wrong retail ETF and showing why a smaller ETF is the better choice given the current retail environment. When investors are looking at investing in the retail sector, the go to choice is the SPDR S&P Retail ETF (NYSEARCA:XRT), which is the largest retail focused ETF, that has $635 million in assets as of the close on January 11th. I will be showing why investors should instead consider the VanEck Vectors Retail ETF (NYSEARCA:RTH) over the SPDR S&P Retail ETF.
Market Cap Breakdown
Many investors may think since the XRT has SPDR in the name that it is made up of large cap stocks just like the famous sector SPDRs, however, the SPDR S&P Retail ETF has a significant tilt towards mid cap and small cap stocks. The website for XRT does not break down its holdings by market cap, so I took the holdings and put them in the Finviz stock screener so I could sort them by market cap. I found that Mid & Small cap stocks account for nearly 55% of the ETFs holdings. Conversely, RTH has all of its holdings in large cap stocks, which eliminates the risk of owning mid & small cap stocks.
| | |
| --- | --- |
| | XRT Market Cap Breakdown |
| Large [$5B+] | 43.77% |
| Mid [$1-$5B] | 43.74% |
| Small [<$1B] | 11.13% |
[XRT table data from XRT website & FinViz]
| | |
| --- | --- |
| | RTH Market Cap Breakdown |
| Large [$5B+] | 99.9% |
| Mid [$1-$5B] | 0% |
| Small [<$1B] | 0% |
[RTH table data from Portfolio Breakdown]
Key Fund Characteristics
Looking at the key characteristics below, there are both positives and negatives to both XRT & RTH for potential investors to consider.
Both XRT & RTH have an expense ratio of 0.35%
XRT has $635 million in assets compared to $94.2 million for RTH
XRT has an average volume of 5.02 million shares compared to 16.6 thousand for RTH
XRT yields 1.36% compared to 1.81% for RTH
XRT pays dividends quarterly and RTH pays dividends annually
Amazon Kicker
One of my favorite tools to use is the Fidelity ETF basket Holdings tool, which allows you to search for the weights of stocks in all ETFs. Not surprisingly, the ETF with the largest allocation to Amazon (NASDAQ:AMZN) is RTH, with a 16.65% weighting. Conversely, when looking at what percentage Amazon is weighted in XRT it stands at only 1.27%, which is miniscule given that Amazon is dominating retail. When looking at the holdings of XRT no stock has more than a 1.30% weighting, which shows that more or less the fund is equal weighted. That weighting strategy I believe is not viable given the current retail environment where Amazon is dominating, which is accounted for in RTH. For investors considering RTH, they have to be bullish on Amazon, given that it has an outsized weight compared to the rest of the holdings of RTH.
Performance
Looking at the historical performance comparison between XRT & RTH it is easy to see that RTH is the superior ETF. The first chart below shows that since XRT hit an all-time high in July 16 th 2015, RTH has significantly outperformed. XRT has failed to close above that level since then, but RTH has continued higher, which can be attributed to the quality large cap holdings that RTH hold, which include the outsized position in Amazon.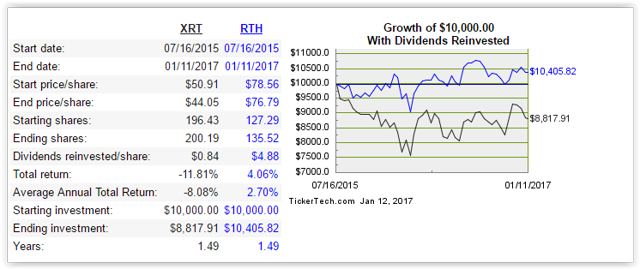 [Chart from Dividendchannel.com]
Closing Thoughts
For investors looking for exposure to retail stocks, RTH is the clear winner because it is exclusively exposed to large cap stocks, has a large position in Amazon which is dominating retail, has outperformed XRT and has a higher dividend yield than XRT.
Disclaimer: See here.
Disclosure: I/we have no positions in any stocks mentioned, and no plans to initiate any positions within the next 72 hours.
I wrote this article myself, and it expresses my own opinions. I am not receiving compensation for it (other than from Seeking Alpha). I have no business relationship with any company whose stock is mentioned in this article.