Institutions Unloading PayPal In Dark Pools
At the end of October, pseudonymous Seeking Alpha Pro contributor Bulls & Beards called PayPal (NASDAQ:PYPL) a "ticking timebomb" with 70% downside risk. The stock dropped about 8% within a month of his article, but has climbed back to nearly even since.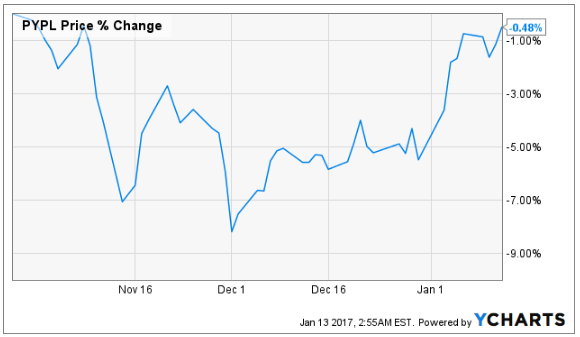 As PayPal has climbed back from its December 1st low though, institutions have been net sellers of it in dark pools on 27 of those 29 trading days.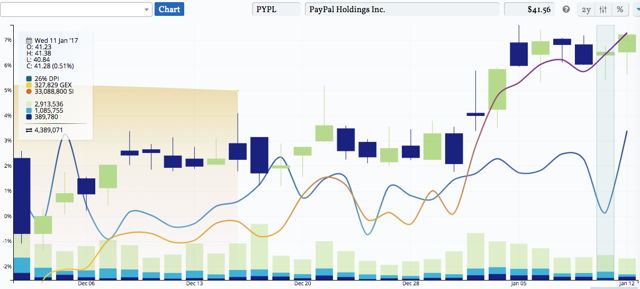 The dark pool chart above is from Squeeze Metrics (reminder: we have an affiliate relationship with that site, and get compensated if readers join). Readers of our recent article on Deutsche Bank (NYSE:DB), Seeking Alpha In The Dark, may recall how trading in dark pools - private exchanges where institutions avoid the transparency of public markets - offered insight into where that stock was headed. Recall that the Dark Pool Indicator, or DPI, measures how bullish or bearish dark pool investors are on a security: below 50% is bearish and above 50% is bullish.
On Thursday, PayPal was had a bullish DPI of 59%, but that was the first bullish DPI it had since December 5th. We've highlighted Wednesday instead on the chart above instead, as its DPI of 26% is more representative of the period. The average DPI for PayPal since December 1st has been 34%. To put that figure in perspective, it's worth reviewing this article on the S&P 500 stocks with the best and worst DPIs in 2016. As that article shows, two of the stocks with the most dark pool selling last year had DPIs averaging 33%, Cognizant Technologies (NASDAQ:CTSH) and Synchrony Financial (NYSE:SYF).
As that article makes clear, not every stock with a low average DPI will do poorly - SYF ended up the year 22% - but, on average, DPI is worth paying attention to: the spread between the average performance of the five S&P 500 stocks with the highest average DPI and the five stocks with the worst was 18.2% last year.
Cost Effectively Limiting Your Risk In PayPal
Let's say you own shares of PayPal and are bullish on it. You would be in good company: as Seeking Alpha News Editor Clark Schultz reports, bullish Wall Street analysts outnumber bears on PayPal 26-to-1. So you want to stay long the stock, but you want to limit your risk in the event Bulls & Beards and the institutions that have been unloading PayPal in dark pools end up being right. At the same time, you don't want to pay to hedge. Here's an approach to consider.
Although PayPal bulls outnumber bears on Wall Street, the bulls have fairly modest expectations. As the graphic from Nasdaq below shows, the consensus 12-month price target implies a potential return of about 5% over the next six months.

Our Portfolio Armor website is more bullish, estimating a potential return of about 10% over six months. If you can tolerate a drawdown of up to 15% over the next six months, but want to protect against any drop worse than that, you can do so with an optimal collar.
We used the Portfolio Armor iOS app to find this hedge using those parameters for 1,000 shares of PYPL as of Thursday's close, but you can also do this manually using the process we laid out here.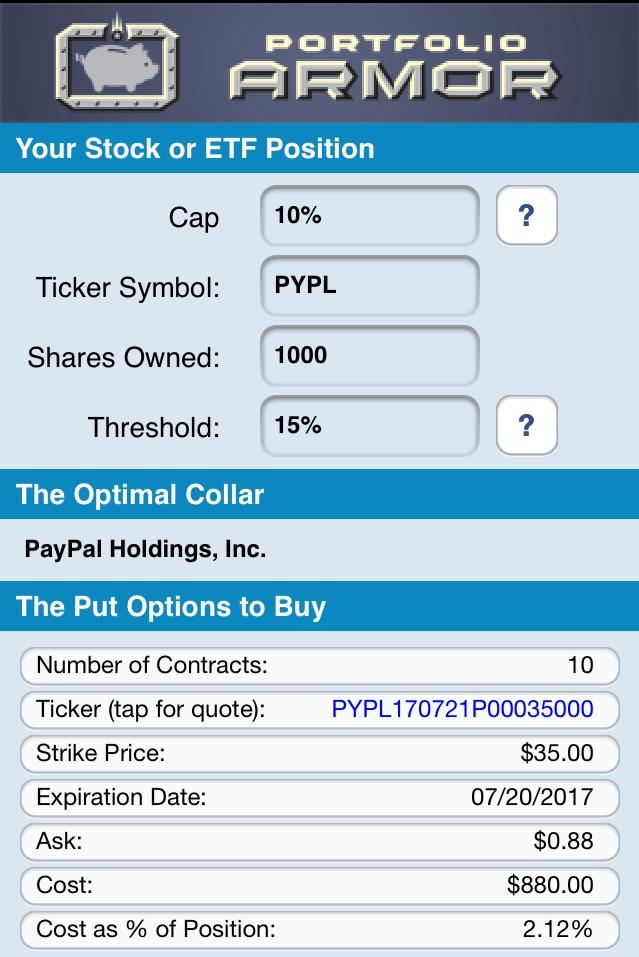 As you can see above, the cost of the put leg of this collar was $880, or 2.12% of position value (calculated conservatively, using the ask price of the puts). But the income generated by selling the call leg was a bit higher, as you can see below: $1,250, or 3.01% of position value (this was also calculated conservatively, assuming the calls were sold at the bid).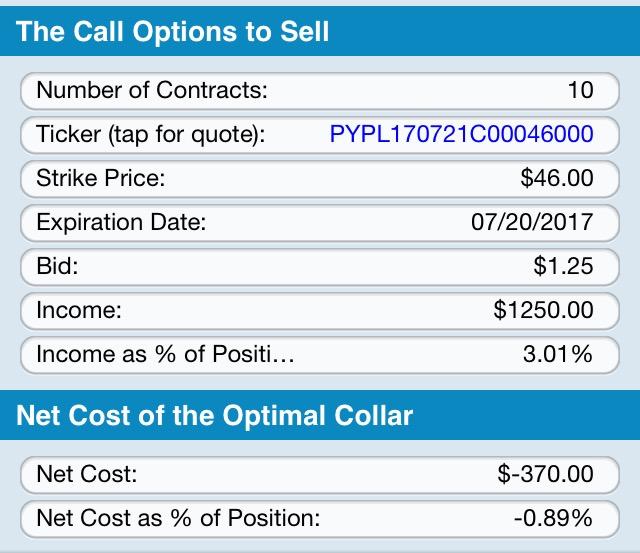 So the net cost of this collar was negative, meaning an investor would have collected an amount equal to $370, or 0.89% of position value when opening this on Thursday. Note that, since the cost was calculated conservatively, the investor would likely have collected more than $370 when hedging with this collar.
Disclosure: I/we have no positions in any stocks mentioned, and no plans to initiate any positions within the next 72 hours.
I wrote this article myself, and it expresses my own opinions. I am not receiving compensation for it (other than from Seeking Alpha). I have no business relationship with any company whose stock is mentioned in this article.