The two most important manufacturing powers in Europe, Germany and Italy, have been going in different directions since the financial crisis. While Germany has flourished, Italy has suffered, and it is reflected in the stock prices of the two country ETFs: iShares MSCI Germany (NYSEARCA:EWG) and iShares MSCI Italy Capped (NYSEARCA:EWI).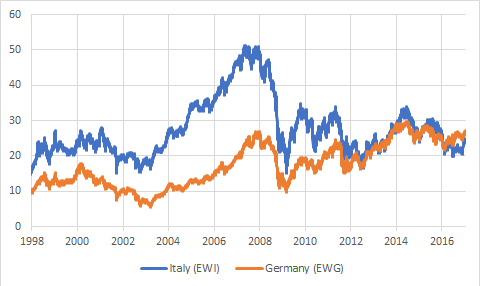 Italy and Germany Country ETFs
According to the OCED/Istat index, Italy's productivity is the same as it was in 2008, while Germany's productivity has increased by 5%.
The discrepancy in economic performance is captured in the bank Non-Performing Loans (NPL) to total gross loans presented in the graphs below (source World Bank).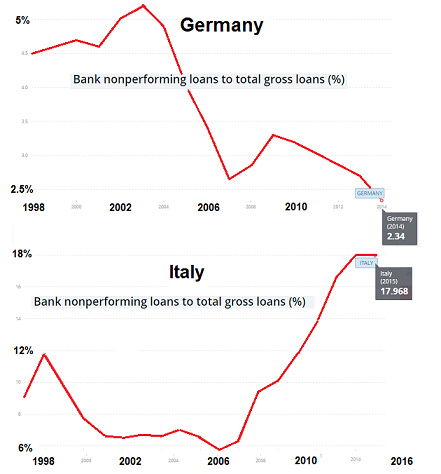 Percentage NPLs in Germany and Italy
The German bank NPLs has remained relatively stable for the last 10 years with a range of approximately 2.3% to 3%. Italy bank NPLs, on the other hand, have risen from 6% to 18%.
This statistic means that 18% of all Italian bank loans are not being serviced, an incredible number. Below is a chart that summarizes the percentage NPLs by European country, illustrating how much trouble Italy's banks are actually in.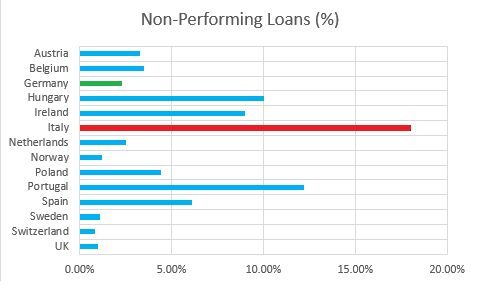 Non-performing loans by European country
Referring to Italy, the Financial Times stated:
There are €360bn of impaired loans in the system, according to the Bank of Italy; €200bn of these are of the worst sort, the non-performing sofferenze (long time sufferers). This is a huge number given that there is €225bn in equity on the books of the banking system. And this may understate the rot. Banks close to being bust have reason to mark the value of their assets generously.
Billions of new capital has been injected into the banking system, but the effects have been short-lived. The European austerity policies, European recession of 2013-2014, and lack of robust recovery have all played a role in the banks' current financial predicament.
Things are not all grim in Italy however. There appears to be a very gradual economic recovery of sorts going on in Europe. Some Italian banks are making moves towards recapitalization by way of share issues. Providing the recovery continues, interest rates don't rise too much or too fast, and banks improve their balance sheets, then Italy may be able to muddle through.
Key Events That Could Put a Damper On A Recovery
There are several events that could put a nail in Italy's coffin. First there is politics. The USA is pressuring the European banking system to review the internal rating models which would have a sizable impact on banks' capital. The main issue is to consider credit and market risks at the same level. Since loans to the private sector in the US are "repackaged" and sold as bonds to a large group of global investors, the large US banks generally have higher market and lower credit risks. In Europe, especially in Italy, credit instead represents banks' main activity and an eventual rejection of the internal rating models would have serious repercussions on banks' recapitalization.
The second event that could occur is a snap election. Italy's three biggest parties are calling for a snap vote this year, and if it occurs, Italian voters could give a populist (anti-elite) mandate to the next government. This could pressure the banks if there is a movement to exit the Euro.
The third event that could happen is a slip back into recession, very possible given the anemic global recovery in progress.
The Trade
Below is a chart of ratio of EWI stock price to EWG stock price. This is a classic pattern consisting of a long downward path from 2005 to 2013 followed by a 4 year consolidation period, which ends with a break to the down side. Then a pullback to the resistance level (formerly a support level). This is an ideal entry point for a long EWG / short EWI trade with equal dollar amount.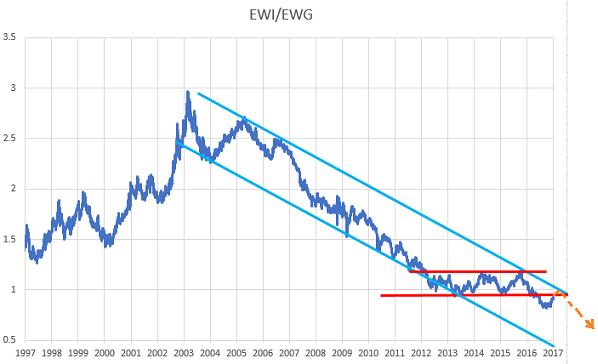 Ratio of Italy to Germany Country ETFs
The positions should be held for as long as there is no break above the upper resistance level shown in the chart, or a significant breakout from the descending channel.
Additional Considerations
EWI has a 30% weighting in bank stocks, including:
| | |
| --- | --- |
| Ticker | Company |
| | INTESA SANPAOLO |
| | UNICREDIT |
| | ASSICURAZIONI GENERALI |
| | EXOR NV |
| | MEDIOBANCA BANCA DI CREDITO FINANZ |
| PST | POSTE ITALIANE |
| | UNIPOLSAI |
| ISPR | INTESA SANPAOLO SAVING |
The following recent news items are part of the banks' initiatives to shore up their capitalization. These activities will result in a reduction of assets and dilution of shares.
Unicredit announced that it is booking 8,1 billion euros in bad loans in the fourth quarter of 2016, plans to raise 13 billion euros, off-load 17.7 billion euros in bad loans and cut 14,000 jobs.
Intesa Sanpaolo has plans for a 2.5 billion euro bad loan portfolio it aims to sell.
Disclosure: I/we have no positions in any stocks mentioned, and no plans to initiate any positions within the next 72 hours.
I wrote this article myself, and it expresses my own opinions. I am not receiving compensation for it (other than from Seeking Alpha). I have no business relationship with any company whose stock is mentioned in this article.