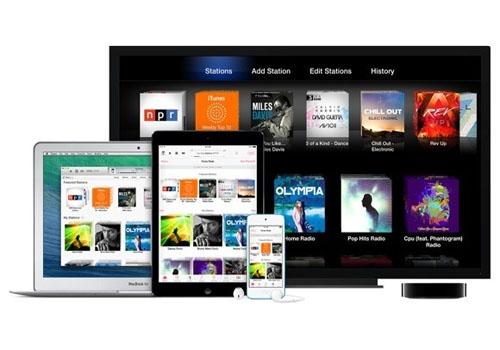 Stop me if you've heard this one before.
Apple (NASDAQ:AAPL) is reportedly planning to enter the entertainment space with new original programming.
Yes, this is not exactly new news but for seemingly the first time it may actually be true and that IS news. If so, investors who have been anxiously waiting for this reveal may finally see the payoff.
Let's just quickly recap the saga here because it has been a long and winding road. Reports of Apple expanding into its own original content go back years but didn't really pick up steam until last year when the company was linked to a Dr. Dre-backed project. The music mogul and Beats co-founder had been rumored to have signed on for Vital Signs, a limited run drama that is supposedly semi-autobiographical.
Now I use the words reportedly, supposedly and rumored because news of this show came out almost a year ago and NOTHING has been officially confirmed. We have on the other hand seen confirmed news about Apple creating a reality show about apps called Planet of the Apps and acquiring the long-form version of James Corden's Carpool Karaoke.
As I've written (as recently as this week), the pieces for Apple to put together a streaming catalogue of original content are there, but it's missing that House of Cards moment. Although according to the Wall St. Journal it's coming…and the impact would be massive.
Not only would Apple investors be impacted but shareholders of Netflix(NASDAQ:NFLX) and Amazon (NASDAQ:AMZN) would see ripple effects as well. Anything Apple touches becomes a story and factors in its stock price, but of course all this speculation leads to the question - why now?
Outside of the fact is from a respected publication like the Wall Street Journal, why should we believe this latest report?
One thought is because the timing (for once) seems right.
If Vital Signs, Planet of the Apps and Carpool Karaoke are being filmed now (or already completed) they could be ready to go this year - potentially right into that September window where Apple usually announces its new products and initiatives.
According to the report Apple also has become more aggressive in locking in both showrunners/producers and marketing executives to help shepherd new potential projects. The plan would then expand to original movies further down the road as Netflix and Amazon did following their series success.
Now keep in mind some have asked why Apple should even bother with this and instead just go buy Netflix.
The real reason is likely closer to the fact Apple wants to be the best, not just buy the best. The company was born with a chip on its shoulder and it wants to prove it can do anything its rivals can… and better.
However the more practical reason is the cost of obtaining, shooting and launching an original series (or multiple series) is NOWHERE near the cost of what it would take to buy Netflix outright. Investors may see the idea of pairing Apple Music and Netflix as a way to go head-to-head with Spotify (Private:MUSIC), but there's a better and more cost-effective way.
I like what Apple may be attempting here.
Remember the difference is that Apple Music isn't new, it's been around, if the WSJ report is right, then these additions would join the service, not herald the launch of another. That's an important designation because it gives Apple a substantial jumping off point, even if it is not to the same level as its rivals.
Apple revealed late last year it had 20 million paid subscribers to its music service, which while half of what rival Spotify has is nothing to gloss over. Investors have long been expecting this move and fact the groundwork has seemingly been laid in plain sight is impressive.
When Vital Signs was first reported on, many saw its inclusion on Apple Music as a sign the project was separate from anything tied to a Netflix type service. However if it turns out there is no separate service, then it changes the perception. Instead Apple having video and audio content sets itself apart from Spotify and the like, while also giving it a unique competitive advantage over Netflix.
The Journal story actually comes at an interesting time as (of course) Apple's next earnings announce is scheduled for January 31. My best guess is while CEO may not acknowledge any of this - he'll once again confirm his "intense interest" in the field and start this news cycle all over again.
I hope I'm wrong but Cook's ability to side-step and delay giving any real update has been impressive and this is the type of thing that he'd love to reveal on a stage in front the industry, not on a conference call.
The problem is this overall waiting game for Apple's next big thing has become a thorn in the side of analysts and even a few shareholders. People understand the need for secrecy and timing, but there comes a point where you have to give some sort of sign where you're going.
I also think Apple realizes its own window for success is closing and the field is simply getting too crowed. Apple recognizes the timing may never be perfect but with its hardware sales not what they used to be, this could be what gives them a needed boost. If this is how the company is looking to offset that difference it could be welcomed news.
Of course that also sets up a boatload of questions not the least of which being would this type of content actually help move more Apple products?
Ultimately, that's the goal right? And what does this mean for the company's long-rumored streaming skinny bundle TV service? Is that still in the works?
And then there are the nitty-gritty details its investors are going to want to know such as budgets - which have seen new highs courtesy of Netflix's billion-dollar-bonanza in recent years.
Apple needs to launch its streaming venture with a big name, big draw series in order to be successful but as proven by House of Cards, you don't need to break the bank to do it (though to sustain it may be another story). For all we know that flagship could be Vital Signs or something Cook and company are working hard on behind the scenes.
As always we seem to have more questions than we do answers. The good news is at least for once investors may have something more than blind faith and hope to focus on.
2017 could prove to be very interesting.
Disclosure: I/we have no positions in any stocks mentioned, and no plans to initiate any positions within the next 72 hours.
I wrote this article myself, and it expresses my own opinions. I am not receiving compensation for it (other than from Seeking Alpha). I have no business relationship with any company whose stock is mentioned in this article.