Media had a mixed year in 2017. Some players excelled nicely, while others struggled with the increase in rise of coder-cutters and cord-nevers. Comcast (NASDAQ:CMCSA) and CBS (NYSE:CBS) were a couple of the big winners, up over 30% in the last year. Comcast has been fighting cord-cutting with its recent purchase of DreamWorks Animation.
CBS grew nicely thanks to success in streaming services and a potential re-merging with Viacom (NASDAQ:VIAB), read: control of its own destiny right now. However, Viacom wasn't so lucky. The stock has languished as its core networks, such as MTV, continue to become irrelevant. Shares are down 3% in the last year and apparently 'really' needed a CBS buyout. Yet, the buyout doesn't look to be happening and we may see continued weakness.
Meanwhile, the other big loser in the media industry has been AMC Networks (NASDAQ:AMCX), down 27% in the last year. So, it's a real mixed bag of media stocks these days.
AMC has been the 'grossest' underperformer, but it could also be the best in show for 2017. AMC is down more than 35% from its 2015 all-time high. AMC trades at just 9x forward earnings.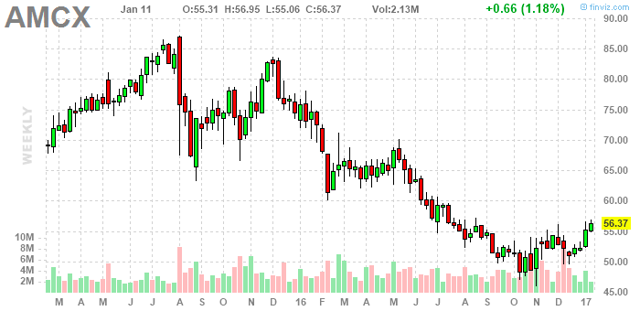 What might be the best media play for 2017.
The obvious catalyst for AMC is that it could be a benefactor of industry consolidation - that is, it's cheap enough now to entice another major media company to step in and buy it up for its strong and growing TV show portfolio. AMC has had some major hits in the TV space. And companies looking to spice up their original content offering will find AMC's now $4 billion market cap and half a billion dollars in free cash flow enticing.
The worry, however, is that cord-cutting will continue to eat away at cable networks. Yet, for AMC, the impact of such is likely further out than many are pricing into the media industry. As well, AMC could go over the top and launch its own streaming service. Recall that CBS has enjoyed success with live stream.
Its shows consistently bring in solid ratings with their original content. Shares did appear to get ahead of themselves with the hype of Mad Men, Breaking Bad and The Walking Dead. Revenue and earnings came in below expectations last quarter, putting more pressure on the stock. The issue is a decline in advertising - down 10% last quarter. Lower ratings have driven that decline. However, the answer is to break away from this model and embark on a quest to tackle the streaming market. Despite being one of the smaller players in the industry, it has the growth opportunities that the 'big' boys are lacking.
The big worry is that AMC won't be able to continue to create and source great original content. It also has the WE tv (targeted at women) and IFC (independent films) channels. Time is of the essence. AMC has attracted new and larger audience with the shift to original content versus its previous motif of showing classic movies. It needs to capitalize on this popularity.
Still, it might not have to worry about that as an independent company, with a larger media company possibly looking to leverage the success AMC has had by buying up the company. This would save an acquirer a large upfront investment and be an easy way to grab a network that still has quality content and strong affiliate fees. As well, AMC does have the start of an international presence after buying Chellomedia in 2014 - international generates 20% of revenues now.
AMC has a couple of catalysts, from a buyout to a streaming launch, and is still growing nicely with licensing deals. It also has shows beyond Mad Men and such that can keep the company growing (such as five of the top 10 shows on cable networks last quarter) while it enters international markets and works on lowering admin costs. AMC is a 'forgotten' media play that's ripe for a solid 2017.
Disclosure: I/we have no positions in any stocks mentioned, and no plans to initiate any positions within the next 72 hours.
I wrote this article myself, and it expresses my own opinions. I am not receiving compensation for it (other than from Seeking Alpha). I have no business relationship with any company whose stock is mentioned in this article.