Make no mistake, I have long been a fan of the business lines that United Technologies (NYSE:UTX) operates and in the long-term potential of this industrial juggernaut, but I also have a sense that the market is becoming increasingly skeptical of the company. Recent operating results and freshly released 2017 guidance have overall been rather disappointing. It wasn't too long ago that expectations were running high for an immediate turnaround, with the ever-optimistic crew of sell-side analysts covering the company predicting $6.80/share for the upcoming new year.
That all went down the tube with management's first indications of its outlook for next year. Management acknowledges some of the missteps that have been made, but that's water under the bridge at this point. The facts are simple: Despite the forecast of $0.32/share in benefit to earnings due to the impressive reduction in shares outstanding (cash from proceeds from Sikorsky sale, free cash flow), earnings per share are set to fall $0.10/share at the mid-point year/year.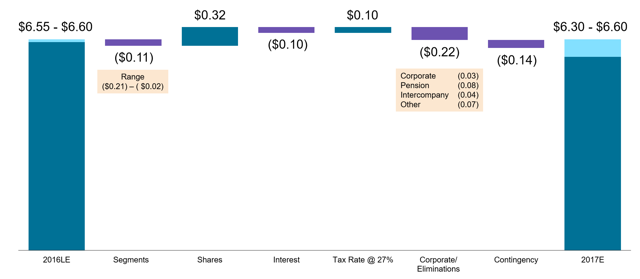 United Technologies, 2016 to 2017 Earnings Bridge
At first glance, there aren't a lot of positives to draw on. Segment earnings are set to fall on the whole, with expected organic profit growth in Climate, Control, and Security (primarily via the Carrier brand) more than offset by declines from the Pratt & Whitney and Otis divisions. On the expense front, higher interest costs, rising corporate overhead, pension adjustments, and expected contingency costs related to legal proceedings and investigations are all set to rise. Remember that this drop in earnings is despite guidance of low-single-digit organic sales growth, which means consolidated operating margins are set to decline overall.
The Pratt & Whitney Caveat
For years, non-aerospace businesses have carried the weight of the entire company. While there will still be plenty of weakness at Pratt & Whitney next year, given continued short-term weakness driven by negative engine margin on the next generation of aircraft engines. Investors need to remember that United Technologies is eating losses on engines it sells to aircraft OEMs in order to get a healthy installed base of its new geared turbofan ("GTF") engines. Management felt this strategy was necessary to return the Pratt & Whitney business to a leadership position in commercial engine narrow body aircraft. CFM International (joint venture between General Electric (NYSE:GE) and Safran (OTCPK:SAFRY)) has dominated market share in this segment for years, controlling nearly two thirds of installed volumes.
The money theoretically to replace these losses should come from aftermarket parts and services to support the engines throughout their useful lives. Until then, management expects negative engine margin to increase $300M from 2016 to 2017 (driving substantially all of the guided $350M loss y/y from commercial OE mix). This will bring annual negative engine margin close to $1,000M, which is a level that should be maintained through 2025. However, offsets should begin to trickle in, as heavy research and development attributable to the GTF engine comes down and aftermarket sales begin to increase.
The wildcard here going forward is the potential of Parts Manufacturer Approval (PMA) parts and their long-term impact on the market. Importantly, these are FAA-approved parts, which undergo intense scrutiny and testing before being authorized for use in overhauls and rebuilds. Like non-OE replacement parts in the automotive industry, airlines and other buyers are becoming increasingly more receptive to buying aftermarket replacement parts as a means to reduce costs. For years, companies were reticent to use these parts, given the materially high risk that a faulty part could bring on the operator. United Technologies is counting on the fact that historically, jet engine manufacturers have been nearly the sole source of replacement parts. That may not necessarily be the case, or at least not at the volumes or margins that have historically been present. Competitors like HEICO (NYSE:HEI) have been winning thousands of PMA-approved parts licenses, and have been aggressively taking share where they can. That trend in PMA wins is set to continue, but it has been some time since management has directly addressed what it feels the long-term impacts of these smaller competitors will be on its business.
Takeaway
For United Technologies to make long-term sense as an investment, investors must be able to have faith in how the company manages its aero businesses. Pratt & Whitney is set to be the main growth driver, with management guiding for 10%+ annual revenue growth through 2020. Most importantly, it will also have to be a driver of profit, and that means expenses have to come down and gross margins need to rise.
If United Technology executes on its guidance (6% consolidated dollar-denominated growth through 2020) and returns to its historical average operating margin from the prior five years (250bps to 14.5% operating margins), the company could see $74.5B in revenue and $9.5B in pre-tax income by the turn of the decade. Such a move would be supportive of 15% in annual total returns through 2020 even if the company undergoes no trading multiple expansion. For those with faith in CEO Gregory Hayes and crew, the company remains a compelling investment choice.
For deep dive research on asymmetric risk/reward plays in the Industrial and Basic Materials sectors (particularly small and mid-caps), consider investing alongside me and other subscribers within Industrial Insights. Get cutting-edge information with proven results.
This new offering doesn't mean I will be cutting down on quality or my allocated time towards my free offerings on Seeking Alpha. Follow me (by clicking the "Follow" button at the top of this article next to my name) to receive general stock market research and commentary, especially on under-followed small/mid-caps across a wide variety of sectors and industries.
Disclosure: I/we have no positions in any stocks mentioned, and no plans to initiate any positions within the next 72 hours.
I wrote this article myself, and it expresses my own opinions. I am not receiving compensation for it (other than from Seeking Alpha). I have no business relationship with any company whose stock is mentioned in this article.
Editor's Note: This article discusses one or more securities that do not trade on a major U.S. exchange. Please be aware of the risks associated with these stocks.