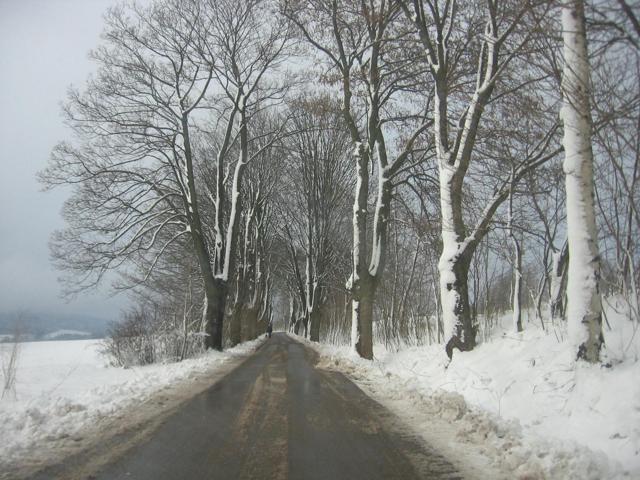 We are squarely in that time of year again - not enough sunlight to piddle around outside or play in the yard with the kids after work. The clocks have been turned back. It's cold enough to again marvel at, if not admire, the dedication of smokers. We here even recently experienced this white powdery substance that Northerners call snow.
Unfortunately, snow and ice brings with it hazardous driving conditions that are not for the faint of heart. According to the Federal Highway Administration, over 1,300 people are killed and over 116,800 people are injured in crashes on slushy, icy or snowy pavement conditions every year.
In fact, taking the fatality data and grouping it with the fact that winter road maintenance accounts for roughly 20% of state Department of Transportation budgets, and that there is up to a 13% freeway speed decline in light snow and up to 40% in heavy snow or on minor and arterial roads, a 1992 study by Marquette University concluded that municipalities dropping road salt would decrease vehicle crashes by 88%, injuries and accident costs by 85%, and that the hefty price tag of the deicing salt would pay for itself twenty-five minutes after it was dropped.
In my search for no-muss, no-fuss, low maintenance and wide moats, one of the companies I own now is the boring and easily forgettable entity that is at the forefront of the salt mining industry.
Company Profile
Compass Minerals (NYSE:CMP) is the #1 producer of salt in North America and the UK, as well as the #1 producer of magnesium chloride in North America, and the #1 producer of sulfate of potash fertilizer (SOP) in the Western Hemisphere.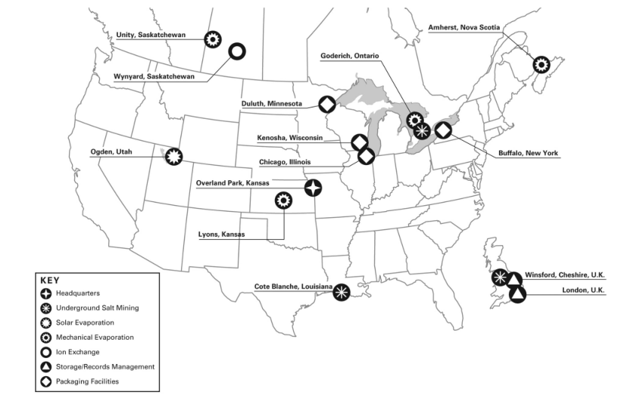 Their facilities include some of the most premium assets in the space. In my view, this is why I consider Compass as having a wide moat. For example, a competitor cannot say, "We also have the largest salt mine in the world!" This honor belongs to Compass' mine in Goderich, Ontario, Canada. Also, their salt mine in Winsford is the largest dedicated salt mine in the UK, their SOP facility in Wynyard, Saskatchewan is Canada's only producer of SOP, and their solar evaporation facility in Ogden, Utah is the largest in North America.
Their fifteen sites are not only high-value, but they also happen to be in mostly optimal locations. Since salt has low production costs, what often serves as the differentiating factors between competitors are customer service and the actual logistics of delivery. The costs of salt are pretty much tied up in the transportation costs of getting the salt delivered, so the winners in the space are the ones who have production facilities nearest to their customers. It is simply not economical to be hauling untold quantities of salt two hundred miles or more.
Moats are great, but there have been significant headwinds that have been masked by this post-election rally. Long-time observers of the stock will know that it topped out above $95 on 4/9/15:
1) Milder weather: For a company that is somewhat wed to highway deicing (60% of its salt sales are for deicing purposes), if there are milder winters, then obviously there is less need for the deicing salt they sell. Compass has unfortunately (or fortunately, whichever side of the road you're on) had to report a double-digit percentage decrease in "snow events", which along with average sale price per ton for salt dropping from $62.99 in Q1 2015 all the way to the $48.23 in Q3 2016, has led directly to bottom line guidance restatement.
2) Stronger U.S. currency: Foreign currency translation for Compass Minerals is not nearly the burden that it is for a more ubiquitous company like Johnson & Johnson (NYSE:JNJ) or a company with a more international presence like Unilever (NYSE:UL). Roughly 25% of sales for Compass are international. Materially stated, a 10% change of the U.S. dollar versus the British pound and Canadian dollar would mean only about a $900,000 decrease in revenues.
Where Compass feels the "strong dollar" is that in times of relative strength for U.S. currency, the agricultural sector tends to import sulfate of potash from other countries, rather than buy it from Compass. Volumes through the third quarter were 14% less than the pace last year, but what has really hurt this segment is the average selling price per ton. What was $759 in Q1 2015 had fallen to $591 by Q3 2016. Totaled out, plant nutrition product sales were 38% lower this year at quarter-end than at this time last year.
Profits Due to Go North?
I invested in Compass Minerals because I think they are more than capable to navigate through these headwinds. There are strong assets in place that have long runways. For example, given current production rates, the mines in Goderich, Cote Blanche, Louisiana and Winsford will be able to operate for 119, 75 and 35 years, respectively. There are also as yet untapped resources such as the mining rights for 100 million tons in Chile's Atamaca Desert.
Secondly, there have been cost improvements put in place. For example, now in Goderich and Winsford, they have started a process known as continuous mining, where machines use picks to rip salt away from the rock face, thus eliminating the cost and danger of dynamite charges.
Thirdly, in an effort to get away from the seasonality of deicing salt, they have made a strong push into the plant nutrition business, accelerated by the complete purchase of the Brazilian company Produquimica, who had been their partner for fifty years. Plant nutrition is a segment with higher profit margins than salt, and offers an opportunity to alleviate some of the seasonality inherent in highway deicing. Plant nutrition accounted for 22% of sales in 2015, and a further increase would ostensibly mean more immunity to the bad business effects of milder winter weather.
All in all, their plan is for a prodigious ramp-up in free cash flow growth over the next two years, with the explicit goal of $500 million in EBITDA by 2018, a roughly 60% increase from 2015 levels, and almost a triple of the roughly $170 million at quarter's end.
Though there are plans for growth in place and in my view, a "reversion to the mean" weather-wise could very well be in the cards, this 2018 target seems in my view to be a bit too ambitious. However, whether or not they hit this exact number at this exact time is not part of my investment thesis.
Income Potential
Compass Minerals has increased its shareholder payout every year for the past 13 years. At its current rate the dividend of $2.78 is roughly 76% of its trailing twelve-month earnings per share. With the tough time that the company has had lately, dividend growth has unsurprisingly slowed. The most-recent increase from $2.66 to $2.78 (5.3%) represents a little over half of their dividend growth rate for 3, 5, and 10 years, respectively (10.1%, 11.1%, and 9.1%).
In keeping with their pattern, the next dividend declared on February 13 will be the first one at a new rate to make fourteen consecutive years, but I don't know how much of an increase it will be. I hope to be pleasantly surprised, but given the new administration's policy surrounding the strength of the US dollar, I fully expect the new rate to be under $2.85 (2.5% over the old rate).
Valuation
In the interest of full disclosure, I purchased Compass Minerals back in July at $69.20. As a result, I am not thinking about making more outright purchases now.
For a new purchase, the valuation at this point is less attractive than a mixed bag, depending on which metrics you look at. For example, to compare the current dividend yield with what it has been historically leads one to think it's trading at a pretty attractive level: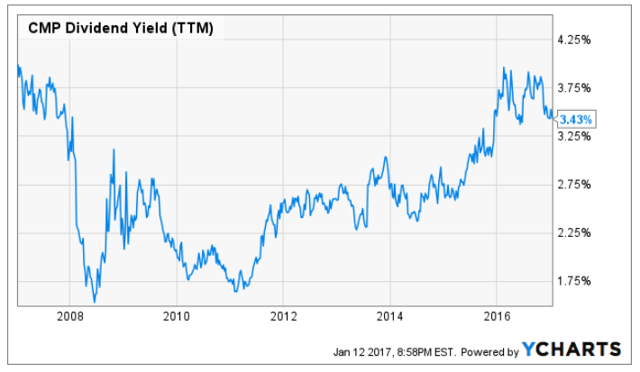 However:
it is trading at over 18x times its free cash flow, a level not seen since 2009.
At 1/12's closing price of $80.90, it is trading at 22.2x TTM EPS, both higher than its 5-year average (20.1) and the S&P 500 (20.3).
Forward PE is 19.9x, as compared to 18.5x for the broader market.
The current PE is more than 3x its expected EPS growth rate.
Averaging S&P Capital IQ and M*'s Fair Value estimate leads to $74.50.
If I were opening a new position, I would wait until under $80, but would hold out hope that I could get it under $75.
Summary
Provided you're patient, the steps that Compass has taken to insulate itself from the vicissitudes of the deicing market will begin to take further hold, and the deicing market will itself stabilize. Compass's management teams have been proven to take care of shareholder capital. And in light of recent events - the election, a Chicago Cubs World Series victory, etc. - Compass could facetiously be in line for prodigious growth potential, as the jury is still out on whether or not hell itself has frozen over.
Disclosure: I am not a professional investor, and as such, the companies and/or positions mentioned and any associated analyses are related to my own personal experience and expertise, and is not intended to be a recommendation to buy or sell. As everyone has their own risk tolerance, goals and needs, it is important that you perform your own due diligence.
Disclosure: I am/we are long CMP, JNJ, UL.
I wrote this article myself, and it expresses my own opinions. I am not receiving compensation for it (other than from Seeking Alpha). I have no business relationship with any company whose stock is mentioned in this article.