In today's low-volatility, low-yield environment, finding fairly valued investments presents a daunting challenge. Investors are looking outside traditional asset classes in the hunt for both yield and growth. With a corporate borrowing at an all-time high and the S&P's average P/E ratio at 26, where does one to go to find continued gains?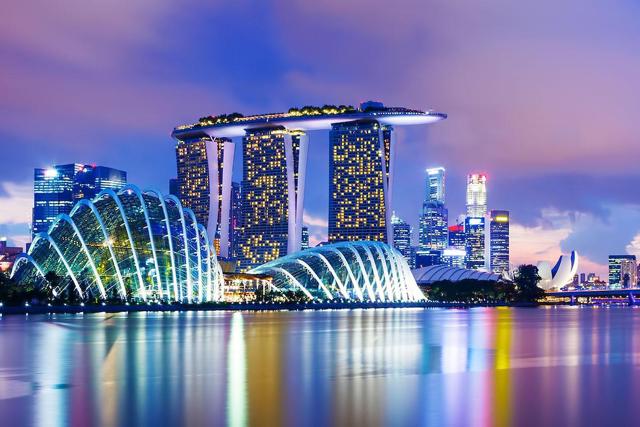 Enter an unlikely contender: the Singapore real estate market. When the CapitaLand Mall Trust began its journey in 2002, Singapore's Real Estate Investment Trusts (REITs) were just beginning to take off. This surge was driven in part by the fact that unlike most developed countries, most Singaporeans prefer property investments to other asset classes and visible dividend payouts to other forms of capital appreciation. All of these reasons have led to REIT ETFs in Singapore becoming some of the most attractive investments in the past decade.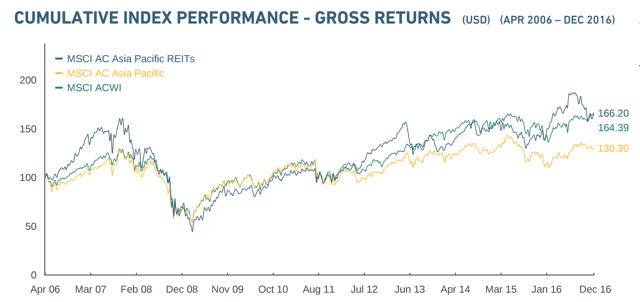 Source: msci.com
What does the future hold for Singapore REIT ETFs?
Recently, APAC (Asia Pacific) Ex-Japan Dividend Leaders REIT, the first-ever Asia Pacific sREIT ETF, was listed on the Singapore exchange with ticker symbol "BYI". In addition to the USD based offering, there is a secondary listing in Singapore dollars, based on an exchange rate of USD/S$ of 1.35 with ticker symbol "BYJ".
BYI is managed by Philips Capital Management and includes the top 30 APAC REITs outside of Japan. The weighting of each holding in the ETF is determined by the total number of dividend payouts in the preceding twelve months. REITs with the most frequent distributions benefit from the heaviest weighting. This way, the ETF ensures transparent and low-cost access to a diversified portfolio of REITs. In all, the APAC REIT ETF has holdings in 70% of Singapore's total market capitalization.
The initial offering period was open until 13th October, 2016. The issued price of the USD-denominated listing was between 0.88 USD and 1.10 USD. The distribution of the ETF is on a semi-annual basis. The fund offered an annual turnover of 19.97% for the twelve months ending 29 July, 2016, and dividend payouts yielded 4.53%.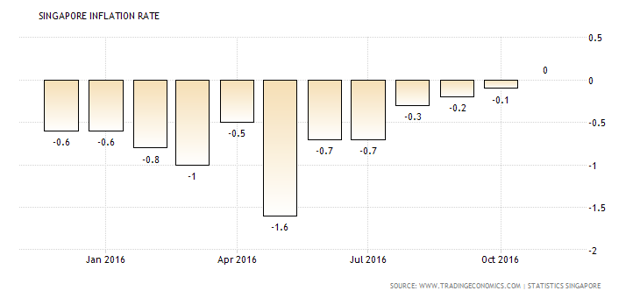 The downside? For one, this ETF only trades on the SGX, which means for most U.S.-based investors it is only available over the counter. Second, because it's not currently listed on more common exchanges it suffers from a lack of liquidity. Third, Singapore is coming out of a deflationary cycle, which has wreaked havoc on property values. However, this may be a good thing as REIT ETFs are priced near NAV. The Monetary Authority of Singapore (MAS) has also stimulated credit expansion which should drive property appreciation.
However, Singapore REIT ETFs remain an exciting market for investors to diversify their income. Here are a few takeaways from an in-depth analysis of Singapore REITs:
Singapore real estate is in demand
While Singapore is one of the most expensive countries to live in, property holdings are in unwavering demand due to a high-population density of 7,800 ppl/km2. This is over 1,500 more ppl/km2 than Hong Kong. This demand is expected to remain long-term because the population is growing at an average rate of 1.7% y/y for the past 5 years.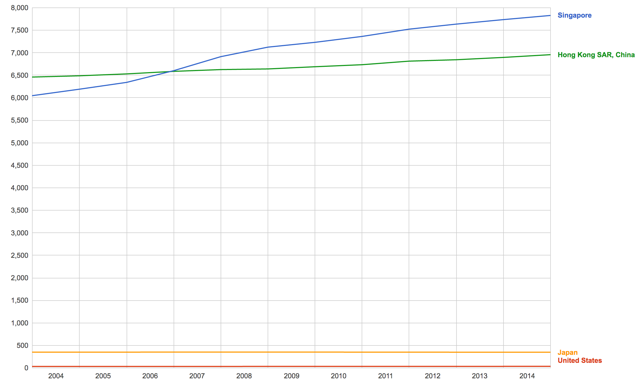 Source: Google/World Bank
Of course, this reason is not the only growth factor. Singapore is a country with relatively little turmoil. Here, people can live in peace with no significant signs of uncertainty within the country. Due to the rapid economic growth coupled with rising housing prices, many investors and businesses are starting to make Singapore their go-to market for investment.
Singapore offers tax-free incentives
REITs in Singapore provide a high dividend yield, and the lax taxation by the government promotes property appreciation. REITs are exempt from the usual corporate tax rate of 17%. However, to enjoy this tax benefit, REITs must distribute 90% of their distributable income as dividends to investors. According to its 2015 budget, the Singapore government has extended the tax break until 2020. All of these facts make Singapore one of the most attractive REIT ETF markets in the world.
Singapore boasts a well-diversified market
When investing in the property market, you should not put all your money in one location. Like traditional equities, if you can invest in a diversified manner, your portfolio will benefit from reduced risk and volatility. A quality REIT is a great option, as it owns diverse real estate assets including offices, malls, parks, industrial complexes, hospitals, and hotels. A strong portfolio holding REITs should hold properties located in different regions with different economic drivers. Singapore is in the unique position of being one of the world's leading financial hubs replete with every kind of business to support the trade economy.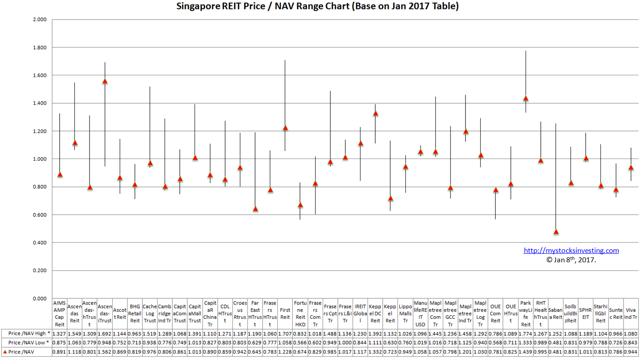 Singapore REIT ETFs are well-regulated
As in any investment class, regulatory authorities play an important role in the safety of the investment. In the case of Singapore REIT ETFs, the market is well-regulated with strict guidelines. According to the Collective Investment Scheme Regime of Securities and Future Act that governs Singapore REITs, the MAS has regulated that a REIT's total borrowings should not surpass 35% of its total assets. However, they can borrow funds up to 60% of their NAV provided that they have at least a fair credit rating, approved by one of the three largest credit rating agencies in Singapore. In a reactive move to growing global credit levels, as of January 2016, this level has reduced to 45%.
Singapore-based REITs have limited spending capacity, and at one time only 10% of their NAV could be spent on purchasing new assets. However, this rule has been adjusted and now all REITs have a 25% spending cap. As a result, there is little risk of a REIT defaulting on its debt in the Singapore market.
Singapore REIT ETFs offer a high yield
As we said earlier, Singapore REITs have a high yield, with some REITs having a yield as high as 8%. In 2014, Singapore REITs average an annual yield of 6% and is increasing in many cases. Not to mention that in some REITs, you receive four dividends each year.
The Bottom Line
Whether your goal is to diversify your portfolio of stocks and bonds, are an income investor looking for assets with high-yielding dividend payouts, or are interested in expanding your holdings outside the U.S., Singapore REIT ETFs provide a unique opportunity with their high yield, reduced tax exposure, and governing by efficient regulatory authorities.
Disclosure: I/we have no positions in any stocks mentioned, and no plans to initiate any positions within the next 72 hours.
I wrote this article myself, and it expresses my own opinions. I am not receiving compensation for it (other than from Seeking Alpha). I have no business relationship with any company whose stock is mentioned in this article.
Additional disclosure: This article mentions foreign investments traded over the counter that may include higher-than-average risks and volatility.