Investing is, by definition, a relativistic endeavor. An investor with limited capital to invest must decide if it's worthwhile to buy X or Y.
In my investing life, everything I decide to buy or not is compared to the S&P500. One of the first questions I ask myself if the investment I'm thinking of buying is more or less expensive than the S&P500. If less expensive, I ask myself whether the company deserves to trade at such a discount. If I decide it doesn't I buy (call options typically, and sometimes shares). With that first part of my process revealed, I would like to write about PVH Corp. (NYSE:PVH) - PVH operates an apparel company and offers its products under its own brands, such as Calvin Klein, Tommy Hilfiger, Van Heusen, and Eagle; and licensed brands comprising Speedo, Geoffrey Beene, Kenneth Cole, Sean John, and Michael Kors.
I believe the company doesn't deserve to trade at half the price of the current market. I outline my reasoning below.
Review of Financials
One of the things I look for in an investment is consistency. Revenue at this company has been growing at a remarkably consistent rate since 2010 at least. Revenue has grown at a fairly steady rate of about 9% over the past 7 years. Admittedly over the same period, net income dropped relatively dramatically as a result of onetime items (in particular a onetime loss of $141m in 2010). At the same time, comparing the first 39 weeks of 2016 to the first 39 weeks of 2015 indicates that there's no reason to believe the company is in trouble. Revenue was 3% higher in 2016 compared to the same period in 2015, and net income increased by 2%. Nothing spectacular, but certainly much better than some other businesses that trade at a premium to the S&P500. Again, investing is a relativistic business.

Debt
One doesn't find an investment that's trading at half the valuation to the market that doesn't have some "hair" on it. The big hairy ball in PVH's case is the leverage in the capital structure. As I've said many times, one point of concern for me is always balance sheets that are riddled with too much debt. In my view, management at PVH could do a better job of paying down debt. Since 2010, the company has paid down approximately $2.1 billion and raised $3.2 billion in debt, with the result that their long term debt to equity is about .69. At this point, the high level of debt won't scare me off the stock, but I'll want management to start cleaning up their balance sheet more aggressively in the coming years. I admit that I'm consoled somewhat by the fact that about $1.4 billion of this debt is due between 2022 and 2024. Additionally, given the company's track record, it's very likely that they'll be able to access credit markets again to extend these liabilities.
The Stock
As I've said tirelessly (tiresomely?), a great business can be a terrible investment if it's acquired for the wrong price. The corollary of this statement is that a mediocre business can be (I stress "can be") an excellent investment if it's acquired for the right price. So it is with PVH. As I said at the beginning of this article, the stock is trading at a significant discount to the market that I feel is unwarranted given the sustainability of the cash flows. Additionally, with an EV/EBIT of 12.33, the company is sporting a cash flow yield of about 8%.
Insider Activity
One thing I like to look out for is what the insiders are doing, for obvious reasons. While it's true that insiders might sell for a host of reasons that have nothing to do with the health of the company, they buy for one reason only: they consider it to be a worthwhile investment. For that reason, I took note when both Geraldine McIntyre and Edward Rosenfeld both purchased approximately $100,000 worth of the shares last June. I know less about the business than these insiders, but I know that I can certainly ride the coattails of these more well informed directors.
Technical Snapshot
As per our TrendCharts Daily Price Model the daily trend for PVH turned Bullish on January 5. The stock experienced a precipitous drop of 19% from December 8 to December 23, 2016 (not a stock that you wanted to hold as a Santa Rally candidate!). But following the drop, the stock found strong support at the $90.00 level, and has now formed a nascent bullish uptrend on the daily charts. It would be prudent to wait for a daily close above $94.00 as confirmation that the buyers are back in control, but we are willing to jump in early in anticipation of bullish price breakout (based on our thesis of its discounted price relative to the market).
We believe that today's drop back down to the $90.00 level provides an excellent entry point for a LONG trade on PVH. We will be buying the PVH 17MAR17 95 Call Options which will provide approximately 12x leverage for our LONG trade. Our initial stop-loss exit signal for the trade will be a daily close below $90.00. We have an upward price target of $102.00 for the stock over the next two months.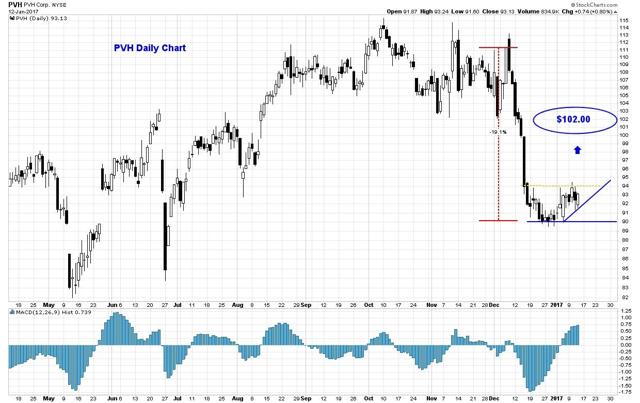 Conclusion
In my view, companies with this sort of predictable cash flow are relatively rare in the market. Companies that are this predictable, whose stocks trade at a significant discount to the overall market are almost unheard of. Perhaps that relates to why two insiders purchased large blocks of the shares last summer. For these reasons, I strongly feel that investors should go long PVH.
Disclosure: I/we have no positions in any stocks mentioned, but may initiate a long position in PVH over the next 72 hours.
I wrote this article myself, and it expresses my own opinions. I am not receiving compensation for it (other than from Seeking Alpha). I have no business relationship with any company whose stock is mentioned in this article.