Wells Fargo had a pretty good 4Q that despite negative one-offs confirmed, first, the core "steady Eddie" balance sheet growth story remains intact, second, that its recent scandals have not hit fee income hard and, third, the stock remains attractively valued. The durable negative is higher cost guidance but we can live with that since at this level, the valuation can take modest downgrades to EPS.
Balance sheet: business as usual
The balance sheet continued its steady growth in both loans and deposits.
These customer volumes in the balance sheet helped support modest growth in net interest income revenues, in line with prior quarters and note that net interest margin improved reflecting loan growth and rates benefits. With tidy cost of risk (LLP) in the quarter, the better NIM dropped endured on a risk adjusted basis.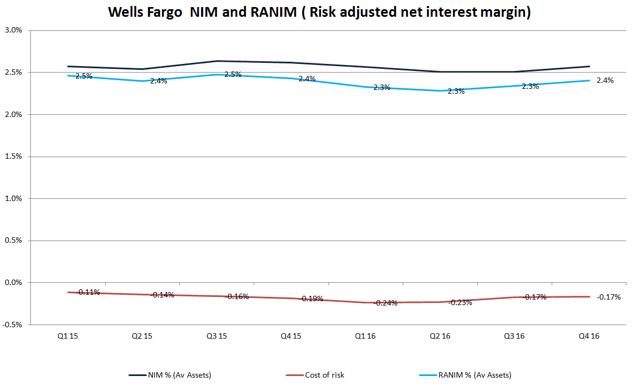 However, non-interest revenues were weak for the quarter. It's worth looking at this more closely due to the depth of the decline: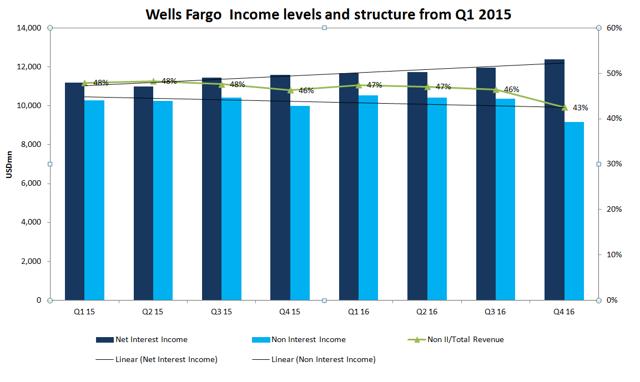 Part of the contraction was due to a $592 million loss due to adverse moves on interest rate hedging instruments and this is in fact responsible for most of the decline in the fourth quarter 2016 vs. that of 2015. 4Q 15 Non interest income was $9.99 billion; 4Q 16 was $9.18bn. Excluding this one-off item, non interest income contracted 2%, which is clearly easier to live with. The company cited lower mortgage banking fees as important in the rest of the drop, which again is linked to rate movements in the quarter. At this stage, I would expect non-interest income to improve in 1Q 17 and then regain trend growth in 2Q17, which is pretty modest but good enough for this stock.
Costs crept up in the quarter and it's worth recognizing the guidance given in the press release that the efficiency ratio will remain "elevated" for now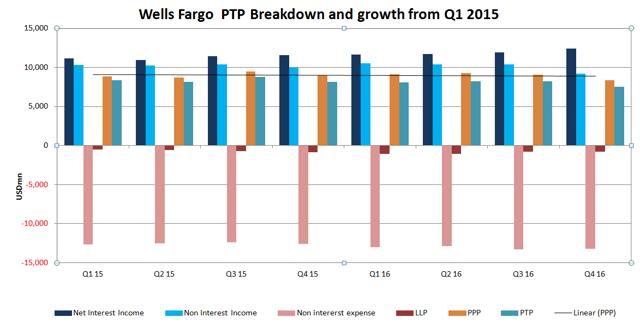 Ouch! This means I'm taking numbers down. I had looked for efficiency to continue around 58-59%, but it looks like we should for now factor in >60% for 2017 before a return to sub-60% in 2018. All told, it costs us 4.2% off 2018. The numbers below assume 61% cost/income in 2017 and 59% in 2018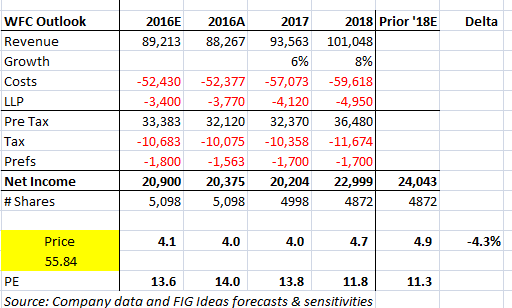 Conclusion:
WFC remains a buy. We missed my numbers for FY 2016, but this was due to the hedging loss in the quarter and despite a less dynamic efficiency outlook, the stock remains cheap on a two year outlook in comparison to its peers. I was encouraged by the stability of core non-interest revenue. The undoubted damage to the company's reputation from the mis-selling scandal has not really cost it so much in terms of fee revenues while the balance sheet side of the business has continued to grow nicely.
Disclosure: I/we have no positions in any stocks mentioned, and no plans to initiate any positions within the next 72 hours.
I wrote this article myself, and it expresses my own opinions. I am not receiving compensation for it (other than from Seeking Alpha). I have no business relationship with any company whose stock is mentioned in this article.