Changyou (NASDAQ:CYOU) may have surpassed expectations for third-quarter 2016, but on paper, it's still very much a company that should be watching in horror as the shark fins circle the boat.
Of course, you don't have to take my word for it. The facts speak for themselves.
Given the ongoing decline of PC sales, PC gaming is arguably well on its way to shrinking market status as PC users increasingly go mobile.
Changyou was downgraded three times within the space of 12 months with the most recent downgrade by Macquarie occurring in July of 2016.
According to Yahoo Finance, the company's active PC gaming accounts during this quarter have gone down by a stunning 34% from previous years.
With management releasing expansion packages with the express intent of extending the life of its games, the faint whiff of implied desperation would also leave most sane investors questioning the sustainability of Changyou's recent financial success.
So how exactly does a stock sporting three strikes and a yellow card still get a recommendation? This doesn't happen very often in these circumstances, but it's my opinion that Changyou's pivot into mobile gaming has effectively transformed the stock from an absurd pick into an interesting opportunity.
Can a Company Be Saved By Smartphones?
The fact that the company has managed to surpass earnings expectations in three of the last four quarters while relying primarily on the aging PC market is a testament to the competence of Changyou's management when it comes to minimizing costs while getting the most out of a decreasing consumer base. However, a shrinking market is still typically a strong indicator that investors should take their money elsewhere.
So it was surprising when despite these common sense impressions, Changyou's daily chart in October, courtesy of Finviz, told a positive story with the stock experiencing a sharp uptick on significantly higher trading volume within an already larger, longer upward trend.
(click to enlarge)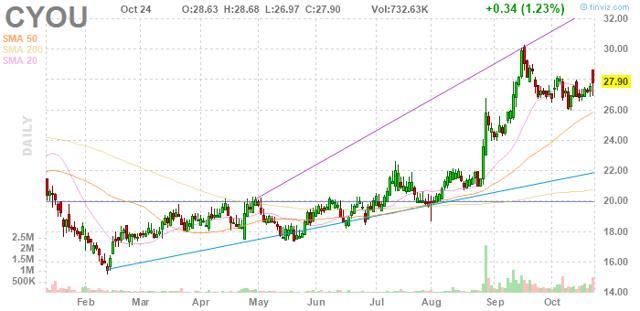 Making Moves in the Mobile Market
With Changyou, an overlooked tidbit in the reports was the 17% increase in the company's active mobile monthly accounts. According to Yahoo Finance, this was a significant increase on both an annual and a quarterly basis with the new growth being directly attributable to the launch of two new games in the third quarter. This is important because it shows that the mobile market is a proven source of viable and sustainable growth for this company.
To be sure, the significance of the mobile market definitely wasn't lost on Changyou. Case in point, while referencing a business move that appears to have largely flown under the radar, Chen Dewen, Changyou CEO, spoke in the company's conference earnings call about how the gaming and graphics company was able to strike an exclusive licensing deal on two of its mobile games with Chinese Internet giant Tencent (OTCPK:TCEHY).
In order to put this move into its proper context, a digression on Tencent is necessary here.
Back in 2014, Fast Company reported that not unlike the western world with Google (NASDAQ:GOOG) (NASDAQ:GOOGL), Facebook (NASDAQ:FB), and Amazon (NASDAQ:AMZN), the Chinese Internet space is dominated by four major players in Alibaba (NYSE:BABA), Sina (NASDAQ:SINA), Baidu (NASDAQ:BIDU) and Tencent. In the same 2014 article, Fast Company had this choice quote concerning Tencent:
"…They have as close to a stranglehold over the Chinese market as is possible, and their leverage is only increasing," says one Silicon Valley tech investor. "No one else has that kind of power."
Fast forward to the present, with CNBC reporting on Tencent's newly minted status as the most valuable tech company in China and Bloomberg attributing the company's massive surge to the growth of the mobile games market, and the full implications of the exclusive licensing deal struck by Changyou become that much more apparent.
Changyou and the Limits of Mobile Gaming
The vast majority of the risks associated with Changyou can be summarized as follows:
1. Mobile games have a significantly shorter life span than their PC counterparts.
2. The effectiveness of Changyou's user acquisition plan is far from a sure thing.
3. Competitors and their impact on Changyou's market share prospects are a potential concern going forward.
For ease of reading, these issues will be addressed here one by one.
1. Like Mayflies and Drone Ants: The Short Lifespan of Mobile Gaming Apps
One of the biggest problems with the mobile gaming market from an investment perspective is, as Recode notes, the tendency for mobile app usage to fall off significantly at the five or six month mark. In addition, Games Industry observed in 2016 that the lifespan of mobile gaming apps is only getting shorter.
The concern when a company is developing games in such a fluid market is the possibility of resources being poured into a game that doesn't pay off within the app's fleeting window of opportunity.
Fortunately for investors, Changyou's management demonstrated awareness of mobile gaming's rapid lifecycle in its conference call and appears to have a strategy in mind. The expected portfolio of around 10 mobile games allows the company to follow a classic "book publishing" model in the sense that a very strong showing from one or two games should be enough to keep Changyou's mobile game development profitable even if a few of the other games aren't met with the same enthusiasm. Put another way, the significance of this approach is that one bad game won't sink the entire enterprise and in this respect the company is demonstrating excellent risk management.
In addition, the decision by Changyou to focus on the development of MMORPG games will likely go a long way toward extending the lifespan of its mobile games because it's a decision that caters to the tastes and habits of migrating PC users. As demonstrated by the company's performance with its current customer base, this is a demographic that Changyou understands remarkably well. Taking steps to find these users in the mobile gaming market can only strengthen the company's position.
2. Can This User Acquisition Plan Work?
Perhaps one of the biggest concerns with Changyou is its user acquisition plan. Although increasing engagement with its mobile games is the next logical step, management's mention of sponsoring a reality TV show as a means of prospecting for more users may point to an underdeveloped marketing strategy.
The first glaring issue is the simple reality that nebulous goals like "brand awareness" are difficult to quantify through data. As such it's equally difficult to predict what kind of effect reality TV will have on the company's ability to acquire new users.
Secondly, the company's commitment to MMORPG game development opens up serious questions about whether consumers of reality TV are the correct target demographic. Since increased user acquisitions are essential to turning a profit with mobile games, a trial and error approach to marketing doesn't exactly inspire confidence in the new strategy.
That being said, because this is still a fairly new market for Changyou, early experimentation is to be somewhat expected. With PC gaming providing a comfortable safety net for the company, it's actually a positive sign that management has identified a clear problem area and demonstrated a willingness to be creative in its marketing. As long as this flexibility holds through the inevitable growing pains, the company should have no problems eventually finding an effective formula that works.
3. Beating the Competition
Tech in Asia reported the following in June of 2016:
"Starting July 1, 2016, every mobile game being launched in China has to be pre-approved by the State Administration for Press, Publications, Radio, Film, and Television (SAPPRFT). There are no exceptions."
Although this piece of news is a serious blow to small and independent Chinese game developers, this is a fantastic development for investors who are eyeing the Chinese gaming market. With upfront fees that place the publication of even a single game firmly outside the budget of smaller firms and indies, the Chinese government has created a barrier to entry that allows game developers like Changyou to hold and acquire more market share by virtue of their deeper pockets.
Beating the Competition Part 2: The Secret Is Monetization
A major concern with the Chinese mobile gaming space is that companies have been struggling to consistently profit from mobile games. KongZhong (NASDAQ:KZ), an example noted by Pocket Gamer, boasted local licensing as well as a head start in the mobile gaming arena. However, increased competition ultimately left the company struggling to make up the difference in mobile sales.
Ironically, the problems faced by companies like KongZhong serve to highlight the reasons why Changyou has such strong prospects in the mobile gaming niche. While many of its competitors are having a hard time making the games profitable, Changyou has found a demographic that's very similar to its core customer base of PC gamers in mobile MMORPG gamers. Between the in-app purchases, the upfront purchases, and the advertising revenue, the company has monetization opportunities automatically built into its games. This means that unlike many of its freemium or traditional flash game developing counterparts, Changyou likely won't have to sell as many games to turn a profit because it will be making more money per sale.
Back to Changyou's Competitive Advantages...
For Changyou, moving into the mobile gaming market isn't a situation where the company, like a great-uncle headed to a nightclub in a bad toupee, is desperately trying to grab shares of a market it never had a chance with. The mobile market has not only worked for Changyou, but it has also been a source of legitimate, product-driven growth throughout the third quarter of 2016. Put another way, this company has already proven that it knows how to leverage the mobile gaming market.
Furthermore, Changyou clearly understands the advantages of catering to the sensibilities of PC gamers. Engadget observed that PC gamers will often spend twice as much on games as their mobile gaming counterparts. Similarly, GamesIndustry.biz also makes a strong case for the PC as an undervalued market in part because total PC gaming revenues outperformed mobile gaming revenues to the tune of $7 billion in 2015. The downward overall trends for PC gaming shouldn't be taken lightly, but it's clear that PC gamers are typically a very loyal demographic. If that trait holds as these gamers transition from PC to mobile, then Changyou is in a strong position to outperform other mobile game developers by virtue of the massive base of PC users it has already curated.
A Golden Opportunity to Take a Position?
As of December, the chart for Changyou shows the share price taking a dip as investors got into the spirit of tax selling season.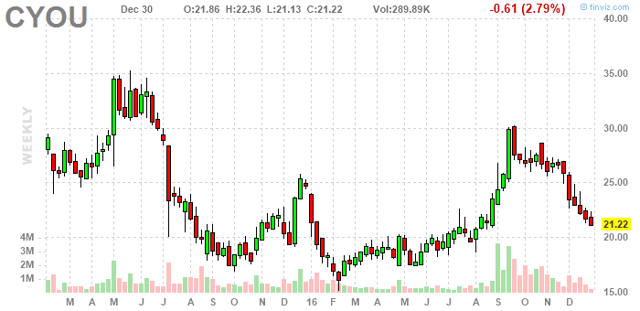 Chart provided courtesy of Finviz
With Stockflare citing an expected return of 3% per annum coupled with an analyst recommendation to "hold," this is a stock that has fairly limited risks attached to it even if mobile gaming fails to take off as expected.
That being said, for the reasons I've already given there are very good reasons to believe that Changyou has what it takes to outperform expectations.
If you got in early with this stock, then you definitely want to hold. If you're looking for an entry, it may be worth your while to take advantage of the lower share prices or to enter shortly before the next batch of games are scheduled for release.
It's not every day that a company in a shrinking market becomes an interesting investment, but Changyou is a company that seems to be full of surprises.
Disclosure: I/we have no positions in any stocks mentioned, and no plans to initiate any positions within the next 72 hours.
I wrote this article myself, and it expresses my own opinions. I am not receiving compensation for it (other than from Seeking Alpha). I have no business relationship with any company whose stock is mentioned in this article.