Ford Motor's (NYSE:F) shares look like a bargain at today's price point. While a majority of investors continue to evaluate the auto company negatively and fear a drop off in auto sales, Ford Motor is actually in a good position to maintain its dividend in the future. Importantly, investors should see Ford Motor more as an income vehicle as opposed to an investment for capital growth.
How many S&P 500 companies do you know that pay shareholders a dividend yield in excess of 5 percent? Not many, I would assume. Because there aren't that many. Ford Motor, however, is one such company. The U.S. auto company most recently declared a special dividend that adds to its appeal as a high quality income vehicle. Further, the company is cautiously optimistic about its earnings trajectory in 2018, which should support the dividend payout.
2016 Was Nonetheless A Good Year For Ford Motor
Growth of U.S. auto sales has slowed last year. However, 2016 was still a pretty decent year for U.S. auto companies and Ford Motor.
Ford's U.S. sales may have only edged up 0.3 percent in December (not that impressive, I agree), but retail sales nonetheless surged 5 percent to 183,454 vehicles, which marked Ford Motor's best December retail sales performance in twelve years. Further, Ford Motor's 2016 U.S. sales totaled 2,614,697 vehicles, which was yet another record for the company: Ford's 2016 vehicle sales were the best annual sales in more than a decade.
And then there is this: Ford's average transaction prices continued to trend upwards in the 4th quarter while simultaneously outpacing industry price growth.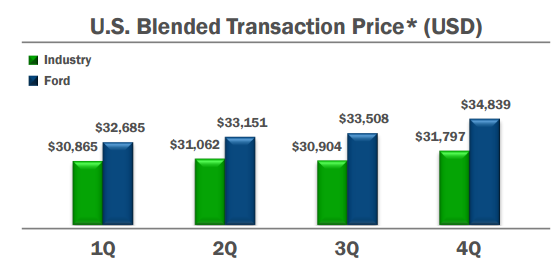 Source: Ford Motor
What's more, China is increasingly taken over Ford Motor's growth engine. Ford Motor sold a whopping 1.27 million vehicles in China in 2016, marking a year over year increase of 14 percent. In December, Ford Motor's China sales surged 23 percent.
All considered, it was a pretty good year for Ford Motor.
The Dividend Is Safe...Special Dividends Are Upside
Ford Motor expects a slightly lower pre-tax profit in 2017, but has guided for a rebound in profits and cash flow by 2018. Thus, Ford Motor may choose to skip paying a special dividend next year, but the auto company should nonetheless be able to easily afford paying shareholders the standard quarterly cash dividend of $0.15/share. Additionally, if profits indeed meet guidance, Ford Motor may revert course in 2018, and opt to pay a special dividend again.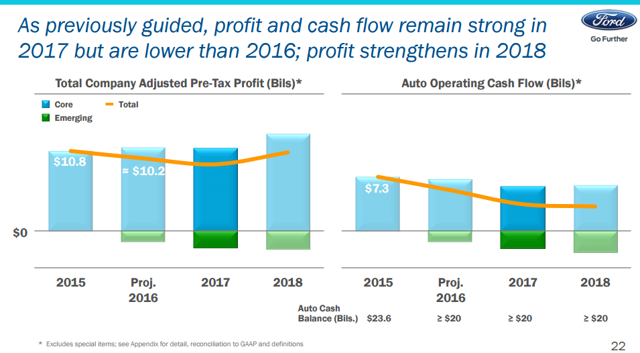 Source: Ford Motor
In other words, I don't think investors need to have any worries at all with respect to the company's regular cash dividend, which is well covered. Even if Ford Motor opts to not pay any special dividends in each of the coming two years, an investment in the auto company still throws off a robust 4.7 percent yield, which really isn't that bad at all for a S&P 500 company. Including the $0.05/share special dividend that Ford announced this month, an investment in Ford Motor actually yields 5.1 percent.
Your Takeaway
I think investors should see Ford Motor as an income investment only, not as an investment that will generate above average price returns. Ford Motor's profit guidance and announcement of a special dividend suggests that the regular cash dividend is quite safe in 2017 and 2018. In any case, I think dividend investors can't do anything wrong here. Buy for income.
If you like to read more of my articles, and like to be kept up to date with the companies I cover, I kindly ask you that you scroll to the top of this page and click 'follow'. I am largely investing in dividend paying stocks, but also venture out occasionally and cover special situations that offer appealing reward-to-risk ratios and have potential for significant capital appreciation. Above all, my immediate investment goal is to achieve financial independence.
Disclosure: I am/we are long F.
I wrote this article myself, and it expresses my own opinions. I am not receiving compensation for it (other than from Seeking Alpha). I have no business relationship with any company whose stock is mentioned in this article.