Although it's still early days, gold is off to a decent start in 2017. The yellow metal had suffered a decline of ~16% in the second half of 2016, and as someone who keeps a close watch on it, I am intrigued on what the new year might portend for gold. Based on my analysis, I expect demand trends to remain more or less similar (to 1Q16 and 2Q16) in India and China. Therefore, much like the first two quarters of 2016, I believe the size of ETF inflows from US could dictate prices in the first two quarters of 2017 as well.
India and China
Just to recap on why India and China are important, both countries combined are responsible for 55-65% of gold demand (tonnage) every year. A lot of that demand is created in the jewelry industry where demand is quite elastic to prices. And as gold is denominated in USDs, a strengthening dollar has moderated the effects of the fall in spot prices in these countries.
India is also slated to place its budget before the parliament on the 1st of February, and it is widely expected that it might come up with additional policies that make it costly to hoard gold. The import duty on gold however is expected to be lowered from the current levels of 10% in order to ensure that the duty structure does not encourage smuggling. As far as China is concerned, the imposition of gold quotas, which prevents banks from importing gold above a certain limit, could keep demand range-bound throughout the year.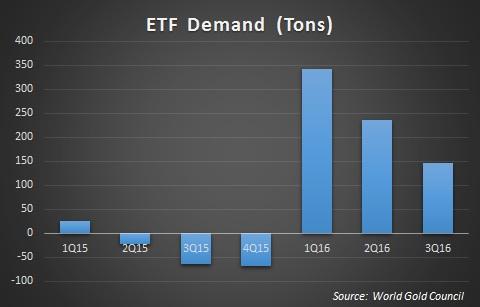 Investment demand from the US
Gold ETF inflows are wildly volatile, have less sticking power and are difficult to predict, but have become crucial price movers in recent quarters. ETF demand represented 26.7% and 22.5% of gold demand, respectively, in 1Q16 and 2Q16. It then fell to constitute just 14.7% of gold demand in 3Q16, also the period when gold had started tumbling last year. With the expected stagnation of jewelry demand from India and China, I believe it will again be up to ETF demand to discover the price for gold in the first half of 2017. Due to its close correlation to the perception of risk, much of the ETF demand is likely to be sourced from the US as Mr. Trump takes charge of the most powerful position in the world.
My take
It goes without saying that markets will closely watch President Trump's antics in the first 100 days for cues on which direction the US economy might take going forward. Obviously not much can be done on the ground in 100 days, so it will be all about perceptions. There are just two ways to this scenario. One, in which he institutes measures that could stimulate spending over a period of time with minimal damage to international trade and foreign relations. I believe this is already priced in the stock market, and it could erode gains made by gold this year. The second scenario and this is the one I would put my money on, entails market participants taking a dim view of his policies and shifting their capital from risky assets to perceived safe havens. Obviously under this scenario, gold could experience a spectacular run and the stock market would take some beating. Overall, I believe there will be minimal downside risk from going long on gold at this point. Therefore, this article effectively marks the reversal of my bearish views that I presented in my previous articles on gold over the last six months.
Disclosure: I/we have no positions in any stocks mentioned, and no plans to initiate any positions within the next 72 hours.
I wrote this article myself, and it expresses my own opinions. I am not receiving compensation for it (other than from Seeking Alpha). I have no business relationship with any company whose stock is mentioned in this article.