50% chance of a pullback in the financials on Q4 numbers
As results loom, and analysts turn to the detail, the Trump sensitivities that have been projected over the course of the next two years will give way to the actuality of the fourth quarter.
There won't be any significant "Trump factor" in the numbers. Indeed, fixed income portfolios may be marked down in the wake of the fixed income selloff in the quarter. Insurers will take this through equity directly while banks will record mark-downs in trading books, which will show up in the P&L.
This will simply serve as a reminder that there is a long way to go before the new administration has an impact and perhaps the various uncertainties of the scale and pacing of Trump's reforms will count for a little more. I expect management teams to be reticent about committing their own personal views of Trump's agenda to the mix in discussing Q4 numbers. However, investors will listen closely for the tone of commentary on the current pipeline of business.
Recently we have seen something of the potential downside of a Trump administration in such things as the China views of Rex Tillerson, and the tone of Trump's own "colorful" press conference in which he likened alleged leaking action of his own intelligence services to Nazi Germany. It's quite possible that a lack of impetus in financial sector results and a couple of early bumps for Trump might take the air out of the financials sector. The small move back down in bond yields just now, as depicted in the one month chart of the US 10 year yield below, suggests something of a moderation of risk appetite is clicking in. If so, investors who missed out on the stunning rally into and post Trump's victory will want to buy.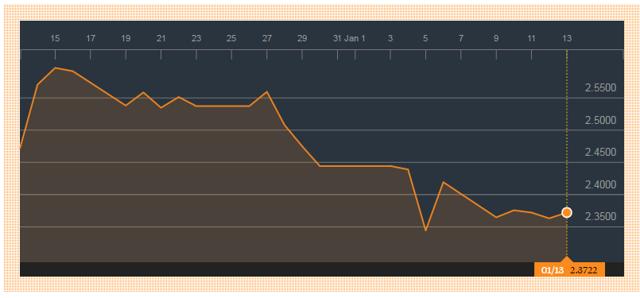 Source: Bloomberg
Banks
Expect steady early to late single digit loan growth for most banks as well as modest improvement in net interest margins and further evidence of cost reduction in the banks where this is a live issue — i.e., Bank of America (NYSE:BAC), Comerica (NYSE:CMA). Some people have asked about the move down in stock of bank credit into year-end that is depicted in the chart below. Note the scale of the chart, which exaggerates the visual impression of the contraction. It mainly reflects a contraction in the "other securities" component of total bank credit. Consumer loans and commercial real estate loans continued growing at rates consistent with prior months and quarters. It was no surprise to see residential real estate slow to zero for November, given the move up in mortgage rates that occurred in response to Trump's victory. I expect this to recover over Q1 2017.
(click to enlarge)

Source: St Louis Fed
Still, it's possible that loan growth may feel a little soft, at least in some banks. Don't forget that the makings of a bank credit mini boom are implicit in Trump's discussion of reduced regulatory constraints and domestically driven growth.
Insurance
With life insurance companies back in the frame due to higher bond yields, investors should be rewarded with decent investment results after the buoyant market of the fourth quarter while capital ratios will benefit from a stronger rates outlook.
P&C lost some of its defensive glamour on the back of the rates recover in Q4. This analyst will pay particular attention to outlook discussions of investment returns for the likes of Chubb (NYSE:CB), given that its book if short and medium dated and will roll over faster than the books of a life company. I would also expect positive news from Chubb on its merger consolidation.
Conclusion
The market should know it is premature to expect strong improvement in financial sector results in Q4, so I would not at this stage try to second guess the reaction to numbers when they come. Still, the sector might lose some energy and the President-elect's so far positive impact on markets might go the other way for a while, depending on whether tax cuts on trade policy dominate the news flow. Nibblers might take some off the table now, but long term people will stay in.
Disclosure: I/we have no positions in any stocks mentioned, and no plans to initiate any positions within the next 72 hours.
I wrote this article myself, and it expresses my own opinions. I am not receiving compensation for it (other than from Seeking Alpha). I have no business relationship with any company whose stock is mentioned in this article.