It's no secret that analysts love financials. Turn on CNBC or read the investment banks' 2017 predictions and you'll see that there's virtually no disagreement: financials are the top story for this year.
As a natural contrarian, I find this view concerning, given that the sector already put in massive gains to conclude 2016. Goldman Sachs (NYSE:GS) for example ripped 60 points in a few weeks after Trump won. How much more were people thinking would be reasonable for this year?
Today brought the first real test of the financials for 2017 thesis. Numerous banks reported earnings, and the initial takes were quite positive. The financial (NYSEARCA:XLF) sector ripped higher to start the morning. But those gains have largely dissipated:

As you can see, only Wells Fargo (NYSE:WFC) has managed to hold sizable gains, while several of the big banks flirted with going red on the day.
The problem isn't with the earnings themselves, they seem to be fine. It's a classic case of expectations running ahead of results. It takes a while for higher interest rates to filter down into higher Net Interest Margins.
Banks can't just jack up rates on all their outstanding debt, they have to wait for loans to mature, adjustable mortgages to actually adjust, and so on. And oftentimes, there are mark-to-market declines on held securities in the interim. Depositors also tend to demand higher interest rates on their deposits sooner or later.
I own several foreign banks whose countries have been in interest rate rising cycles recently. Initially, very little happened with NIMs as interest rates started to rise. It took several quarters for higher interest rates to show much impact on the income statement.
When you get a move such as this in financials, at best, one should expect a consolidation period, if not a significant bout of profit-taking: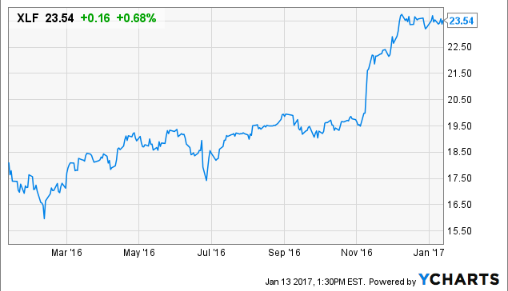 Assuming interest rates continue to rise, the financials sector bull move should continue sooner or later. But nothing goes up in a straight line, with most analysts pounding the table to buy banks, it's fair to conclude that a lot of people are already overweight the sector and thus not prepared to bid shares up much further in the short run.
On top of that, one must ask if the huge ramp in interest rates is about to take an extended pause. Treasury bonds (NYSEARCA:TLT) have found significant support, and the 10-year yield has retraced: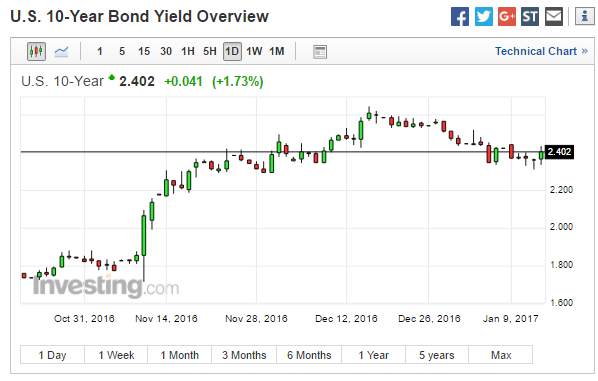 The chart certainly hasn't made a major breakdown yet. But we've gone a month without new highs. If you view this as a Trump trade, it's one of the weaker looking ones technically.
And as a reminder, there's still no guarantee that Trump will successfully trigger this renaissance in inflation that everyone seems to expect now. To me, it seems premature to keep bidding up banks just a week ahead of Trump's inauguration. If any disappointment seeps into the market following his initial policy pushes in office, the Trump trades could fade quickly.
There's nothing wrong with owning financials here. My IMF portfolio that I run and track here at Seeking Alpha has a large position in smaller US regional banks. While I've greatly slowed down the rate I'm adding to these positions, I'm not selling them.
However, with 30-50% gains in many US financials over the past 6-12 months, it's time to dial down our expectations. These stocks were undervalued last year, but they aren't anymore. And they'd be wise to beat on earnings, because the market has now priced in an excellent 2017 for the sector. Misses will be punished.
Disclosure: I/we have no positions in any stocks mentioned, and no plans to initiate any positions within the next 72 hours.
I wrote this article myself, and it expresses my own opinions. I am not receiving compensation for it (other than from Seeking Alpha). I have no business relationship with any company whose stock is mentioned in this article.