Home improvement chain Lowe's (NYSE:LOW) is the sort of business and security that often finds itself on the "short list" for quality firms. To be frank the improvements on the business side haven't been especially impressive - slow sales and company-wide profit growth for the past decade - but this has been more than made up for on the security side.
From 2006 to 2015 the share count was reduced by 40%. For every five shareholders that existed back in 2006, just three remain today - Lowe's bought out the other past partners on your behalf. And this factor - consciously using excess capital to reduce the claims on the earnings pie - has led to some solid results.
Earnings per share have increased by 6.6% per annum over the last 10 years and the dividend has been growing by nearly 30% per year. Granted a large part of this relates to payout ratio expansion, but there's still a good deal of runway there. As it sits today Lowe's cash dividend makes up about a third of earnings and the expectation is for the business to grow rather robustly in the years to come.
Although the valuation might be a touch higher than some would prefer, there's a lot to like about the business and security. If not today, then at least as a watch-list item it would be a fine consideration as a potential investment. And it's especially fine if you happen to already have a stake in the business.
One stumbling block for many, however, is the comparatively lower starting dividend yield. Lowe's currently pays a $0.35 quarterly dividend or $1.40 on an annual basis. Based on a share price near $72.30 this translates to a yield of "just" 1.9% - more or less average, but not exactly inspiring.
If you don't need/want the income and would be reinvesting anyway, this is fine news - Lowe's does this to a large degree on your behalf anyway. However, if you would like to generate a bit of extra cash flow from the holding, this can cause some difficulty or even strike the security from consideration.
Luckily there is an intermediate ground between "buy and hold with a 1.9% yield" and "sell some to supplement your cash flow." The intermediate ground is agreeing to potentially sell at a higher price and getting paid for making that sentiment known.
Below I have included various call options that are available for the January 2018 expiration date: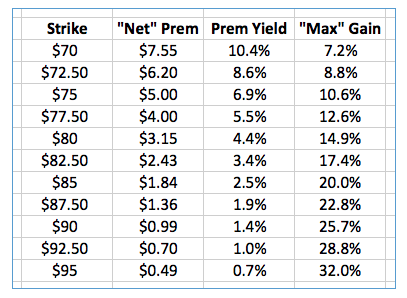 Note that I have no special preference for this expiration date (many prefer shorter time periods), but in this case it does illustrate what's available on an annual basis rather nicely.
The first column indicates the strike price or the price at which you would be willing to sell at least 100 shares of Lowe's. The second column indicates the "net" premium, which takes the most recent bid less $0.15 per share for frictional expenses.
The third column highlights the "extra" yield that this would represent (which may be taxed differently than dividends). And the final column indicates the "maximum" gain that you would receive in the coming year, which accounts for option and sale proceeds but does not include any dividend payments along the way.
Certainly there are tradeoffs involved, but this table gives a good demonstration of an intermediate ground between only holding and outright selling.
Let's work with a "for instance." Suppose you're happy to hold shares of Lowe's at the current valuation, but your desire (or need) for cash flow is above the 1.9% in dividends you might receive. In reality you may receive a touch more due to a likely dividend increase, but even then you're still in the low 2% range.
Suppose a cash flow component of at least 4% fits your investment goals much better. In this situation you could think about selling a call option with an $85 strike price. For making this agreement you would immediately receive ~$184 per 100 shares that is yours to spend or reallocate as you please.
Once the agreement is made, one of two basic outcomes come about: either the option is exercised or it is not. If the option is not exercised you continue holding your shares and collecting the dividends.
After a year you have the ~$184 in upfront option proceeds, plus perhaps $140 or $150 in dividend payments for the year. Your total cash flow from holding each 100 shares of Lowe's might be $325 or so, equating to a yield of about 4.5% based on today's price. Now it's certainly true that your total return may or may not be positive in this circumstance. However, two important notes should be made.
For one, if you generated the type of cash flow that you required, you probably wouldn't care as much about the short-term liquidity prices that others happened to be offering. After all, that's why you made an agreement to potentially sell and didn't sell outright from the get go.
Second, in this scenario you'll always be better off than the investor who simply bought and held. If the option is not exercised, you'll have the "extra" $184 in proceeds to go along with whatever happens to the shares without the agreement - it truly is an "extra" cash flow component in this situation.
Of course this is only one side of the equation. The other side is the possibility of the option being exercised, in which case your returns may or may not be better than the investor who simply bought and held.
If the option is exercised you'll still have your ~$184 in upfront proceeds - that's yours to keep regardless. In addition, you'd also have ~$8,500 in sale proceeds (less fees). The risk is that shares later trade at say $90 or $100 and you're "stuck" selling at $85. Yet I'd contend that this situation is no great tragedy.
Your total return for the coming year would be around 20%, prior to including any dividends. If you also received some cash payments along the way, this return jumps up to 20% - 22% for the year. Someone could make more money on the holding, but a 20% return isn't exactly a bad result either.
In short, often it can be beneficial to explore what types of agreements are out there for your holdings. With Lowe's in particular you're not limited to either holding a security with a sub-2% yield or selling a portion (or all of it) to generate more funds. Instead there's an intermediate ground. In the above illustration you could more than double the yield that you receive and the "downside," presuming you're happy to hold anyway, would be a total gain north of 20%. (And naturally you're not limited to this single strike or expiration date.) The key is staying true to your goals and figuring out whether or not you'd be content with either side of the agreement.
Disclosure: I/we have no positions in any stocks mentioned, and no plans to initiate any positions within the next 72 hours.
I wrote this article myself, and it expresses my own opinions. I am not receiving compensation for it (other than from Seeking Alpha). I have no business relationship with any company whose stock is mentioned in this article.