Investment thesis
Ocean Yield (OTCQX:OYIEF) offers a very high yield of 9.6% with a track record of 12 consecutive quarterly dividend increases and a growing business at an attractive valuation. However, there are some notable risks mainly related to counterparties and high level of debt, which investors should take into account. Thus, OY is recommended only for a well-diversified dividend portfolio, to which it looks like a solid addition at the moment.
Foreign stock for diversification
Many dividend investors seem to be focused heavily or solely on the US market. While the US is likely the best single market for dividend investing and dividend growth investing, in some cases it is wise to look outside the US for chances to diversify ones portfolio to cover also international dividend stocks.
Norway-based ship owning company Ocean Yield is an interesting European company that offers a very high yield with a growing business and a solid dividend growth track record. It invests in vessels used within oil service and industrial shipping. In this article I will review the company's business model, financial performance, dividend track record and key risks associated with this stock.
Business overview
Ocean Yield is a relatively new company, established in March 2012 and listed on the Oslo Stock Exchange in July 2013, with an initial portfolio of vessels previously controlled by Aker ASA. Ocean Yield has a market cap of around USD $1.1 billion with annual revenues of around $280 million. It's still tightly connected to Aker ASA, which currently owns 66.2% of all shares in OY.
Ocean Yield's fleet consists of 34 vessels, including chemical tankers, container vessels, car carries, product tankers, gas carriers and others, with a total of 9 new buildings delivered during Q4 2016 and H1 2017. OY targets annual investment level of $350 million in modern vessels to expand and diversify its fleet in the coming years.
OY's core business model of leasing its vessels to tenants is in many ways similar to that of REIT companies who own and operate income-generating real estate. There are also similarities in debt-driven nature of the business, high payout ratio and risk profile. In this sense, one could indeed call Ocean Yield a "floating REIT."
Some of Ocean Yield's customers include Navig8 Ltd. (oil sector), Höegh Autoliners (cars and machinery), Hartmann Group (gas sector), Farstad Supply AS (oil and gas), major European container lines, and others. The customer base is thus somewhat diverse and covers multiple industries, which to some extent reduces the risks associated with the stock - as does the long remaining tenor of lease contracts, currently at 11.2 years.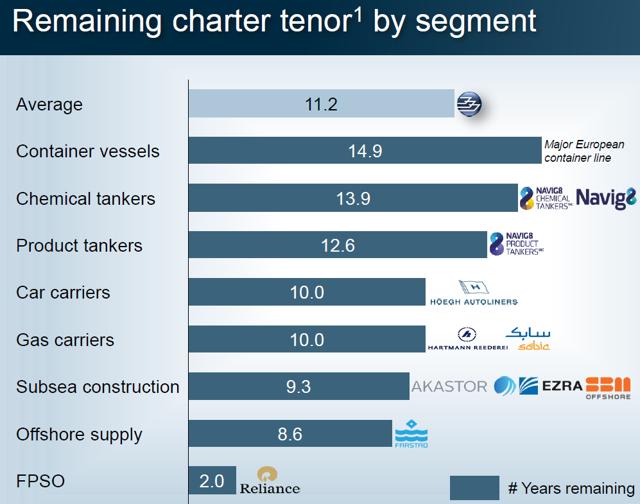 Source: Ocean Yield Investor Presentation (pdf, Nov 2016)
However, the counterpart risk is still the highest risk associated with Ocean Yield, as we will discuss later in this article in the "Risks" section.
Business analysis
OY has been able to grow its top line steadily from 2013 revenues of USD $239 million to $256.7 million in 2015. The latest quarterly report of Q3 2016 shows an year-on-year increase of 16.7% in revenues, Q3 hitting $76.2 million. FY 2016 is looking at around $280 million if Q4 performance is even slightly above that of 2015, which would bring total YoY revenue growth to +9.1%.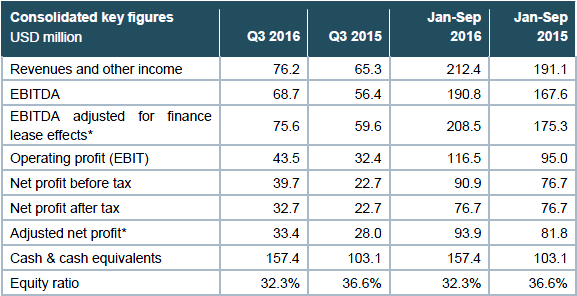 Source: Ocean Yield 3rd quarter 2016 report
In the key financial figures listed above, there is substantial growth in most metrics, especially EBITDA which has increased from $56.4 million in Q3 2015 to $68.7 million in Q3 2016 (+21.8%). Overall EBITDA has seen a very positive trend throughout 2016 whereas previously it was mostly flat at around $55 million from 2014 through 2015. The recent EBITDA growth is related to delivery of further vessels to the fleet with another five vessels added in Q3.

Source: Ocean Yield Investor Presentation
Net profit after tax was $32.7 million in Q3 2016 up from $22.7 million in 2015. There is significant fluctuation in the net profit trend, which is mostly due to the fact that it is affected by non-recurring items, market-to-market derivatives and NOK/USD currency fluctuations.

Source: Ocean Yield Investor Presentation
In terms of adjusted net profit where the above-mentioned factors have been taken into account, the Q3 2016 figure stands at $33.4 million vs. 27.9 million in Q3 2015, an increase of +19.7%.
Earnings per share has also seen comparable growth with Q3 EPS at $0.2394 which is up +16.5% from Q3 2015. Interestingly, the Price-Earnings ratio with this EPS and the latest stock quotation of USD $7.26 is only 7.6, which is low compared with the company's historical trend. The valuation seems rather attractive considering the recent financial performance and the risks associated with the stock.

Source: Ocean Yield Investor Presentation
The biggest question mark is undoubtedly debt. Ocean Yield's equity ratio has gone down from 40.9% in Q1 2015 to 32.3% in Q3 2016. Year-on-year the equity ratio went down 4.3 percentage points as stated in the table shown earlier. The company's total liabilities were $2.56 billion in Q3 with a net debt of USD $1.26 billion, while its book equity was $826.5 million.
Dividend
Ocean Yield was established with the ambition to pay attractive and growing dividends to its shareholders and has delivered on this every quarter since the stocklisting of the Company in 2013. Thus, it has 12 consecutive quarterly dividend increases under its belt, which means that OY is close to becoming an European dividend challenger in the near future if it can keep growing its dividend further.
The dividend is clearly a key focus area for the management - so much that even the company's tagline focuses on its dividend promise to the shareholders, i.e. "The Dividend Yield Company." Based on the latest outlook on the company's Q3 2016 Financial Report, Ocean Yield expects to continue its dividend policy of paying attractive and increasing dividends to the shareholders. The payout ratio was quite high but still somewhat modest 80% in Q3 2016.
The prior dividend growth chart looks impressive. The latest quarterly dividend payment declared by the board of directors is USD $0.1775 per share for Q3 2016, which represents an YoY growth of +13% and QoQ increase of +2.9%.

Source: Ocean Yield Investor Presentation
With the recent stock price development slightly above NOK 62 (USD $7.2), the dividend yield is already close to 10%. Based on the chart below, the typical yield over the past four years has been around 8.5%.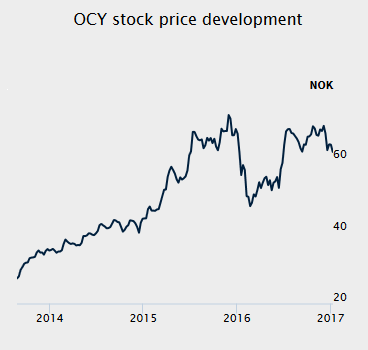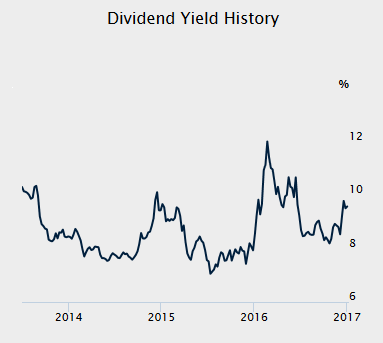 Risks
Ocean Yield is exposed to a number of risks of which the most considerable is the counterparty risk. Even though the company's customer base is somewhat diverse covering also other industries than oil services, it is clear that possible financial difficulties or - in worst case - a bankruptcy of one or many of its tenants has the potential to affect OY's business performance, stock price and ability to continue growing or maintaining its dividend in the future.
In December 2016 one of OY's tenants, a Singapore-based EMAS-AMC AS who had leased one of OY's multipurpose, ultra deep-water construction vessel, failed to pay its charter fee to OY and requested a short-term standstill of payments for two months. OY stock price fell sharply over 8% mostly due to this incident alone, even though the missed payments were guaranteed by Ezra Holdings Ltd, the parent company of EMAS. Nevertheless, this was a practical example of the counterparty risk and its impact on the stock price, even though this particular case looked like an over-reaction by the market.
The second risk with Ocean Yield that investors should consider is undoubtedly the high level of debt. With net debt of USD $1.26 billion and declining equity ratio, the rising interest rates will have an impact on the financing costs and profitability. While a high debt level is normal for OY's business model, similar to many REIT companies, it is crucial for investors to follow the equity ratio and dividend payout ratio development to evaluate the probability of dividend cuts. If the equity ratio continues to decline closer to 20% and the dividend payout ratio rises closer to 95%, the chance for dividend cuts gets higher accordingly.
Smaller but notable risks include the currency risk as OY is a Norwegian company and the stock is quoted in Norwegian krones, which means that total return is subject to fluctuations in exchange rates. If the Norwegian krone depreciates against the USD, this will eat out profits for investor who is about to sell the stock. For long-term dividend investors, this is less of an issue as exchange rate fluctuations will typically smooth out in the long run.
Also, the residual value risk of the ships owned includes some risk. The residual value risk is related to remaining charter tenor of contracts - on one hand, the fixed long-term charters protects the company from outside risks and increases predictability of future cash flows, but on the other hand, if the remaining tenor continues to extend to well over 12 years, the residual value risk of the fleet may become a problem.
Conclusion
Ocean Yield offers an astounding yield of 9.6% with a track record of 12 consecutive quarterly dividend increases and close to becoming a new European dividend challenger in the near future. Its business is growing both in terms of revenue and EBITDA and valuation seems attractive with a P/E ratio of only 7.6.
At the current price, OY is an opportunity for dividend investors who want to diversify their portfolios with international stocks and are willing take some risk for the very high yield and steady growth that the company has been able to deliver. The two main risks that investors should understand and evaluate are the counterparty risk and the interest rate risk related to high level of net debt.
Personally, I would not invest more than 5% of total portfolio value to OY due to the risks associated. However, I do consider OY a great addition to a well-diversified dividend investment portfolio, and I have recently added to my position when the stock price has dropped to NOK 62-64 range. OY represents now approximately 2% of my personal portfolio value.
Disclosure: I am/we are long OYIEF.
I wrote this article myself, and it expresses my own opinions. I am not receiving compensation for it (other than from Seeking Alpha). I have no business relationship with any company whose stock is mentioned in this article.