Several days ago Cray (NASDAQ:CRAY) put out a press release reiterating guidance for 2016.
Seattle, WA - January 9, 2017 - Global supercomputer leader Cray Inc. today announced selected preliminary 2016 financial results. The 2016 anticipated results presented in this release are based on preliminary financial data and are subject to change until the year-end financial reporting process is complete.

Based on preliminary results, total revenue for 2016 is expected to be about $630 million, in the range of the previously provided guidance, and the Company expects to be profitable on both a GAAP and non-GAAP basis for 2016.
The above release came out after the market close on the 9th. Next day, CRAY opened up by about 5%. I was scratching my head as to why the stock was up. I read the press release several times, but could not find anything positive.
Anyway, I had a very small short position that I covered because I never fight with the tape. The market can remain wrong longer than you could remain solvent says an old Wall Street saying, and I abide by it.
However right after I covered, it was all downhill from there.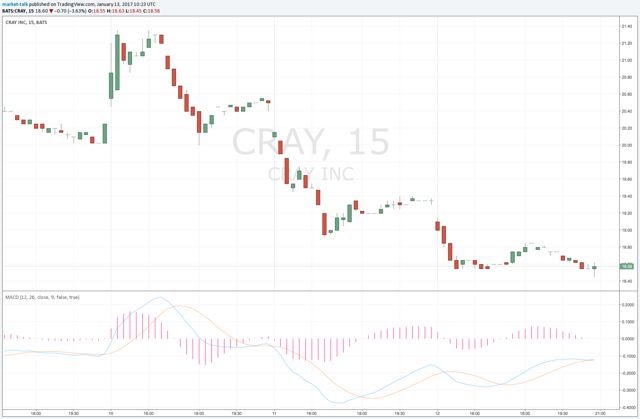 Please recall from my last article that CRAY had a lot of headwinds for 2017.
On the one hand the company was experiencing a slowdown in the supercomputing market were Cray competes. IDC had reduced its growth expectations for the supercomputing sector.
The company also was witnessing a slowdown in many targeted commercial markets, so an overall slowdown for the sector and CRAY was expected.
However, something else is also going on over the past several months that I noticed from my last article. EPS expectations have been coming down like a rock for several months now.

As you can see from the table above, analysts were expecting about $0.84 EPS for 2017 over 90 days ago, and now they expect only $0.23. And that's not the worse of it.
On my last article, estimates were revised to $0.84 from a previous expectation of $1.75 EPS! So something is happening with CRAY, but I can't really put my finger on it. Like I said above, I knew the company would experience different kind of headwinds, however this goes beyond that.
In 2015 the company had revenue of $724 million. Now management is guiding for $630 (from a previous $650), and it's also telling us that revenue will probably be lower in 2017 as well.
From the same press release above:
For 2017, while a wide range of results remains possible, the Company currently believes it will be difficult to grow over 2016.
I think the above paragraph is why the stock corrected over the past two days. Management is kindly telling us that the most probable scenario for 2017 is that the company will not be able to match the revenue of 2016.
If this is confirmed by the end of 2017, then the company will have established a downward Y/Y revenue trend of three years. And the market is not kind to such stocks, no matter how good a company you are.
Bottom line
While I was not expecting CRAY to guide great good for 2017, I was expecting something better than 2016. However, now the most probable scenario is that CRAY will have a Y/Y revenue shortfall for 2017.
And as you know, this market is not kind to companies with lower Y/Y revenue. And when combined with much lower Y/Y EPS, stocks and associated company market caps get crushed in this market.
On my last article CRAY was hovering around $21 a share. I hinted back then that because I did not expect the company to do much in 2017, we might see CRAY at $15 a share at some point during 2017.
Not because there is anything wrong with the company, but when investors have nothing to expect from a stock, they usually get tired and sell, hoping to get appreciation from some other stock. It's what I call investor fatigue.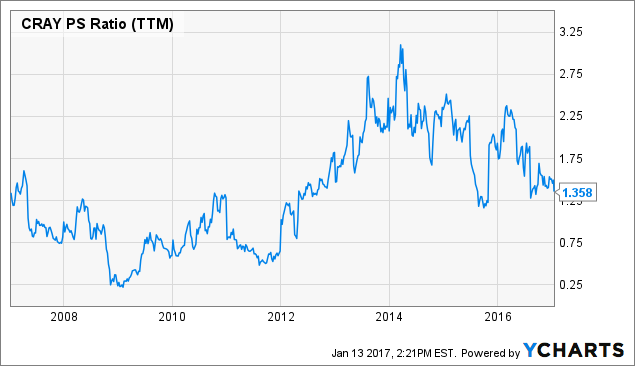 CRAY has a market cap about $730 million, and in the past has traded at very depressed levels. In terms of the price/sales ratio, it has traded as low as 0.25 (chart above).
Since nothing will be happening with the stock for a while, I'm hoping investor fatigue will drive the price down to as low as $15 a share, or even lower.
I am not shorting the stock, however it might be a good candidate for those who are talented at shorting (I am not).
CRAY is a great company, but great companies don't always make you money, unless you can get them at a good price. If you see CRAY at around $15 a share, buy it and stay on it. At that price, it's very hard to lose money, and chances are you will more than double your money longer term.
In the mean time, you will probably want to sell it if you have it.
Disclosure: I/we have no positions in any stocks mentioned, and no plans to initiate any positions within the next 72 hours.
I wrote this article myself, and it expresses my own opinions. I am not receiving compensation for it (other than from Seeking Alpha). I have no business relationship with any company whose stock is mentioned in this article.