JPMorgan's (NYSE:JPM) Q4 2016 earnings report failed to blunt investor and analyst optimism as the focus remains on improvements in net interest income (NII) aided by continued strong loan growth and higher interest rates. Add the prospect of regulatory rollbacks to the cocktail and it's easy to see why the sector has proved intoxicating for momentum investors. Yes, the near-term fundamental outlook for the U.S. banking sector has improved, but in our view the stock price has now significantly overshot its fair value.
2016 was the first year of demonstrable improvement in NII since the previous U.S. recession. Despite several years of strong loan growth, JPM and the rest of the banking sector has until very recently been held back by net interest margins that continued to grind lower. Federal Reserve rate hikes and recent increases in longer interest rates have finally improved the outlook for net interest income growth.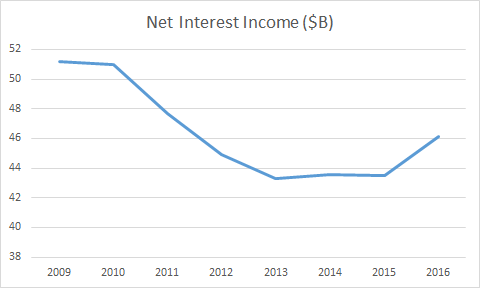 Source: JPM public filings.
But while investors focus on improvement in NII, they may be neglecting another key variable in the bank earnings equation - credit losses. JPM's provision for credit losses has edged higher in recent years, but remains relatively low as a percentage of total loans. Credit loss recognition is highly cyclical and banks tend to report credit loss provisions well below the ultimate average for the credit cycle until loan delinquencies turn higher near a cycle's end. JPM's mortgage delinquencies continued to move lower in Q4 2016 suggesting that credit loss recognition will remain below average again in 2017. However, investors need to consider that average annual credit losses will be much higher than what's likely to be reported in the near term and incorporate this into their valuation.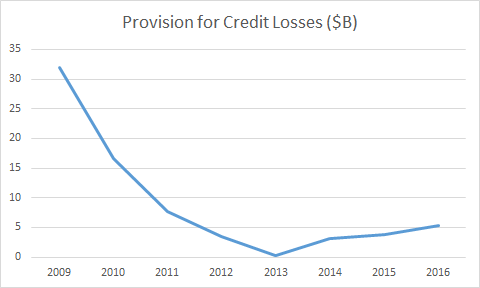 Source: JPM public filings.
Our stock valuation suggests that JPM's normalized EPS based on its Q4 average balance sheet is ~$5.60, below the $6+ EPS figures recorded the past two fiscal years. Applying Arcpoint Advisor's estimated normalized P/E for U.S. large-cap cyclical stocks of ~18.5x and a relative P/E factor of 0.7x to account for the inherent financial leverage of U.S. banks, we estimate fair value for JPM of ~$72.
JPM stock valuation ($B except for per share data)
| | |
| --- | --- |
| average Q4 2016 assets | 2,532,457 |
| 5-year trailing pre-tax ROA | 1.2% |
| normalized pre-tax earnings | 30,389 |
| | |
| 10-year average tax rate | 28.3% |
| normalized tax provision | 8,600 |
| | |
| normalized net income | 21,789 |
| preferred dividend (Q4 2016 annualized) | 1,648 |
| | |
| normalized net income to common | 20,141 |
| diluted shares (Q4 2016 average) | 3,606 |
| normalized EPS | 5.59 |
| | |
| estimated normalized P/E for U.S. large-cap cyclical stocks | 18.5 |
| (based upon ArcPoint Advisor analysis) | |
| | |
| justified relative P/E | 0.7 |
| | |
| estimated fair value per share | 72 |
Source: JPM public filings and arcpointadvisor.com.
Incidentally, our $72 fair value estimate sits just above where stock traded prior to the November U.S. elections. Is it possible that regulatory rollbacks account for the difference between our fair value estimate and the current price? Not likely. JPM cited a peak incremental regulatory cost burden of ~$3B annually on its Q4 2016 call. If all of those costs were somehow wiped out, the incremental value added to the stock would be ~$10 per share, by our estimate. But this ignores the laws of marketplace competition. As regulatory costs have increased over the past several years, banks have passed those costs along to customers, mitigating the ultimate impact on EPS. The same likely would be true in reverse if much of the post Dodd-Frank regulatory apparatus was scaled down or removed entirely. And given investor optimism over deregulation, slower than expected reform could prove to be a negative catalyst for the entire banking sector as early as this year.
Disclosure: I/we have no positions in any stocks mentioned, and no plans to initiate any positions within the next 72 hours.
I wrote this article myself, and it expresses my own opinions. I am not receiving compensation for it (other than from Seeking Alpha). I have no business relationship with any company whose stock is mentioned in this article.