We have been shareholders of IBM (NYSE:IBM) since February 2016 and were lucky enough to start our position at $122 per share. Then, in July 2016, we wrote a bullish article on IBM and increased our position. Back in July we wrote:
IBM has fallen from a peak of $215 in 2013 to its current level of $152. I believe the negative sentiment is shifting, and that, at current prices, this stock is an interesting investment".
After that article, we had the opportunity to conduct interviews with IBM executives. In the first part of our interview, we tried to understand the long-term vision of the firm. We then elaborated on Watson, IBM's cognitive system (you can find our discussion here). We then had the chance to dig deeper and have a conversation with Rob High, IBM Watson's CTO, and tried to shed some light on Watson's business model. In our last articles, we interviewed Don Boulia VP of IBM's Cloud and explored IBM blockchain initiatives. After all this research, we remain positive that IBM is a good investment. We are still shareholders, and we are considering increasing our position, especially if the stock experiences some weakness during the earnings' season.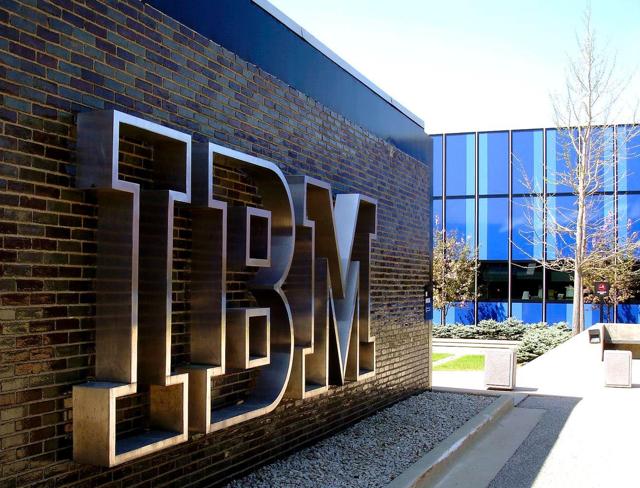 Since 2013, IBM's share price has been hammered by negative sentiment. It has fallen as low as $120, though today, it's at $168. We believe, however, that the negative sentiment is diminishing and that, at current prices, this stock is a good investment. Although the core business of IBM isn't doing so well, its new "strategic imperatives" are rapidly growing and will soon represent the majority of the company's sales.
(IBM stock price; Source: Google Finance)

IBM revenues may be in decline, but the future doesn't look bleak
Undoubtedly, IBM's core businesses are suffering and attributed revenues are declining. Total revenues declined from $92 billion in 2014 to $79.7 billion in 2016 (estimated). Although these numbers look bad, most of the decline is due to currency fluctuations and divestitures. Adjusting for these factors, the annual decline is only 1.2%.
To revamp growth, the company has invested over $30 billion in five key growth areas: Analytics, Cloud, Mobile, Security and Social. These areas offer incredible potential that is beginning to be captured. Year over year, Analytics grew 14%, Cloud 42%, Mobile 19% and Security 11%. Revenues generated by these areas have grown to $32 billion (captured by aggregating the 12 months up to Q3 2016) and now represent 40% of the company's total revenues. Such growth is impressive considering that, in 2010, strategic imperatives represented only 13% of total revenues. Growth is slowing down because the segments are becoming larger, but they are still more appropriate for a tech start-up than for a giant like IBM.
A bright future
The growing importance of strategic imperatives brings significant hope to the future. These segments are forecasted to grow substantially. Through Watson, IBM is the market leader in artificial intelligence and big data. Fortune argued that "the application of big data software algorithms is elevating decision-making precision to a whole new level, creating efficiencies, saving costs and delivering new solutions to important problems." Many industries and applications are going to be profoundly reshaped by these technologies. Cloud is also growing rapidly in relevance and market value. Forbes estimates that the cloud market will reach $228 billion by 2026, up from $33 billion in 2015.
While analysts believe that revenues will decline to $75B in 2020, we disagree. Assuming core revenues keep declining at a rate of 11% (quite significant), and that strategic imperatives keep growing, we expect revenues to be around $83B in 2020. By that time, strategic imperatives will represent two-thirds of total revenues. This suggests the company is on the upswing.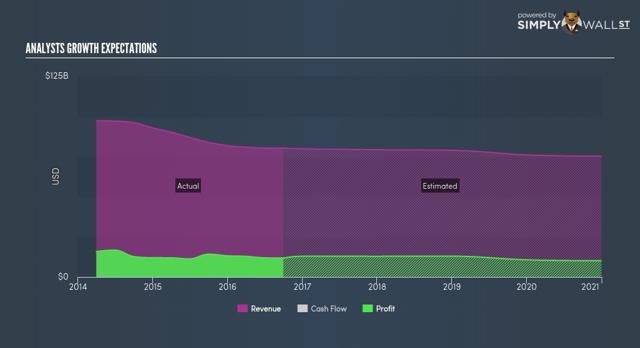 Analysts expect EPS to grow but not by much.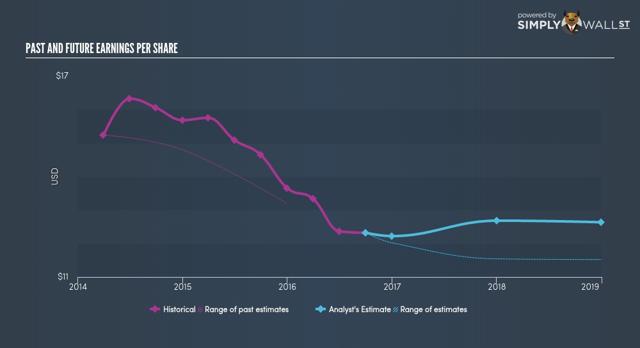 IBM is a cash-generating machine
Despite declining revenues, the core business is still highly profitable and generates tons of cash. In 2016, IBM had a gross profit margin of 48% and generated $12.9B of free cash flow. This robust free cash flow was generated despite IBM investing only 6% of revenues in R&D and $3.8B in capital expenditures. IBM also invested $8B in acquisitions over the last 12 months (ending in Q3 2016).
The cash generated allows IBM to generously remunerate shareholders. The company keeps increasing its quarterly dividend, most recently from $1.3 to $1.4 per share. At today's prices, this is a 3.3% dividend yield. In 2000, the dividend was 0.13, reflecting an increase of 1,000% in 16 years (Source: Nasdaq). In 2016, IBM spent $8.6B in dividends and buybacks out of a $12.9B of free cash flow. If its recent behavior is an indication, your dividend payments look safe.
Is the valuation of IBM fair?
It may be smart to compare the growth of the company's strategic imperatives with those of other large growth companies such as: Amazon (AMZN, 29% growth), Microsoft (MSFT, 3% growth), Adobe (ADBE, 20% growth), and Alphabet (GOOGL/GOOG, 20% growth). These companies' revenues are growing at an average rate of 18%, not much higher than the 15% for IBM strategic imperatives. The average price-to-sales ratio for these companies is 5.49. Applying the same metric to IBM's strategic imperatives, we get a capitalization of $181B. Today, IBM's market cap is $160B, so if we use a similar valuation method as applied to other growth stocks, we get the core business for free, and $21B of spare change. This is a simple valuation that, for example, does not consider debt, but it shows something.
| | | |
| --- | --- | --- |
| | Growth rate | Price/Sales |
| Amazon | 29% | 2.77 |
| Microsoft | 3% | 5.24 |
| Adobe | 20% | 7.63 |
| Alphabet | 20% | 6.32 |
| Average | 18% | 5.49 |
(Source: 4-Traders)
Conclusion
IBM is 105 years old. The company has been through numerous ups and downs and survived numerous bear markets. I believe that, although IBM is going through a tough time, its vision is inspiring and the direction that management has taken is correct. The market is underestimating the growing importance of its strategic imperatives and the growth catalysts that these businesses represent. These initiatives are starting to pay off, and will reward shareholders in the coming years. While its strategic imperatives are growing, the company will likely return cash to shareholders through dividends and buybacks. At current prices, IBM is not a bargain but still offers value.
As always, thank you for reading. If you wish to follow our future articles, just click the " Follow" button next to our name at the top. If you would like us to cover a company, please let us know in the comments. For information about Integer Investments, visit our website. Thank you for reading!
Disclosure: I am/we are long IBM.
I wrote this article myself, and it expresses my own opinions. I am not receiving compensation for it (other than from Seeking Alpha). I have no business relationship with any company whose stock is mentioned in this article.