Argument
Teva is trading like a company facing ongoing decline. Based on what the market implies regarding its future financial profile, the company could become a compelling value candidate.
Overview
Teva's (NYSE:TEVA) stock has dipped 45.4% over the past 52 weeks despite a 52-week change of 20.4% in the S&P 500 (NYSEARCA:SPY). The Israel-based pharmaceutical company has been hit on waning investor confidence in its ability to avoid an ongoing erosion in the vitality of its US generics business. Over at least the next 12 months, the company is expected to face a combination of delays in new product launches and pricing pressures among several generics. Most notable is the anticipated decline in Copaxone, its most profitable brand used in the treatment of multiple sclerosis. About five years ago, Copaxone accounted for about two-thirds of Teva's earnings but now accounts for about one-sixth, with further declining reliance on the brand moving forward (source: 2017 business outlook conference call).
With the acquisition of Allergan's generics business Actavis for $40.5 billion in August 2016, Teva is highly leveraged at a debt-to-capital ratio of approximately 52%. With a combination of high leverage and upcoming drop in earnings and free cash flow, the stock has in turn come under pressure and made new 52-week lows despite most of the rest of the market trending along 52-week highs.
The market is already pricing in a high level of top-line contraction. If one were to assume a perpetual continuation of its current financial profile - $24 billion in FY2017 revenue (pro forma after the Actavis acquisition), 23% run-rate in EBIT margins, 26% tax rate, no working capital growth, 1.8% long-term economic growth rate, and a 7.7% cost of equity (based on 5.7% forward real returns + 2% inflation), the stock projects to have about 100% upside. Understandably, with the challenges facing the business, the market as a whole is highly doubtful this can be accomplished.
If we sensitize the intrinsic share price output to year-over-year revenue growth/contraction and long-run EBIT margins, estimated share prices appear as such:

(Source: author)
If we were to express these values in terms of upside/downside from today's price:

(Source: author)
The market is implying that even if Teva's top-line contracts by 3% year-over-year for the next ten years, but manages to maintain its pre-tax margins, the stock could have 20%-40% upside.
In terms of matters of leverage, based on $36.9 billion worth of debt as of the end of Q3 2016 and ~$6.5 billion in EBITDA, the company is levered at around 5.7x the ratio between the two (or an estimated 5.1x-5.2x as of the end of Q4 2016). I estimate the company's optimal debt/EBITDA ratio at approximately 3.9x, or the point at which its cost of capital ("WACC") is minimized (and value of the firm therefore maximized). In equivalent terms, this comes to a debt-to-capital ratio of about 35%, down 17% from its 52% mark using the debt total as of the end of Q3.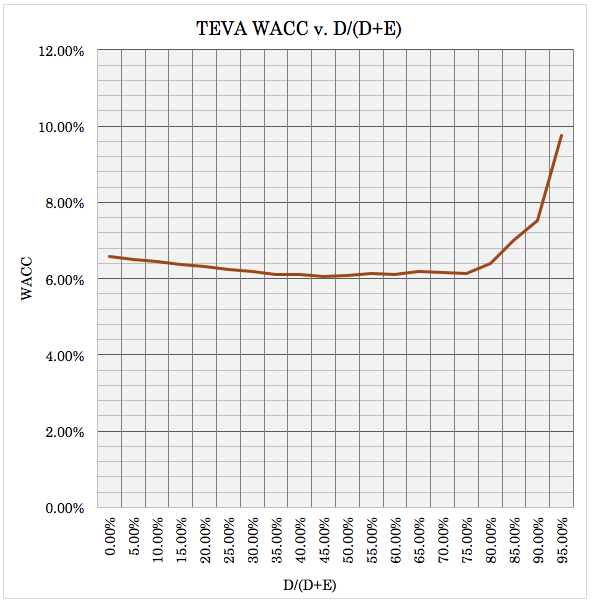 (Source: author)
The model predicts that a de-leverage down to 3.9x, or debt pay-down of $11-$12 billion from Q3-end, would be accretive to share prices by approximately 5.4%.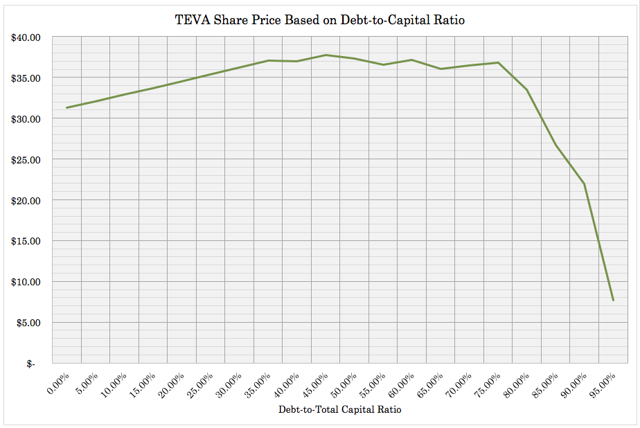 (Source: author)
Yet de-leveraging to a sounder level will take time with ~$3.5 billion in annual net operating profit after-tax (i.e., earnings + interest expense). Part of a capital structure rebalancing will likely be accomplished through a continued issuance of shares, of which the company has issued 110 million over the past four reported quarters, currently worth $3.7-$3.8 billion. Shareholders can expect further dilution ahead.
Final Thoughts
The market is at the point where Teva is viewed as a company in perpetual run-off mode. Nonetheless, Teva's price has fallen to a point where contrarians looking at the implied expectations might believe the value has become compelling enough - especially as Teva makes new 10-year lows while much of the remainder of the market is hovering around all-time high price points.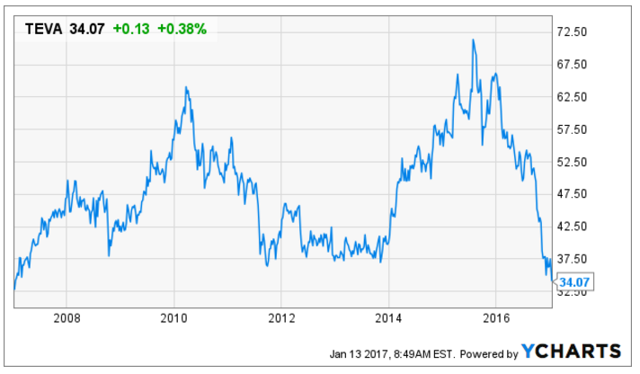 Shares are currently getting squeezed from multiple angles - pricing pressures, loss of market share, top-line erosion, litigation risk, and dilution from continued share issuances to more appropriately balance the company capital structure after the Actavis acquisition. At a standard market cost of equity of 7.7%, the company appears fairly valued with expectations of 3% year-over-year sales contraction and a fall in pre-tax margins by 300 basis points. So while market expectations are low, and bake in the notion of a company with deteriorating business prospects, the company has material challenges ahead in correcting these matters.
For me personally, I would probably take a shot on Teva should it get down somewhere below $30 per share. At that level, the value of its generics portfolio and the upside in its specialty pipeline itself provides a sufficient amount of downside protection. The company has 10 drugs in phase III and 6 in registration, half of which are pain or asthma medications. As a value-oriented type I don't assign very much, if any, value to early-stage projects, but it has an additional 13 drugs in phase I and phase II.
Even with a more competitive generics industry and accounting for potential failures of late-stage drugs while placing little value to early-stage projects, it's hard to believe that Teva's revenue could contract by $8+ billion in ten years' time. If one assumes it maintains its margins, yet its top-line deteriorates to 65% of its projected pro forma FY2017 figure by 2027, and you have 10% annual returns requirements, Teva would still be valued at about $22 per share.
The positive news is that Teva is a strong cash generator with its healthy operating margins. Accordingly, it could work itself way out of run-off expectations with prudent capital allocation practices. Capital structure rebalancing is one aspect while R&D into the right projects and potential additional acquisitions to expand its product portfolio or to pick up an additional high-growth drug franchise could help stop the bleeding expected in the years ahead. On top of that, at some point, the company could also become cheap enough to be a buyout candidate in itself if it fails to innovate or grab back market share.
Disclosure: I/we have no positions in any stocks mentioned, and no plans to initiate any positions within the next 72 hours.
I wrote this article myself, and it expresses my own opinions. I am not receiving compensation for it (other than from Seeking Alpha). I have no business relationship with any company whose stock is mentioned in this article.