When it comes to the renewable energy sector, 2017 is set to be the biggest growth year on record for the US market according to the US EIA.
I believe there has been a shortage of green energy stocks which offer interesting investment opportunities.
MJP International Ltd (OTCPK:MJPI) is a stock I have been watching since December 6 when the company announced its acquisition of Human Energy Alliance Labs.
On the day of the announcement, the stock jumped around 95% (it had closed at 0.40 the day before)
There was very little information circulating other than the obvious news of the acquisition and I thought that the rally would be very short-lived. I was wrong.
The company released three additional press releases since:
December 13 : MJPI announced that it signed a distribution agreement for Texas.
December 27 : MJPI announced that it will be rolling out a new line of products to consumers.
January 4 : MJPI announced a manufacturing contract for its HEAL-branded consumer products.
I am sitting here watching the stock and it has literally gained around 1,200% in the last 30 days and wondering what's next. Take a look at the spectacular chart below.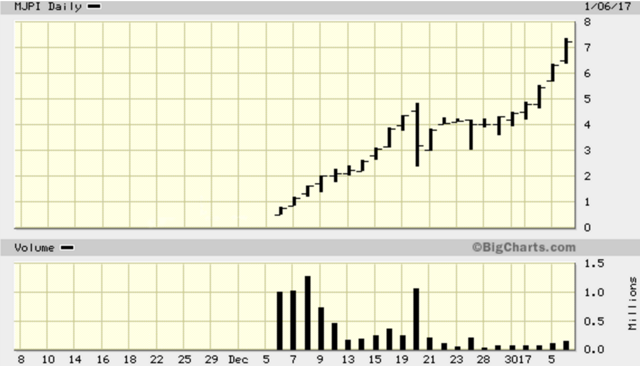 (Source: BigCharts.com)
I'll be the first to say that the company's operations don't seem to be particularly interesting, but this doesn't mean that there isn't money to be made by trading it smart.
Before the December 6 announcement, MJPI really didn't have much going on. It purchased 80% of HEAL, a private company from Idaho that in the renewable energies business, and that's basically how MJPI became the MJPI as we know it today.
So for the purposes of remaining practical, let's talk about HEAL. The company is run by a group of entrepreneurs based in Idaho who have combined experience of more than 30 years in the industry.
HEAL is a company that distributes and installs state of the art solar panels and wind turbines for home and commercial use, in a sense much like Solar City.
HEAL offers consumers an easy way to get a renewable energy installation for their home and great customer service which has helped the company gain market share.
It also seems that MJP International's acquisition has done HEAL some good because the management has made a series of announcements that lead us to believe that they seriously want to bite into the growing retail sector pie.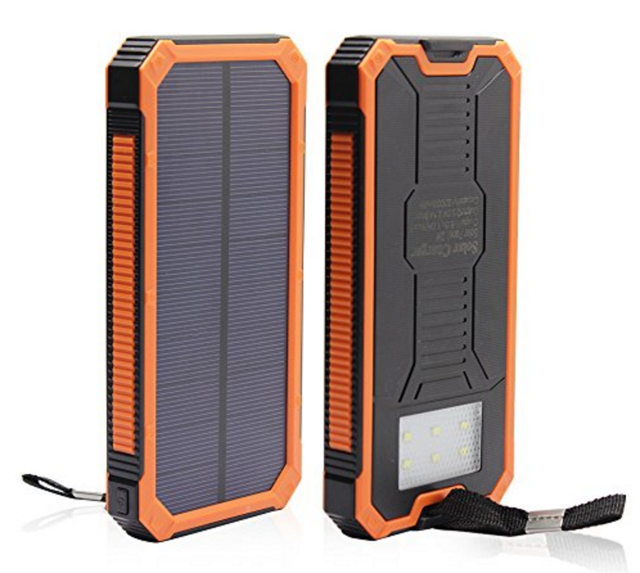 (Source: Habitatnoise.net)
Their announcements detail plans to immediately begin manufacturing solar battery packs in China, and they have also taken on an entire line of small solar products such as LED light bulbs, torches, and standalone all-purpose 6 inch solar panels aimed at direct retail sales.
The momentum in the renewable energies sector is very strong. The US Energy Information Administration released a report on January 5 outlining what the country could look like 15-30 years from now and they expect renewable electricity production to surpass coal by 2030.
Another report (pdf) released at the end of December by the World Economic Forum highlights that for the first time ever solar energy is now cheaper than fossil fuels.
According to GTM and the Solar Energy Industries Association, 2017 is going to be the strongest year ever for the solar sector in America. If MJPI has its ducks in a row, it should be able to have a record year as well.
An investment in renewable energies can be a good idea, but it carries risks as well such as the current political climate. President-elect Trump has said numerous times that he plans to leave the Paris Climate Agreement which was signed last year. If that happened it would be a blow to the industry.
Separately, OTC stocks always carry risk and can be volatile, a few days earlier, MJPI dropped 40% in a single day before recovering to the current prices, so trade carefully.
In conclusion, I believe that MJPI is a great investment for investors who understand the high risks and equally high potential upside of trading stocks like these. Remember to never get too attached, and do your own due diligence.
Disclosure: I am long 500 shares which I purchased at $5 and have not been compensated for this article neither directly nor indirectly.
Disclosure: I am/we are long MJPI. I wrote this article myself, and it expresses my own opinions. I am not receiving compensation for it. I have no business relationship with any company whose stock is mentioned in this article.
Editor's Note: This article covers one or more microcap stocks. Please be aware of the risks associated with these stocks.