Fixed income markets are in a state of disarray currently. Traditional allocations call for some level of fixed income exposure, but no one is comfortable sitting in the asset class long-term. Consider that the previous bull market in bonds lasted 30 years, who wants to own something that trends lower for the next 30 years?
For one, it is a little premature to say that the bond bull market is over. Examining interest rate spreads, there is nothing conclusive that a clean break has occurred. The chart below is of iShares 1-3 Year Treasury Bond (NYSEARCA:SHY) over iShares 7-10 Year Treasury Bond (NYSEARCA:IEF), a proxy for the 2-10 Treasury yield spread. Although there has been a significant widening the last few months, the trend has not "broken" yet. In fact, in 2013, there was an even more pronounced move higher, which ultimately failed. With that being said, I am still uncomfortable owning longer duration assets.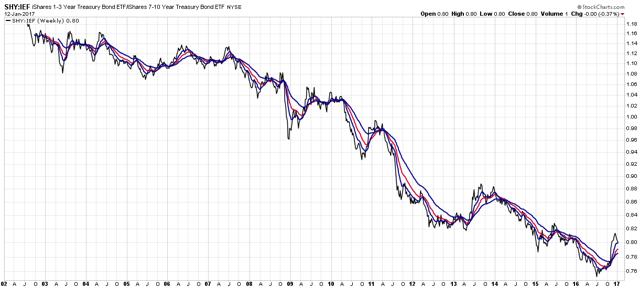 A reason for my fear of long duration is the rise in inflation expectations recently. The chart below is of iShares Floating Rate Bond ETF (NYSEARCA:FLOT) over IEF, a proxy for inflation expectations. The index bottomed in 2016, and proceeded to spike higher in the lead-up to the New Year. The move higher is significant, and it's based on solid fundamental reasoning. A stronger economy under Trump could push commodity prices higher, as well as other prices in the economy. Investors are clearly beginning to hedge against inflation risk, but this indicator looks a bit stretched currently.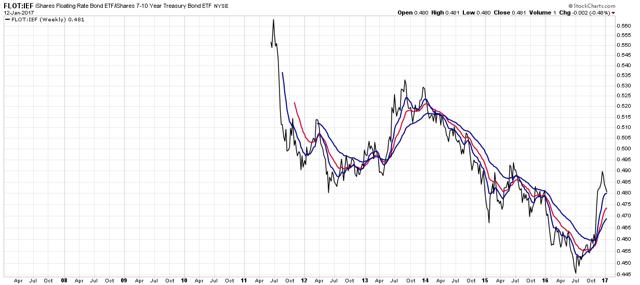 After diving into what the current interest rate environment looks like, I will now discuss the fixed income assets that look attractive. SPDR Barclays Capital High Yield Bond ETF (NYSEARCA:JNK) over IEF is a proxy for junk bond sentiment. This index has raced higher since early 2016, following improved outlook for energy, as well as the general economy. Investors are willing to take more risk in a strong economy, even as interest rates rise. The indicator is running up against resistance, but after some consolidation, high yield should continue to push higher.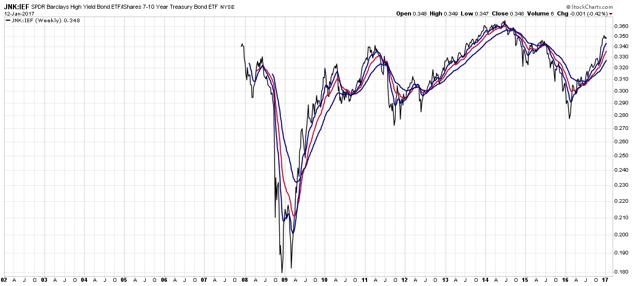 Moreover, hybrid fixed income/equity assets, such as preferred equities are a great way to play the current environment, with less risk than owning the S&P 500. The index below is of PowerShares Preferred ETF (NYSEARCA:PGX) over IEF, a proxy for the relative strength of preferred stock to Treasury bonds. The index has a near 6% yield, which is great in the current environment, and has steadily moved higher since 2012. There is no sign that this index is letting up just yet, considering that equity markets continue to push towards record highs, and it should make for a nice income generator, even as the Federal Reserve raises rates further.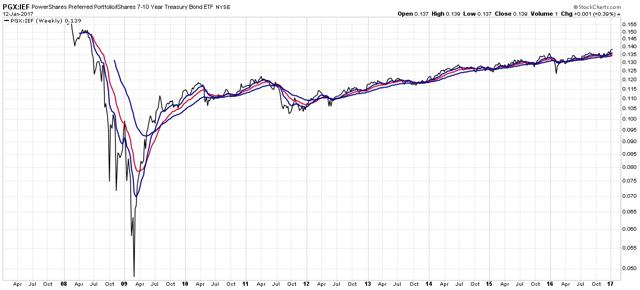 The two conclusions drawn from this article are that interest rates haven't necessarily bottomed, but riskier fixed income products are definitely still a buy. Interest rates have significantly risen over the last year, but through a long-term outlook, it is too soon place a large short position on the asset class. Inflation expectations, however, are rising as well, meaning the Fed could begin a quicker tightening cycle in 2017.
The assets to buy within the fixed income space continue to be preferred equity and junk bonds. Junk bonds have risen significantly in recent months, and should consolidate a little before jumping in. JNK is a great way to play the space, and you can either buy it as a standalone, or short IEF as a relative value play. Preferred equity looks like a buy right now , and you should definitely consider owning PGX. The ETF has a 6% annualized dividend, and is in a steady uptrend. There are opportunities in the fixed income space, but you should probably focus more on taking credit risk, while hedging away interest rate risk.
Disclosure: I/we have no positions in any stocks mentioned, and no plans to initiate any positions within the next 72 hours.
I wrote this article myself, and it expresses my own opinions. I am not receiving compensation for it (other than from Seeking Alpha). I have no business relationship with any company whose stock is mentioned in this article.