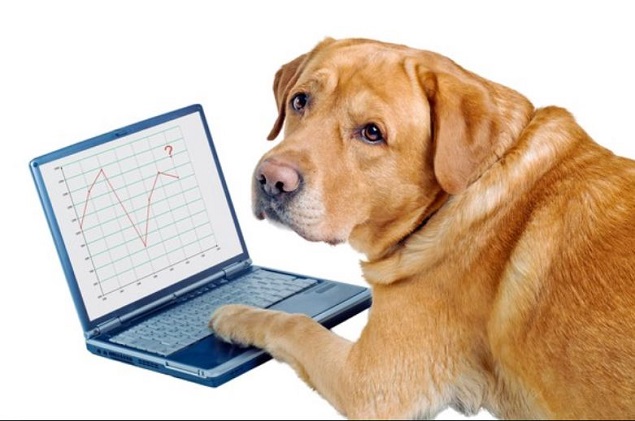 Source: image - Motley Fool
I recently read Hoya Capital's A Contrarian Strategy Crushed The REIT Index In 2016 and enjoyed it immensely. Hoya focused on REITs by sector to highlight the best and worst performing sectors during 2016.
The main idea was to identify the worst performing REIT sectors and target them for investment the following year.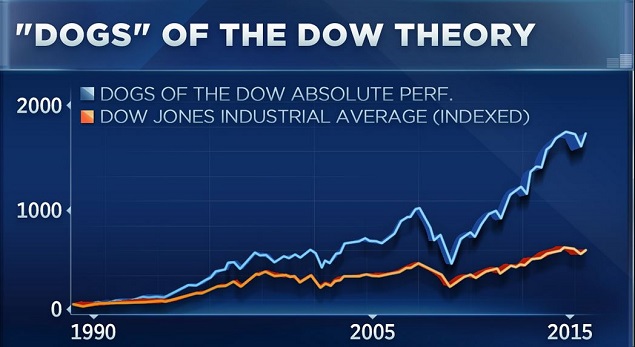 This is similar to the "Dogs of the Dow" approach to identify investment ideas, a strategy highlighted by SA contributor Fredrik Arnold on a weekly basis:
The Dividend Dogs Rule

The "dog" moniker was earned by stocks exhibiting three traits: (1) paying reliable, repeating dividends, (2) their prices fell to where (3) yield (dividend/price) grew higher than their peers. Thus, the highest yielding stocks in any collection became known as "dogs." More precisely, these are, in fact, best called, "underdogs."

SML MoPays Of January

See my most recent Dow 30 article for an explanation of the term "dogs" for stocks reported based on Michael B. O'Higgins book " Beating The Dow" (HarperCollins, 1991), now named Dogs of the Dow. O'Higgins system works to find bargains in any collection of dividend paying stocks. Utilizing analyst price upside estimates expanded the stock universe to include popular growth equities, as desired.
One notable difference is that a REIT sector like self-storage, which was by far the worst performer during 2016, will not necessarily generate the highest yields going forward.
In 2016, self-storage essentially went from first to worst after racking up huge gains in 2014-2015. However, that did not result in high-dividend yields. A self-storage pricing bubble simply retraced back toward FFO multiples that remain toward the high side of historical equity REIT valuations.
REIT Sector Update
The Hoya Capital article contains a full description and discussion regarding the rationale and methodology behind the contrarian approach. It is also full of useful information for investors, including the table below.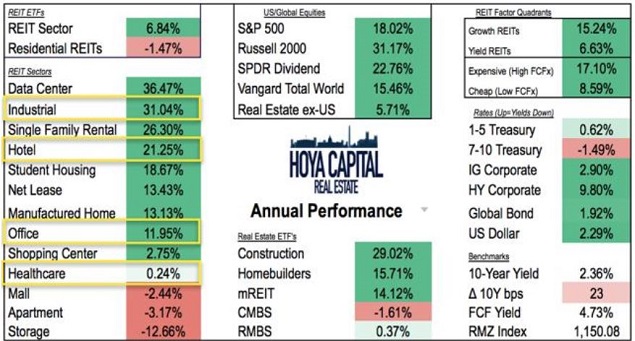 Source: Hoya Capital - Contrarian REIT Strategy
The Hoya Capital contrarian approach for 2017 creates four groups of REITs designed to take advantage of sector underperformance during the past 12-months. Hoya Capital wrote:
"The "Bottom 4" sectors of 2016 were Self-Storage, Retail, Residential and Healthcare. Let's assume that, to keep trading costs low, we will invest in four names in each sector and try to have it as diversified as possible within each sector. Of course, this does not perfectly replicate the aforementioned strategy, but it may be close enough to achieve much of the outperformance without as much trading expenses."

Self-Storage: Public Storage (NYSE: PSA), CubeSmart (NYSE: CUBE), Extra Space (NYSE: EXR), and Life Storage (NYSE: LSI).

Retail: Simon Property (NYSE: SPG), General Growth (NYSE: GGP), Realty Income (NYSE: O), and Regency (NYSE: REG).

Residential: Equity Residential (NYSE: EQR), Camden Properties (NYSE: CPT), American Campus (NYSE: ACC), and Sun Communities (NYSE: SUI).

Healthcare: Omega Healthcare (NYSE: OHI), Welltower (NYSE: HCN), Ventas (NYSE: VTR), and HCP (NYSE: HCP).

At the end of the year, we will see how this theoretical portfolio performed."
My Initial Reaction
There are many ways that indices and financial portals group REITs into sub-sectors. In fact, depending upon the financial portal you use, REITs can show up in a bewildering array of sub-sectors. Even though equity REITs became part of the GICS Real Estate sector last fall, they are still grouped under Financials on many financial websites. By way of example, Finviz.com is a site I regularly utilize for charts and market data. However, it has not updated its heat map to break out Real Estate.
Just to add some more fuel onto that fire, on Finviz.com the six data center REITs I closely cover are literally found all over the place: 1) REIT Diversified - CyrusOne (NASDAQ: CONE); 2) REIT Industrial - QTS Realty (NYSE: QTS); 3) REIT Office - CoreSite Realty (NYSE: COR), Digital Realty (NYSE: DLR) and DuPont Fabros (NYSE: DFT); and 4) Equinix, Inc. (NASDAQ: EQIX) converted to a REIT in 2015, but has not been moved over. Currently on Finviz, Equinix is still grouped with Technology in the Internet Software and Services industry. That is an extreme example of how REITs can be challenging to find, compare or categorize.
In that spirit, here are some observations to consider regarding the REITs Hoya Capital selected to monitor during 2017 as contrarian sectors, in groups of four apiece.
Self-Storage: Right off the bat, the top performing self-storage REIT of 2016, National Storage Affiliates (NYSE: NSA), which is also the smallest and newest member of the sector, isn't in the group. If you take the contrarian thesis at face value that makes total sense.
NSA was counter-cyclical and actually returned 30%-plus for FY 2016. It is the smallest dog in the fight, but not the underdog. Reviewing the Big 4 self-storage REIT performance vs NSA in 2016, Life Storage was clearly the "dog" vs. sector peers.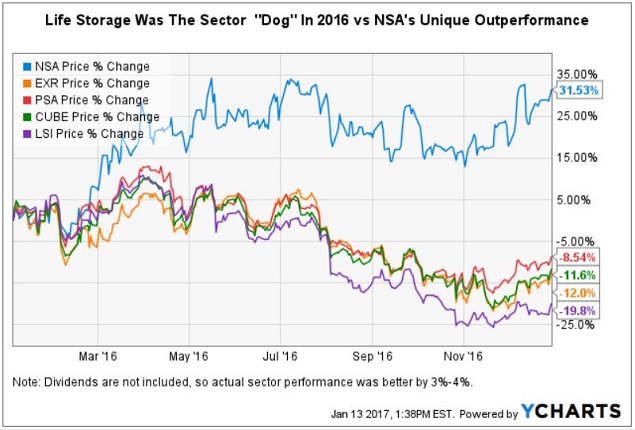 However, if your goal is to own self-storage REITs that have a shot to generate alpha by outperforming the RMZ in 2017, here's why NSA should be on your radar screen.
The self-storage sector overall is fragmented and remains ripe for consolidation. The large publicly traded REITs, and other major players less than 20 percent of US storage facilities, with mom and pop operators still owning the majority. Since NSA has the smallest market cap, it is easier to move the earnings growth needle through accretive acquisitions.
This is a concrete example of why any approach, model or thesis is just a launching point for due diligence. Hoya Capital cautioned investors this article was written for informational purposes, to test the contrarian hypothesis.
Retail: Realty Income is usually considered to be a single-tenant net-lease REIT, not a retail REIT that owns and operates multitenant shopping centers - a very different business model. The popular "Monthly Dividend Company" owns office, and industrial assets, but freestanding retail tenants make up about 74% retail.
However, if you were trying to pick a 100% freestanding retail single-tenant triple-net lease REIT there are two candidates. The large-cap choice (to be consistent with other Hoya selections) would be National Retail Properties (NYSE: NNN). A small-cap to consider would be Agree Realty Corp. (NYSE: ADC). However, keep in mind these are both actually triple net-lease REITs like Realty Income.
Malls underperformed shopping centers in 2016, so a purely contrarian retail REIT strategy would primarily be focused on regional malls. In addition to mega-caps Simon and GGP, a truly contrarian approach might include couple of the B-Mall REITs: Washington Prime Group (NYSE: WPG), CBL & Associates (NYSE: CBL) or perhaps Pennsylvania REIT (NYSE: PEI), which is a B+ mall operator.
Notably, both Simon and GGP are Top 10 holdings in the Vanguard REIT Index ETF (NYSEARCA: VNQ). Most REIT ETFs are market-cap weighted. So, if you own VNQ shares, or iShares US Real Estate ETF (NYSEARCA: IYR), you already have large-cap mall REIT exposure.
Residential: In my view, mixing manufactured housing REIT Sun Communities and student housing REIT American Campus with two multifamily apartment REITs, Equity Residential and Camden Property Trust, is dilutive to a pure contrarian approach. Notably, manufactured housing and student housing delivered strong performances in 2016 of 18.67% and 13.13%, respectively.
Multifamily apartments were the "dog" last year, losing -3.17%. Single-family rental was another big winner in 2016, and was not included in the Hoya Capital residential mix. There are a host of apartment REITs of all shapes, sizes and flavors available to create a pure-play contrarian residential group.
Healthcare: The Big 3, Welltower, Ventas and HCP, Inc. are diversified, but have been reducing exposure to SNFs, or skilled nursing facilities. Including Omega, the largest REIT focused on the skilled nursing asset class, is an excellent way to round out that group. In my view, Hoya's healthcare picks are as apples-to-apples as you can get if you are attempting to implement a HC REIT contrarian sector comparison year-over-year.
Bottom Line
I really enjoyed the Hoya 2016 REIT sector overview article. There is plenty of food for thought to consider as investors look ahead to 2017.
January is a time when most investors are looking at their year-end brokerage statements, tweaking asset-class allocations, and reflecting upon the worst buy and sell decisions during 2016.
I think performing a REIT sector reevaluation is an important step each year. This would be in addition to any portfolio rebalancing required due to 2016 "winners" having become substantially over weighted. Portfolio rebalancing in order to maintain desired diversification is a very "happy problem" to have.
Using past performance of a stock, industry or sector to get a handle on potential future performance is certainly a decent place to start due diligence.
However, if checking the rear view mirror is a wise move, how important is it to look through the windshield? What about inflating your tires and looking under the hood to check fluid levels prior to heading out for a trip?
Those forward looking safety tips could be equated with assessing REIT earnings, or (FFO/AFFO) growth estimates, quality of REIT management and balance sheet strength, as well as supply and demand fundamentals in key markets.
Investor Takeaway
The investing journey during 2016 was bifurcated into two halves for REIT shareholders, a great run in 1H2016, and then a pullback in late summer through fall, punctuated by a Trump-bump in December.
During 2016, and the seven preceding years, there was a progressive Democratic President in the White House and a Republican Congress. This created a "Goldilocks" gridlock for investors, where the playing field was fairly smooth. We all know that 2017 will be a very different type of year.
A rising interest rate environment immediately puts net-lease and healthcare REITs into the penalty box. Both of these REIT sectors own portfolios comprised of longer-term leased assets. They usually sign initial lease terms of 10-years or longer, which create income streams viewed as being more "bond-like" by Mr. Market.
There is a much higher likelihood of major legislation being passed by a Republican majority in Congress and being signed by President-elect Trump. In 2017, voters flipped the switch from gridlock to full speed ahead for new legislation.
When it comes to owning commercial real estate any changes in the mortgage interest deduction could negatively impact REIT portfolio NAV, or net asset valuation, in a material way. Rumblings regarding elimination of the IRS 1031 like-kind exchange rules could also negatively impact all CRE valuations, most notably, triple-net single-tenant properties. This would also reduce the number of real estate transactions, which could hurt earnings for the large commercial brokerage firms. Republican efforts to repeal and replace Obamacare create uncertainty regarding HC REIT tenant insurance and government reimbursements going forward.
Kudo's to Hoya Capital for providing the REIT sector information. How you choose to weigh it as part of your decision making for 2017, is what really matters going forward.
I am contemplating whether to launch a Seeking Alpha Marketplace Premium subscription service. I would appreciate any feedback from readers who may be interested. Feel free to share them in the comment thread below, or send me an Inbox message.
I relentlessly hunt for diamonds in the rough and rising stars, in addition to closely following data centers, covering REIT blue-chips, and breaking news. Please consider following me as a Seeking Alpha author if you would like to be notified when my future articles are published.
Disclosure: I/we have no positions in any stocks mentioned, but may initiate a long position in ADC, NSA, CONE, COR, DLR, DFT, QTS, VTR, OHI, EXR, WPG over the next 72 hours.
I wrote this article myself, and it expresses my own opinions. I am not receiving compensation for it (other than from Seeking Alpha). I have no business relationship with any company whose stock is mentioned in this article.