A flood of bank earnings hit the market this morning, the most important being from JPMorgan Chase (NYSE:JPM).
In no surprise, the large financial firm had a huge quarter. This was expected. But now investors question whether JPMorgan is a stock to own at these high prices.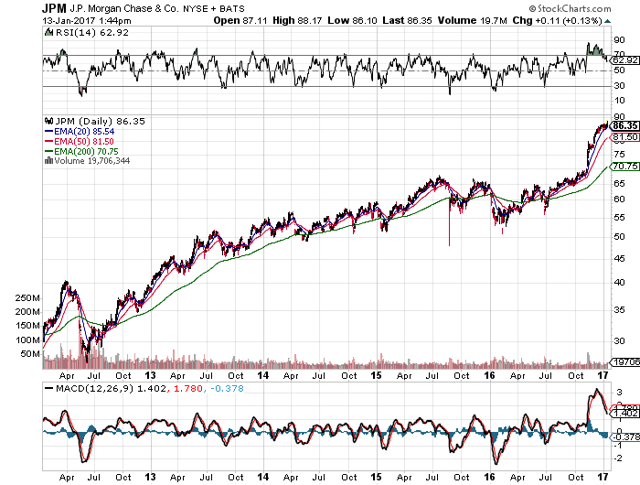 The bank beat Q4 EPS estimates by a solid $0.27. Revenues were slightly above analyst estimates, but the best banking quarter ever probably can't fit the label on revenue growth of only 2.4%.
JPMorgan did hit record earnings due to an 11% return on common equity, and expense controls were off the chart.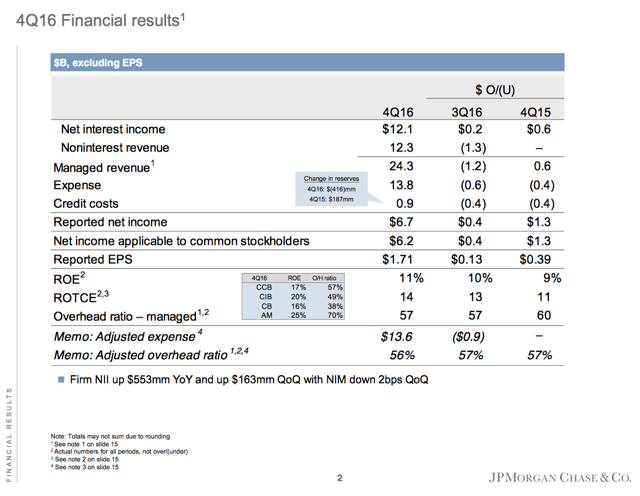 For Q4, expenses were down $400 million from last year. Any time a company can raise revenues even so slightly while reducing costs, the results will be spectacular.
So while I question whether this is the best bank quarter ever, the reality is that it doesn't really matter. What matters is whether JPMorgan offers value to existing shareholders.
A key measure of value is tangible book value, which only grew 7% YoY. From a historical perspective, the stock now trades in the middle of the P/TBV range outside of the excessive values during the mid-2000s, prior to the financial crisis.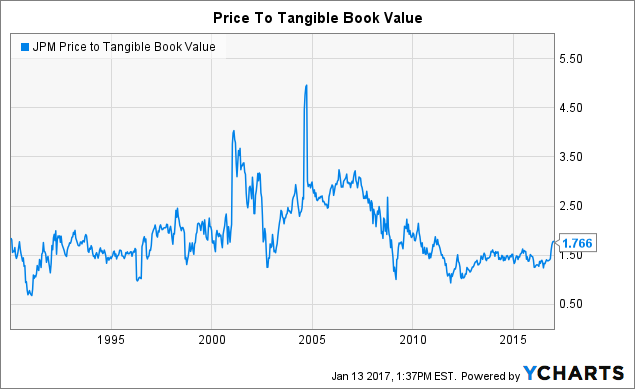 JPM Price to Tangible Book Value data by YCharts
Whether or not JPMorgan produced the best bank quarter ever, the large financial no longer offers a huge discount to value. Similar to prior periods, book value metrics can and will likely hit higher multiples, suggesting the stock could easily run to $100 for a P/TBV multiple of 2x.
The key investor takeaway is that the stock is no longer cheap, but long-term growth opportunities exist. As interest rates rise, the bank will see net interest income grow providing for long-term earnings growth.
The risk/reward equation is now in balance, but JPMorgan remains the best banking franchise to own long term.
Disclosure: I/we have no positions in any stocks mentioned, and no plans to initiate any positions within the next 72 hours.
I wrote this article myself, and it expresses my own opinions. I am not receiving compensation for it (other than from Seeking Alpha). I have no business relationship with any company whose stock is mentioned in this article.
Additional disclosure: The information contained herein is for informational purposes only. Nothing in this article should be taken as a solicitation to purchase or sell securities. Before buying or selling any stock you should do your own research and reach your own conclusion or consult a financial advisor. Investing includes risks, including loss of principal.